Kashmir unrest: Misplaced priorities, failure to address real issues point to a summer of discontent
Constant gunfire fails to ring alarm bells in ears of politicians in Kashmir, who continue to brush things under the carpet and try to shroud their political failures under increasing tourist footfalls
Politics in Kashmir can be like watching the same tape on an endless loop. Politicians repeat their same mistakes and make the same arguments, and continue envying each other — just like their fathers and grandfathers had done before them!
For example, Chief Minister Mehbooba Mufti has tried to take forward her father's failed initiative of using Bollywood to promote tourism in Kashmir. On 1 February, she showed up at the world famous skiing destination Gulmarg. Flanked by Bollywood stars Javed Jaffrey and Imran Khan, she inaugurated a 15-day snow festival aimed at attracting tourists to the Valley. Mehbooba, like her father before her, felt that a combination of Bollywood and tourism can be used to put Kashmir back on track.
Limited number of media outlets were invited to the ceremony. A possible reason for this was that Mehbooba didn't want to attract questions and undue coverage regarding her controversial remarks the previous day. Speaking in the legislative Assembly on 31 January, Mehbooba had said anybody who tries to dilute Article 370, which grants special status to the state, will be committing the "biggest anti-national act". She had also alleged that a "conspiracy was being hatched against our culture and state". The remarks had sparked an angry response from the BJP, her ally in the state, and further exposed the ideological chasm in the coalition.
The snow festival is also being organised when tourist numbers have been dropping. Ever since the social unrest started in July last year after the encounter of Hizbul commander Burhan Wani, tourists have chosen to stay away from the Valley. As per official figures, 927,815 tourists visited Kashmir in 2015, and the figure dropped sharply to 403,442 in 2016.
Not only is Gulmarg deserted, but other hill stations like Pahalgam are also facing all-time low hotel occupancy statistics, forcing many hoteliers out of the business altogether. These owners have also blamed the five-month-long unrest for the drop in tourism figures.
"Pahalgam always witnesses low tourist footfalls in the winters owing to the government's failure to explore its full potential, but this year has been particularly bad. I have never seen such a sharp fall. Most of the hotels are seeing zero occupancy. Even the few tourists and mountaineers who would throng places like Frislan, Ardu, Chandanwari, Baisaran and Sarbal have not come this year," said Mushtaq Ahmad, a hotel owner.
He said there are no fresh bookings for the months ahead, and advance bookings which were already made have also been cancelled, "Now, we have to wait till March for any tourist activity. Many hoteliers have locked their hotels up to avoid maintenance costs. Almost all hotels are vacant, and some are even running with below 2 percent occupancy," he said.
Billa Bakshi, managing director of the Gulmarg-based Heliski, has planned not to conduct heli-skiing this year owing to large-scale cancellation of bookings. "Almost all bookings have been cancelled for this year. Prime time TV debates on Kashmir are full of filth. The positive side of Kashmir is not being shown to the people. Why can't they acknowledge the fact that despite the unrest not a single tourist was hurt? Everything is back to normal now, but the national media has not been able to get over the unrest," Bakshi said.
Mehmood Shah, director of the Jammu and Kashmir Department of Tourism, said the political uncertainty that prevailed last year was one of the factors affecting tourism, but demonetisation has also equally dented the industry. "To reverse the negative image that was developed due to a five-month-long upheaval that Kashmir witnessed last year, we are holding festivals and tourist fests," he said.
The fifteen-day snow festival ended last week, impressing nobody except the family members of some tourism officials, who served as the only audience for the different games that were held during the festival.
The PDP has shunned the slogan "Bandook se na goli se, baat bane gi boli se (Guns and bullets will not help, dialogue is the only way forward)"; they have rather embarked on promoting a spate of cultural and sporting events. All this is happening when another spell of armed insurgency threatens to create turmoil in the Valley and another "summer of discontent". Even as the Gulmarg festival was going on, Kashmir continued to witness pitched gun battles between militants and security forces, killing eight militants, six security forces personnel and two civilians.
However, the gunfire fails to ring alarm bells in the ears of the politicians, who continue to brush things under the carpet and try to shroud their political failures under increasing tourist footfalls and mislead people by presenting it as the prime contributor to the state economy.
In reality, Kashmir is a predominantly agrarian economy, followed by horticulture and handicrafts. Tourism contributes less than 10 percent of the state's GDP. However, strangely enough, politicians still remain obsessed with tourism.
At the Gulmarg snow festival Mehbooba said, "Kashmir has been bestowed with everything, but the only thing we lack here is peace, and we all have to work for it and only then can tourists come. Tourism department is working hard to revive tourism in Kashmir. I want Javed Jaffrey sahib and Imran to motivate the people in Bollywood to come and shoot films in Kashmir."
However, some feel that unless the government addresses the political aspect of the Kashmir issue, not much headway can be made. "People are comparing Kashmir with Syria, Iraq and Afghanistan, places which see only destruction. The government needs to work towards a political settlement rather than beating around the bush. These snow festivals will not work if peace is not there," Bakshi said.
Echoing the same, political analyst Iqbal Sanullah, said, "Kashmir is a political issue, which needs a political solution and tourism essentially deals with the economics of a society. Promotion of tourism may help in boosting the economy, but will it offer any solution to a political problem? If an economic solution is to have an impact on the political problems, then nobody from affluent families would even participate in the protests, or throw stones, or join militants. Economic sufficiency being synonymous with peace is not the case here."
The misplaced priorities of the PDP-BJP government, the Centre's lack of political outreach, and tensions within the ruling alliance threaten to make matters worse in the Valley. The project to bring the "north and south pole together" has only rekindled dissent in the Valley so far. By overlooking simmering political dissent, the government is walking the same old roads, which are bound to meet the same deadend, as the political realities of today are even more complicated.
Clearly, the melodious tunes of Santoor and Rabab will not be able to shut out the booming sounds of bullets being fired, lest the government gets its act together.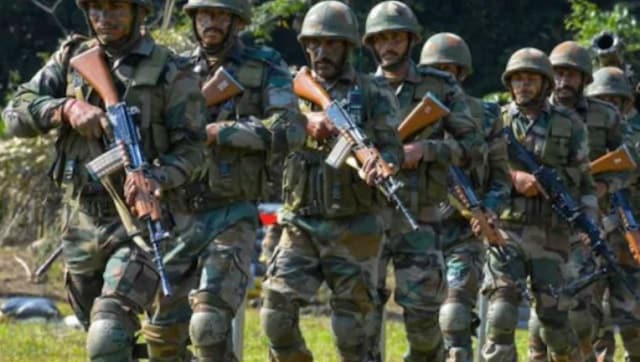 India
There is nothing in the situation that India has not faced before and overcome with resolve and Pakistan's desperation will soon convert into more frustration
India
Traditionally, the president participates in Dussehra celebrations in the National Capital
India
Four accused people Waseem Ahmad Sofi, Tariq Ahmad Dar, Bilal Ahmad Mir alias Bilal Fafu and Tariq Ahmad Bafanda, all residents of Srinagar were arrested during the searches carried out in Srinagar, Pulwama and Shopian