India to boycott SAARC Summit in Pakistan unless Islamabad 'stops terrorist activities', says Sushma Swaraj
India won't attend the SAARC Summit in Pakistan and there will be no dialogue with Islamabad until it stops sponsoring terrorism, External Affairs Minister Sushma Swaraj announced.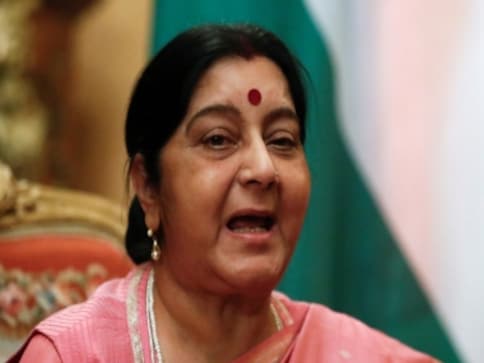 Hyderabad: India won't attend the proposed South Asian Association for Regional Cooperation (SAARC) Summit in Pakistan and there will be no dialogue with Islamabad until it stops sponsoring terrorism, External Affairs Minister Sushma Swaraj announced on Wednesday.
Sushma Swaraj made it clear that New Delhi will not participate in the SAARC summit and it was not responding to an invite from Pakistan for Prime Minister Narendra Modi for the gathering of South Asian leaders. "As I said, unless and until Pakistan stops terrorist activities in India, there will be no dialogue and we will not participate in SAARC," she told the media here.
Modi will be invited to Pakistan for the SAARC Summit, Foreign Office spokesman Mohammed Faisal said on Tuesday.
The SAARC Summit of 2016, which was to be held in Pakistan, was cancelled after India boycotted the event, triggering a pullout by Afghanistan, Bangladesh and Bhutan.
Sushma Swaraj said on Wednesday that talks and terror cannot go together.
She also said that although India welcomed the development of the Kartarpur corridor for Sikh pilgrims, it would not have any dialogue with Islamabad till it stopped sponsoring terrorism. "Bilateral dialogues and Kartarpur corridor are two different things. I am very happy that for the last 20 years, rather many years, the government of India has been asking for this Kartarpur corridor and for the first time Pakistan responded positively," she said.
"But that doesn't mean that bilateral dialogue will start... We always say terror and talks can't go together. The moment Pakistan stops terrorist activities in India, the dialogue can start. The dialogue is not connected with only Kartarpur corridor," she added.
Sushma Swaraj said she could not attend Kartarpur ceremony because she was tied up with a visit to Telangana.
She refused to comment on Punjab Minister Navjot Singh Sidhu's participation in the ceremony related to the corridor opening and referred to his statement that he was going there in his personal capacity. The Minister said it was for the Punjab chief minister and Congress party to comment on Sidhu's participation.
Union Ministers Harsimrat Kaur Badal and Hardeep Singh Puri are presently in Pakistan to attend the ceremony. Pakistan Prime Minister Imran Khan performed the groundbreaking ceremony for the project near the Kartarpur Sahib Gurdwara, where Sikhism's founder, Guru Nanak Dev, spent the last 18 years of his life.
Find latest and upcoming tech gadgets online on Tech2 Gadgets. Get technology news, gadgets reviews & ratings. Popular gadgets including laptop, tablet and mobile specifications, features, prices, comparison.
India
Congress leader Rahul Gandhi tweeted that the removal of the document from the website would 'not change facts.'
India
Instead of constructive criticism of a responsible Opposition, the Congress party has sided with and fanned the most radical elements
India
On Sunday, Prime Minister Narendra Modi, in his 67th Mann Ki Baat address, touched upon a wide variety of subjects ranging from Kargil Vijay Divas and COVID-19 to promoting the vocal for local initiative and offering commiserations and support to the flood victims in Assam and Bihar.