HC Gupta's conviction in coal scam case is a travesty of justice, has grim portents for administrative system
A Delhi court on Wednesday granted bail to former coal secretary HC Gupta shortly after sentencing him to three years in prison for criminal conspiracy and misconduct in the coal block allocation scam.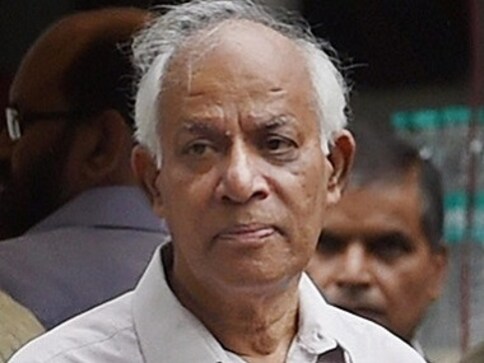 A Delhi court on Wednesday granted bail to former coal secretary HC Gupta shortly after sentencing him to three years in prison for criminal conspiracy and misconduct in allocating coal blocks in West Bengal during the previous UPA regime at the Centre. Two other convicts in the case were first given four-year terms and then granted bail like Gupta on furnishing personal bonds and sureties.
This is an extraordinary case, with grim portents for the administrative system. Let me clarify at the outset that I do not know Gupta personally, but he has a formidable reputation, built over more than 35 years in service. Ask anyone who has known him or dealt with him. The unanimous picture that emerges is that of an officer of rare honesty and outstanding track record, with an extremely spartan lifestyle, of an officer who was looked up to and admired for his idealism and dedication.
Seems strange for a bureaucrat convicted of corruption.
It is a curious case all right. When Gupta served as secretary to the Government of India more than 10 years ago, he made recommendations as the head of a screening committee on coal block allocations, on the basis of which the government made the final decisions to allocate the coal blocks. There was neither any apparent criminal intent on his part — though the court, in its wisdom, has ruled it mala fide — nor was there even a hint of an allegation of quid pro quo or personal gain in the charges against Gupta. Regardless of whether the decisions made in these cases were perceived to be right or wrong in hindsight, if he made the recommendations in good faith, in an official capacity and without any personal considerations or gains, then why was he convicted not once but several times?
A major part of the reason was the law — the Prevention of Corruption Act, its infamous Section 13(1)(d) and its application. This is a provision that, mercifully, has since been amended. However, the amendment is recent and will not apply to Gupta's case, unfortunately.
Furthermore, upon reflection, it seems that Gupta was a victim of circumstances. These circumstances were initiated back in 2012 by the "leak" of a draft report of the Comptroller and Auditor General (CAG) that found faults in the government's coal block allocation policy. The leaked report also hypothesized a presumptive loss of Rs 1,86,000 crore, an amount the auditors believed could have added to the state exchequer if the government had adopted a policy of auctioning coal blocks. This figure was picked up and the "coal scam" was blown up in sequence by the media, political parties, public interest litigators, courts and criminal investigative agencies. The Supreme Court had majestically cancelled all coal block allocations made over 17 years from 1993 to 2010, thereby making them all certifiably "illegal" and letting loose investigators under its stern gaze to bring the guilty to book.
The public perception was — and still is — that the Rs 1,86,000 crore had somehow been physically extracted and looted from the system. Someone had to be hung for this crime. A fall guy was needed to satisfy the blood lust created, and Gupta, having been coal secretary for three of the 17 years, unluckily happened to be the choice. In popular perception, bureaucracy is considered responsible for all the ills in the system in any case. Everyone loves to see a top bureaucrat drawn and quartered.
Those who have dealt with such issues at a high level know that it's always a tough call to make decisions in economic matters, particularly where there is a discretionary policy framework and non-government players are involved. No matter how the policy is structured, there are flaws in the system inevitably, and every action that financially benefits someone has the potential to be called into question at a later date. The only way to handle such a situation is to apply one's best judgement and ensure strict neutrality and personal probity in dealing with the parties. A reputation for integrity built up over the years helps, though it didn't in this case. In hindsight, it's easy to say that the action was erroneous, that there was a better way of doing things.
Ironically, in the cases involving Gupta, they weren't even "decisions" made at his level but recommendations to the minister, who the court very considerately did not hold responsible for the coal block allocations. The honourable minister was deemed to have been "kept in the dark", even though he had formally approved the coal secretary's proposals on file. In the decision-making process in the file-based system of governance India follows, it is axiomatic that you are responsible for what you sign off on, and the buck stops with the last signatory. But in Gupta's cases, the buck was stopped with the second last signatory.
The sad part in this case is that regardless of what the eventual verdict of higher courts may be, Gupta will be held guilty in the coal scam in public perception and damned irretrievably. The IAS Association said it will take up his case, but the public will see it as a self-serving initiative to protect one of their own. It's difficult for people to believe that an officer convicted in a corruption case was so scrupulously honest that he doesn't have any money to afford to engage a counsel in his defence. Firstpost, too, had opined in a recent piece: "It does seem curious how a man who pocketed millions from a scam may reach a situation where he can no longer afford his legal defence." Guilt is established, regardless!
Conviction of honest IAS officers in Coal Scam is most unfortunate. A black letter day for bureaucracy - Convicting officers for bona fide decisions in the interest of administration. We stand by the officers in this time of distress. #HCGupta

— IAS Association (@IASassociation) December 1, 2018
At the end of the day, there's not much that anyone can do for Gupta except hope that fate is kind to him, and that right will eventually prevail over wrong.
In the context of this case, many commentators have expressed concern on the potential paralysis in bureaucratic decision-making. But this should perhaps be less of a concern after the welcome amendment to the Prevention of Corruption Act earlier this year.
My concern is the signals a case like this sends to the system, a case in which a good officer is unfairly persecuted and helpless. The wrong messages are being conveyed to the wrong people. While we have been talking about honest officers like Gupta, there are others out there — hopefully still in minority — on the dark side, across services and levels, using positions of authority to extract rent or extort. Their worldview is simple — that an opportunity to make money is a divine blessing not to be spurned.
This worldview justifies the amassing of ill-gotten loot as an end in itself to secure future generations from want and also as insurance. In the unlikely event of them getting into trouble, they reason that they need lots of money to hire the best lawyers, to "settle" investigators, keep politicians happy and engage interests that can help with the judicial system, so that despite some misdeeds coming to light, one doesn't need to go to jail.
In this view, the Guptas of this world are regarded as stupid for not taking the opportunity to make money even when they had the power and opportunity. And they still become the fall guy. The thought processes of the dark side can be expressed a certain way: "Idealist! Look what a mess he is in. He just didn't understand that principles don't help you get out of trouble, money does. If only he had been wiser like us." This mindset is gaining traction and is further reinforced among this section of officialdom by cases like Gupta's. And that is truly tragic.
Every cloud has a silver lining. In this story, I don't see one yet.
The author is a former IAS officer who retired as secretary of heavy industries
India
Union Home Minister Amit Shah on Wednesday said the CBI was "putting pressure" on him to "frame" Prime Minister Narendra Modi in an alleged fake encounter case in Gujarat when he was being questioned by the probe agency during the Congress-led UPA government.
World
Malaysia's top court refused Friday to review its 2022 decision to uphold former Prime Minister Najib Razak's conviction for graft and 12-year jail sentence, saying he was "the author of his own misfortune."
Explainers
Iraq remains traumatised from the years of war, occupation and bloody sectarian turmoil that followed the operation launched on 20 March, 2003. A semblance of normalcy has returned, but it still battles a range of entrenched challenges, from political instability to poverty and rampant corruption