Govt spent Rs 350 cr to promote Swachh Bharat, other schemes in 2015-16
According to recently released data, the government spent Rs 350 crore in publicising its flagship schemes in 2015-16.
India has been showered with schemes of all sorts since Narendra Modi took over the Prime Minister's office. From Swachh Bharat to Beti Bachao Beti Padhao, the government remained consistently ambitious whilst taking each step. However, the government has paid a high price for the publicity of these schemes.
According to information the Information and Broadcasting Ministry revealed to the Lok Sabha on 6 May, the government spent Rs 350 crore on publicising its flagship schemes in the fiscal year 2015-16.
The expenditure for promoting Swachh Bharat widely across India was Rs 212,57 crore in 2014-15, but in 2015-16, the expenses rose to Rs 293.14 crore.
Skill India, which was introduced to increase employment, cost Rs 4.19 crore to publicise in 2015-16, a marked increase from the mere Rs 10.79 lakh it cost in 2014-15.
Make In India, which was projected as a grand strategy to increase India's financial status, cost Rs 4.71 crore in 2015-16 to publicise. The government had spent just Rs 10.7 lakh to publicise it in 2014-15 as it was introduced late in September in the said fiscal year.
Other initiatives' promotional activies on which the government spent large sums were the vaccination program Indradhanush, the small-scale funding scheme Pradhan Mantri Mudra Yojana and the crop insurance scheme Pradhan Mantri Fasal Bima Yojana.
On the whole, the government spend a whopping Rs 350,46,77,647 to simply publicise the schemes in 2015-16. The expenditure on such schemes was Rs 256,59,33,085 for 2014-15.
However, despite massive publicity, the schemes have often been criticised for poor implementation.
On 13 May, Nobel Laureate Kailash Satyarthi said he felt Make In India will be a disaster because of country's weak child labour laws.
"The government is talking about a 'clean India', 'Skill India' and 'Digital India' missions, but on the other hand children are being employed in tea shops, slaughter houses, restaurants and hazardous industries," he said.
Swachh Bharat, which took the most from the government's exchequer in the last fiscal year, has also not escaped criticism.
After the dumping ground at Mumbai's Deonar caught fire in April, Rahul Gandhi slammed the Modi government for lack of strategy.
"I feel there is no strategy here. There is no vision how to clean it though they have definitely given a slogan of Swachh Bharat," Gandhi said.
An IndiaSpend report, published on 27 April, also found India to be lagging behind on the Swachh Bharat plan.
It found that only 24 percent (0.6 million) of the targetted 2.5 million household toilets in urban area had been constructed by March 2016.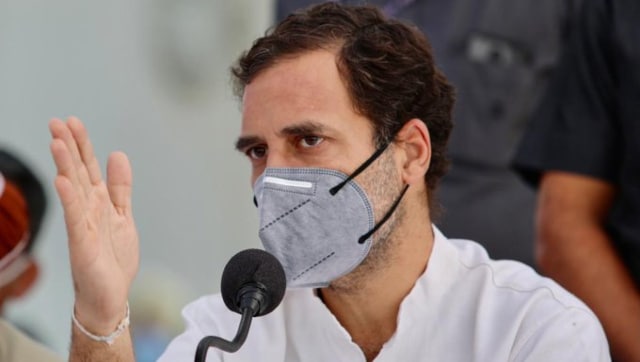 India
The former Congress president also shared a video on Twitter highlighting the alleged slow vaccination rate and media reports where people were not getting vaccines
Politics
People of Assam have voted for the BJP for the second consecutive term as they have realised that there is no place for 'aatankwad' (insurgency) and 'andolan' (agitation) in the state, Shah asserted
India
Modi noted that on the coming 15 August, India will enter its 75th year of Independence and highlighted that Amrit Mahotsav is being celebrated throughout the country to mark that year