Firstpost Editor's Picks: The sullied vs Saint Alok Verma, #10YearChallenge, Ruskin Bond on horror, today's must-read stories
From Gujarat taking up the #10YearChallenge, Ruskin Bond talking about his horror tales to the CVC report exposing Saint Alok Verma, here are today's must-read stories
Analysis: From BJP's 'remove one family' push, Narendra Modi now claims Opposition wants to remove 'one man'
Political rallies of leaders such as Prime Minister Narendra Modi, West Bengal chief minister Mamata Banerjee, BJP chief Amit Shah, Congress president Rahul Gandhi and many such others, give us a glimpse on how politicians cycle, recycle and sometimes even invent new rhetoric to capture the minds of the voters.
For example, after the Congress-mukt Bharat lost the charm following the BJP's defeat in the recent Assembly elections, the saffron party rather smartly spun an old message — Modi wants to rid the country of 'dynastic' politics and usher in a new age of democratic politics — to:
Opposition wants to get rid of Modi versus Narendra Modi wants to get rid of One Family.
Opinion: The many sullied reputations in the canonisation of Saint Alok Verma
If we now believe that three trips a year to London are enough to tempt the senior-most judge of the Supreme Court to barter his reputation and that of the apex court, it is because that is exactly what these wise people have implied. We have been led to believe that the reputation of a CBI director — who doesn't feel a twitch of conscience while serving up fabricated documents to the CVC — is more important than the integrity of the CBI, the CVC, the Constitutional office of the Prime Minister of India, the Chief Justice of India, his senior-most brother judge and the Supreme Court itself. So many sullied institutional and personal reputations to protect the self-interest of one individual must rank as lowest point in India's journey to build institutions.
https://www.firstpost.com/india/pm-sc-cji-justice-sikri-cvc-cbithe-many-sullied-reputations-in-the-canonisation-of-saint-alok-verma-5918781.html
#10YearChallenge: A look at Gujarat's throwback pics raises questions on promises vs reality
The 10-year challenge is ruling the Internet. Haven't heard of it yet? It's nothing but posting your old pictures alongside the recent ones. The photos will show how you have changed in the last 10 years. The Internet will reward you with all sorts of feedback. Even the Indian economy, which typically keeps low-key and content with itself most of the time, too got wind of the 10-year challenge and posted a few pics the other day. The feedback wasn't bad. Enthused by this, Gujarat, Prime Minister Narendra Modi's home state joined the 10-year challenge. Gujarat looked for some old pics and thought those were worth posting, but the pics have instead raised questions on promise versus reality.
Ruskin Bond on his horror stories, adaptations of his work and the fear of running out of ideas
https://www.firstpost.com/business/10yearchallenge-a-look-at-gujarats-throwback-pics-raises-questions-on-promises-vs-reality-5921591.html
India vs Australia: Despite long stay on sidelines, Yuzvendra Chahal reminds us of his skills, ability to make every chance count
The constant exclusion would have discouraged and frustrated any bowler, especially someone who happened to be India's leading ODI wicket-taker in 2018. But the lack of continuity has never affected Yuzvendra Chahal. He has a canny knack of going about his business in a professional manner. He trains hard and can switch on instantaneously. At practice sessions, he loves to emulate real match scenarios and then bowl accordingly. It is all part of his visualisation and preparation.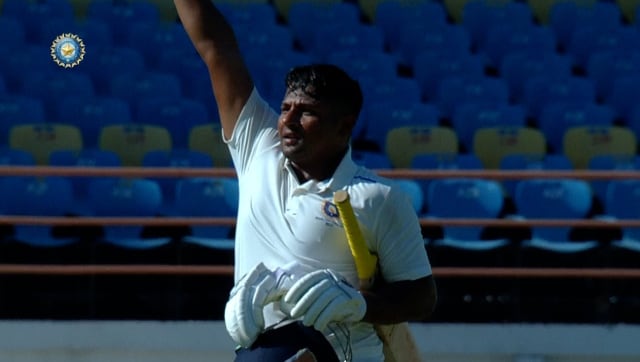 Sports
Sarfaraz Khan has been one of the most consistent performers in the local Ranji Trophy competition this season, scoring 431 runs in five games for Mumbai so far.
First Cricket News
Australia will begin the marquee Test series vs India at Jamtha from February 9 as they eye their first series win in India in 19 years.
First Cricket News
For next month's India tour, Australia opted for Queensland leg-spinner Mitch Swepson as their only option with Ashton Agar, uncapped Todd Murphy and veteran Nathan Lyon also in the squad.