Volte-face? From BJP's 'remove one family' push, Modi now claims Opposition wants to remove 'one man'
In an interview to the magazine Swarajya in 2018, Modi had claimed that since the Congress is fighting the 'battle of survival' (astitva ki ladai), it is now running from pillar to post looking for allies after people rejected its 'high-handedness' to 'defeat one man.'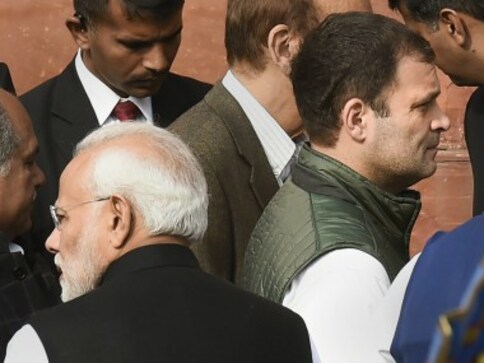 Old political messaging usually finds it way into new rallies with slight tweaks

Who doesn't remember the BJP's famous words: Congress-mukt Bharat?

Political messaging have changed depending on the parties and candidates' convenience forever
Elections in India are dramatic — administering over the top theatrics during political rallies, incendiary allegations to slander your competition (or opposition), rousing political speeches promising the sun, the moon and the stars — but over a period of time, a pattern usually appears.
A pattern in the type of speeches delivered during political rallies of leaders such as Prime Minister Narendra Modi, West Bengal chief minister Mamata Banerjee, BJP chief Amit Shah, Congress president Rahul Gandhi and many others, give us a glimpse on how politicians cycle, recycle and sometimes even invent, new rhetoric to capture the minds of the voters.
But sometimes, it's the other way around.
Old rhetoric often makes an interesting comeback — with a slight tweak here and there — but in such a way where the public goes, "Wait, didn't he say the exact opposite thing in the last rally?"
BJP spins old message
Who doesn't remember the BJP's famous words: Congress-mukt Bharat? The phrase was in vogue till 2017. Its popularity started evaporating around the time Congress started winning a few elections. But Congress-mukt Bharat was BJP's go-to slogan for its top leaders: From Modi, who said it almost every time he addressed a rally, to senior BJP leaders such as Arun Jaitley, Rajnath Singh, Amit Shah and Smriti Irani, state and district-level BJP workers used that phrase every time they got a chance. They had to stop because it was no longer factually correct, especially after the humiliating electoral verdicts for the BJP in Madhya Pradesh, Rajasthan and Chhattisgarh.
To counter that, the BJP rather smartly spun around its old message:
Opposition wants to get rid of Modi vs Narendra Modi wants to get rid of One Family
The phrase, which has recently been introduced in the run-up to the 2019 polls, is a smart turn-around of the old BJP message: Modi wants to rid the country of 'dynastic' politics and usher in a new age of democratic politics.
The official Narendra Modi channel on YouTube, in fact, released this video in 2013, where Modi, then the prime ministerial face of the BJP, is giving a blazing speech slamming Congress' "vishwas ghat" (betrayal). He uses the word over five times in the speech, ending it with a bargain to make India free of Congress.
But that was 2013.
Recently Jaitley said, "The Opposition 'mahagathbandhan' (grand alliance) is a club of 'nawabs of negativity' and the only glue of this diverse grouping is its opposition to one man (Narendra Modi)."
A couple noteworthy points:
As mentioned earlier, BJP is now no more against one family. In fact, according to the BJP this 'one family' has called in many other families and they all oppose one man 
A word similar to nawab was used by Modi to describe Rahul during 2014 campaigning — shehzada — and on that front one can't fault the BJP. They have been consistent in slamming the Opposition as "elitist".
In an interview to the magazine Swarajya in 2018, Modi claimed that since the Congress is fighting the "battle of survival" (astitva ki ladai), it is now running from pillar to post looking for allies after people rejected its "high-handedness" to "defeat one man." "The Opposition has no other agenda, but to remove me," Modi said.
Yes, but in all honesty, weren't you doing the same to Congress? (which was in power in 2014). And isn't that the point of it all?
Another mention by Shah was when he said in the run-up to the 2019 election that his party's response to the Opposition slogan of "remove Modi" is to "remove instability, corruption and poverty".
Political messaging has changed depending on the parties and candidates' convenience forever. But what is interesting is to note that while tweaking their messaging, they don't usually refer to their last election and find interesting ways to confuse the voters.
Who knows, in the near future Rahul might be bellowing the words "Modi-mukt Bharat" at a Congress rally.
Opinion
What makes the alliance better is that no other country works so resolutely and with a sense of purpose in the time of duress as Japan does; India needs such a partner in dealing with China
World
Turkey declared a level-4 alert after a 7.8 magnitude earthquake claimed hundreds of lives. The "level 4" alarm calls for international assistance
World
Former British foreign secretary Jack Straw recently claimed that the UK government instituted an inquiry and a team visited Gujarat to investigate the 2002 riots