#10YearChallenge: A look at Gujarat's throwback pics raises questions on promises vs reality
According to the Socio-economic review of 2017-18 of Gujarat, from the year 1983 till mid-2017 the state has got investments worth only Rs 2.75 lakh crore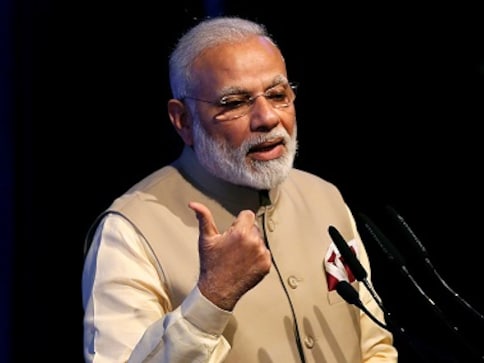 Gujarat is reportedly experiencing a phase of jobless growth coupled with agrarian distress

Between 2009 and 2016, the number of factories in Gujarat increased from 14,863 to 24,426 and workers from 8.7 lakh to 11.9 lakh

Gujarat's debt-to-GDP ratio now stands at 21 percent; it was 32 percent in 2008-09
The 10-year challenge is ruling the Internet. Haven't heard of it yet? It's nothing but posting your old pictures alongside the recent ones. The photos will show how you have changed in the last 10 years. The Internet will reward you with all sorts of feedback.
From celebrities to TV anchors to that kid next door - all have posted their pictures on social media. But don't think it's just about people; even the Indian economy, which typically keeps low-key and content with itself most of the time, too got wind of the 10-year challenge and posted a few pics the other day. The feedback wasn't bad.
Enthused by this, Gujarat, Prime Minister Narendra Modi's home state joined the 10-year challenge. Gujarat looked for some old pics and thought those were worth posting:
Investment proposals
According to the socio-economic review of 2017-18 of Gujarat, from the year 1983 till mid-2017 the state received investments worth only Rs 2.75 lakh crore. Since January 1983, the state has received acknowledgements of 15,356 Industrial Entrepreneur Memorandum, Letter of Intent and Letter of Permission filed by entrepreneurs till 31 July, 2017 with a proposed investment of Rs 14,30,178 crore.
As on 31 July, 2017, 6,251 projects were implemented aggregating total investment of Rs 2,75,880 crore. In addition, 4,280 projects are under implementation aggregating total investment of Rs 9,96,458 crore, according to the review.
Vibrant Gujarat Global Investors Summit - from 2003 to 2017, saw a total of 76,512 projects for MoU and Investment Intentions. As on 31 March, 2017, out of total registered projects by 2015 summit, 30, 512 production projects have been started. Around 17,09,881 jobs were generated by these projects. However, the review is silent about the investment figures.
The government claims about 70 percent of the commitments have turned into actual investments. How much of these MoUs have actually translated into investments has always been a subject of debate.
Per capita income: Gujarat posted other pictures too. In 2008-09, it's per capita income was Rs 55,068, now (2016-17) it is at Rs 1.5 lakh - a growth of 185 percent. During the same period, the national per capita income improved 141 percent to Rs 1.17 lakh in 2016-17 from Rs 48,787 in 2008-09. Compared with that, per capita income of other industry-heavy states such as Maharashtra's was up 165 percent to Rs 1.65 lakh and Tamil Nadu 183 percent to Rs 1.53 lakh.
Key growth drivers then and now: Gujarat's growth drivers have shown an interesting trend during this period. In 2008-09, services used to contribute to state GDP (44 percent). notably more than industry (40 percent). Now, in 2016-17, the industry (42.2 percent) has overtaken services (31.4 percent) by a huge margin.
Farm sector: Agriculture as a percentage of GDP has plunged too from 13.9 percent to 8.8 percent. There was a mix of reactions for these pictures on social media as some wondered about the change in growth metrics that can happen to a state in just one decade. Remember, of late the state has witnessed a series of farmer agitations on account of farm sector distress.
According to Sharik Laliwala, an affiliate researcher at the Trivedi Centre of Political Data, Ashoka University, the state is experiencing a phase of jobless growth coupled with agrarian distress. He cites the lower daily age rates in rural Gujarat and other structural challenges in the economy. "A misguided focus on capital-heavy projects through Vibrant Gujarat summits and corporate subsidies to enlarge the urban middle-classes while ignoring rural Gujarat will only worsen these class-based social cleavages," Laliwala writes in this piece.
Factories and workers: The number of factories and workers have improved and this too can make for a good post, Gujarat thought. It posted two more pictures. Between 2009 and 2016, the number of factories increased from 14,863 to 24,426 (rise of 64 percent) and workers 8.7 lakh to 11.9 lakh (rise of 37 percent). But one needs to see these numbers in comparison with other industry-heavy states.
In Maharashtra, the number of factories surged 38 percent (from 20,450 to 28,210) and the number of workers by 37 percent (from 10.34 lakh to 13.75 lakh). In the case of Tamil Nadu, the number of factories improved from 26,122 to 37,331 and workers from 14.56 lakh to 19.30 lakh. These photos drew a lot of attention on social media.
GDP and fiscal deficit: The fiscal deficit of the state stands at 1.42 percent in 2016-17 compared with 3.1 percent in 2008-09. Gujarat's debt-to-GDP ratio now stands at 21 percent, it was 32 percent in 2008-09. Remember, Maharashtra has a low debt-to-GDP ratio, below 18 percent in 2016-17.
Of course, these figures need to be seen in the context of overall GDP growth. GDP, at current prices, grew to Rs 11.5 lakh crore in 2016-17 from Rs 3.67 lakh crore in 2008-09, while poverty levels, as per MRP consumption based on Tendulkar methodology, dipped to 16.63 percent in 2011-12 from 23 percent in 2009-10.
To keep watching India's No. 1 English Business News Channel – CNBC-TV18, call your Cable or DTH Operator and ask for the Colors Family Pack (inclusive of 24 channels), available for Rs. 35/- per month, or subscribe to the channel for Rs. 4/- per day.
To keep watching the Leader in Global Market & Business News – CNBC-TV18 Prime HD, call your Cable or DTH Operator and ask for the Colors Family HD Pack (inclusive of 25 channels), available for Rs. 50/- per month, or subscribe to the channel for Rs. 1/- per day.
Explainers
'India: The Modi Question', the controversial documentary on the 2002 Gujarat riots, is not the first time the BBC has triggered an outrage in the country. Earlier, 'India's Daughter', a film on the 2012 Delhi gang rape and murder was banned. During the Emergency too, BBC broadcast was restricted
World
Former British foreign secretary Jack Straw recently claimed that the UK government instituted an inquiry and a team visited Gujarat to investigate the 2002 riots
World
Observers have already predicted that China would fall into the middle-income trap, and now evidence has emerged that the country is struggling to maintain its miracle of sustained higher growth rates of 10 per cent or more