Dust storms deliver dire message: India among countries most vulnerable to climate change
The dust storm have caused a decline in temperature during May. Now we have to wait till June to know how the monsoon will be this year.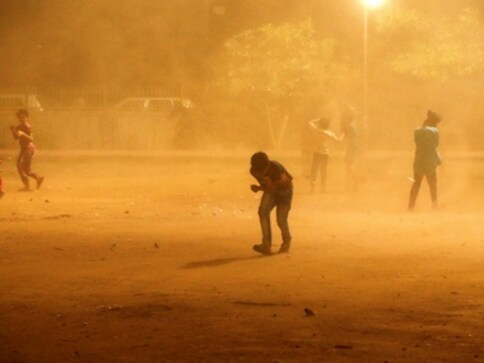 Jammu: Skalzang Angmo was only nine years old in August 2010 when her house in Choglamsar, a small village in the arid desert of Ladakh, was washed away during flash floods caused by a cloudburst, forcing her and her mother to take refuge in the relief camp in nearby Solar Colony.
More than 200 people died during the flash floods, with maximum impact on Angmo's village. Parts of Leh town were washed away on the midnight of 6 August. The country was left surprised as to how flash floods were possible in an arid desert in India's northern most state.
On 16 May, 2018, 18-year-old Aslam died in New Delhi after the wall of an adjacent house collapsed on his home, crushing him after a dust storm hit the national capital.
While the incidents in Ladakh and New Delhi are different in nature, they are manifestations of a series of changes the climate is witnessing during the past many years, although these warning bells have been ignored so far.
'India most vulnerable to climate change'
According to a World Bank report, India is among the countries most vulnerable to climate change. "It (India) has one of the highest densities of economic activity in the world, and very large numbers of poor people who rely on the natural resource base for their livelihoods, with a high dependence on rainfall. By 2020, pressure on India's water, air, soil and forests is expected to become the highest in the world."
The report states that one of the most significant ways that climate change will impact India is through water resources. "While water sustains life, it all too often wreaks havoc through devastating floods and droughts. A changing climate will only aggravate these shocks," the report states.
The world is relating climatic changes in India to an economy that is largely dependent on agriculture. According to a report by HSBC Bank, that was acknowledged by the World Economic Forum, India is the most vulnerable to climate change, followed by Pakistan, the Philippines and Bangladesh. Climate change could cut India's agricultural incomes, and non-irrigated areas, particularly, would be hit hardest by rising temperatures and decline in rainfall.
Impact on monsoon
Former Deputy Director General of the Indian Meteorological Department, Dr Kanti Prasad said that data from previous years was not available to be compared with this year's dust and thunderstorms, but agreed that the intensity and frequency of these storms is very high. "Dust storms are very common from March to June, but this year's conditions are different. The prevailing climatic conditions include increased frequency of western disturbances that are causing these dust storms," said Dr Prasad.
Winds along with dust are blowing at the speed of 65 kilometres per hour uprooting trees and electricity poles across the country. The Indian Meteorological Department has issued a warning across India to be prepared for thunderstorms, accompanied by squalls.
Experts believe that lower temperatures due to sand and thunderstorms could have an immediate impact on the monsoon this year. KK Gill, an agricultural meteorologist at Punjab Agricultural University (PAU) in Ludhiana, says that for a good monsoon, it is very important that temperatures are high during May and June.
"The dust and thunderstorms have caused a decline in temperature during May. Now we have to wait till June to know how the monsoon will be this year," said Gill.
When West Asia was stormed with dust
In January 2015, a dust storm had hit the West Asian nations, making the world think it was due to the Syrian war. However, researchers found out that the dust storm was actually due to changing climatic conditions and extremely high temperature, and not the war. Many deaths were reported due to the thick dust.
According to NASA, the dust first emerged in Moderate Resolution Imaging Spectroradiometer (MODIS) satellite imagery in Syria on 6 September, 2015. By 7 September, a thick plume swept across Syria, the Mafraq region of Jordan, and part of Turkey's Mediterranean coast. By 8 September, dust had enveloped all of Lebanon, Israel, Jordan, Cyprus, and the Palestinian Territories.
'Axing trees, concrete development spike avg temp'
The Government of India has already launched the National Action Plan on Climate Change (NAPCC) that includes eight national missions — the National Solar Mission, National Mission for Enhanced Energy Efficiency, National Mission on Sustainable Habitat, National Water Mission, National Mission for Sustaining the Himalayan Ecosystem, National Mission for a Green India, National Mission for Sustainable Agriculture and National Mission on Strategic Knowledge for Climate Change.
The NAPCC document states that the government has created an advisory council on climate change, chaired by the Prime Minister. The council has broad-based representation from key stakeholders, including the government, industry and civil society, and sets out broad directions for action.
Mahesh Palawat, chief meteorologist with Skymet Weather, a private weather forecasting company based in Noida, said that this year, dust storms are rather unusual as high velocity winds are blowing along with dust, due to the average increase in the earth's surface temperature.
"Western disturbances bring cyclonic conditions and moisture with them. At a time when temperatures in many parts is over 40 degrees (Celsius), western disturbances along with winds from the Bay of Bengal are increasing moisture over many states, causing dust storms and thunderstorms," said Palawat. He believes that the axing of trees and developmental activities have increased the average surface temperature.
No alarm yet in Jammu and Kashmir
Experts in Jammu & Kashmir say the state is also witnessing climatic variations, and believe the situation might have changed but has not gone beyond control, and there is still time to correct things.
Professor at Earth Sciences Department at the University of Kashmir, Shakil Romshoo writes (on Facebook), "Understanding the climate variation gives us a broad sense of what we can expect in future, but we need to be very clear about its short-term impacts at the local level."
He writes that increase in the surface temperature in Jammu and Kashmir's Himalayas, beyond the bounds of natural variability, has become evident since the 1970s. The 1990s, 2000s and 2010s have so far been the warmest decades, particularly during winter. "Surprisingly, I am hearing people at government meetings talking about the need to draw up drought plans for Kashmir, in light of the long and dry spell in autumn (2017) and winter (2018). No doubt we have seen a significant depletion of streamflows in western rivers (Jhelum, Chenab and Indus) but the situation is not reached such a point yet," he says.
(Arjun Sharma is a Ludhiana-based freelance writer and a member of 101Reporters.com, a pan-India network of grassroots reporters)
Photos
Japan's Fumio Kishida emphasised India's importance for a free Indo-Pacific region during his talks with Prime Minister Narendra Modi. The Japanese prime minister is on his second visit to the country where the two sides will also talk about the G20 and G7 summits
Explainers
Eric Garcetti, a close aide of President Joe Biden, is set to take over as relations between New Delhi and Washington continue to deepen. Here's what the former Los Angeles Mayor said on the Citizenship Amendment Act and China
Photos
Japanese Prime Minister Fumio Kishida visited India's capital New Delhi on Monday. Both sides held diplomatic talks aimed at boosting India-Japan global strategic partnership. Prime Minister Narendra Modi and his Japanese counterpart were also captured savouring Indian snacks