Demonetisation poll: PM Modi's survey is novel but could do with better execution
The prime minister connects to the people of India directly and tells them that they have a voice and that he wants to hear that voice directly.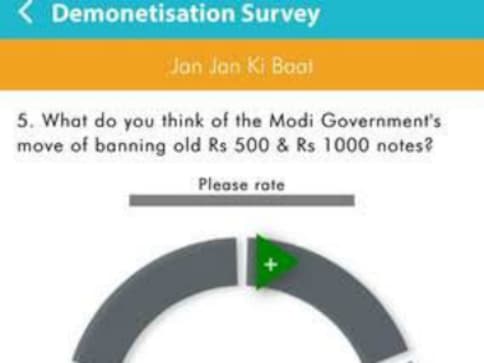 The prime minister connects to the people of India directly and tells them that they have a voice and that he wants to hear that voice directly. These voices are extremely important because it is the citizens' opinion on probably one of the most important decisions that any Indian government has taken in decades – the demonetisation of old Rs 500 and Rs 1,000 currency notes (issued before 9 November 2016).
Narendra Modi's decision is controversial because we are now wading in uncharted territory and no one knows for sure as to how, when and where this will all end. The decision impacts each and every Indian citizen and hence it is critical to hear 'Jan Jan ki Baat'.
It seems to me that while many (including me) believe that the decision has the potential to be path-breaking and positive in the long run, in the short run it is disruptive. The disruption to the purveyors of the parallel economy is welcome and a cause of joy for most, it is the disruption in the lives of the common Indian that needs to be addressed on a war footing.
Is the common Indian happy or sad? Does (s)he support the move or believe that it is draconian? What is the extent of damage even in the short run to the unorganised sector in India? What is happening outside urban India? These are questions that everyone wants answers to - including the government. Needless to say, the media has not provided unbiased answers. Most commentators are biased and hence the verdict is unclear — we seem to be so polarised that there can only be Modi bhakts or Modi haters…there is no middle path in most of the media discourse and that needs to change.
To try and come closer to the verdict and to counter the growing protests from the opposition, the prime minister launched a survey on his official app. I downloaded his application to take the survey and it set in motion a chain of thoughts.
Ever since Modi came to power in 2014 (and even before that), the prime minister has not only redefined how he uses media to further his cause but also created his own media outreach through 'Mann Ki Baat', social media tools like Facebook and Twitter, the GOI website and e-newsletters among others. Even his use of DD has been refreshingly different. So an app survey should not have surprised many. But…there is always a but. Will the app help in getting closer to a verdict?
Here are a few facts:
— As of the evening of 22 November, 2016, the app had more than 10 lakh downloads on Android. Given OS market shares in India, all other OSs including iOS cannot add more than another 10 lakh downloads.
— The app is available only in six languages – English, Hindi, Gujarati, Tamil, Malayalam, Kannada. Even when one changes language of choice, a lot of the content continues to be in English.
— The survey is available on registration only. The registration form is in English notwithstanding the language you choose and it is tedious! One is forced to fill even the voter ID number though like most other forms one can get away with filling in junk data.
— After one is done with the form, one can now take the survey. The banner for the survey is in English only. The survey is conducted both in Hindi and English but uses terms like 'demonetisation' in Devanagari script.
— The survey is available only on the app (our understanding) and not even on the website. An app can be downloaded only by smartphone or tablet users in most cases. IAMAI estimated 371 million mobile internet users in India as of June 2016.
— Some of the questions in the survey may be classified as leading. The filling in of the opinion wheel for rating is cool but may not be intelligible to all. 
The survey is not and cannot be representative of the voice of every citizen of India but is a first for sure and a worthy addition to the debate. Incidentally as a reminder, most surveys and polls that we use to make decisions, suffer from innumerable drawbacks and are not representative. The survey can however definitely be executed better. It will remain limited to a digital demographic given the medium but the reach will be extended and that is the need of the hour.
Here are five quick and do-able suggestions to improve the app:
1. Put up the survey on the website too.
2. Make it available in multiple languages – should be fairly simple to do.
3. Allow the survey to be taken without registration (or a shortened registration, if at all) with a Captcha check.
4. Some of the questions can do with re-framing – the idea is to get an honest opinion. Also on a scale of 1-5, 4 cannot be OK, 3 has to be OK. An optional question on nature of inconvenience is needed.
5. Maybe, just maybe, some questions can be made available on IVR…many more people will be able to participate though it needs more effort in execution.
The poll is undoubtedly a novel communication effort from the Government's and prime minister's perspective. It can do with changes to make a larger impact and herald change. Incidentally so can the overall communication on the demonetisation of old high denomination notes but that is another topic for another day.
Note: There is a troll brigade (opinion leaders?) that is also speculated by some to be a part of the BJP's social strategy and hence the prime minister's outreach. I have no way to establish the veracity of this speculation and hence I am referring to only channels of communication created, owned and operated by the prime minister and GOI and known as such.
The author has held leadership positions at the Tata Group (TAS), Citibank and Network18. She is now an independent business and strategy consultant and mentors startups.
Find latest and upcoming tech gadgets online on Tech2 Gadgets. Get technology news, gadgets reviews & ratings. Popular gadgets including laptop, tablet and mobile specifications, features, prices, comparison.
India
With millions out of work and many being forced to explore new avenues, it remains to be seen how much success these ventures have.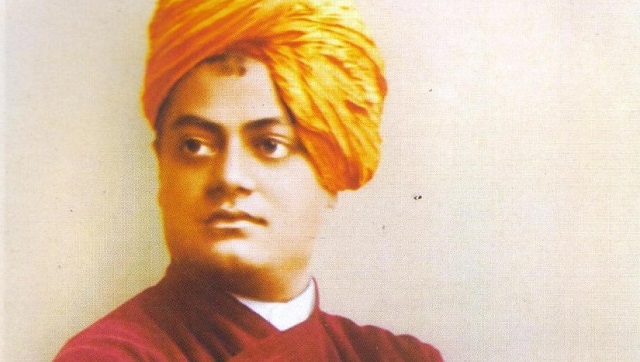 India
In his speech at the first World Parliament on Religion on 11 September 1893, Vivekananda spoke about the need to end religious supremacy and propagated the message of tolerance and acceptance
World
There are suggestions that Suga might call a snap election soon after he takes over. If successful, he could strengthen his hold on power.