Burhan Wani's death has inspired a new wave of militancy in Kashmir, as young men pick up guns
Basir Rasool Dar and Waseem Ahmad Khanday wereamong the band of young men who picked up guns in 2016's summer uprising in Kashmir, after popular rebel commander Burhan Muzaffar Wani was killed on 8 July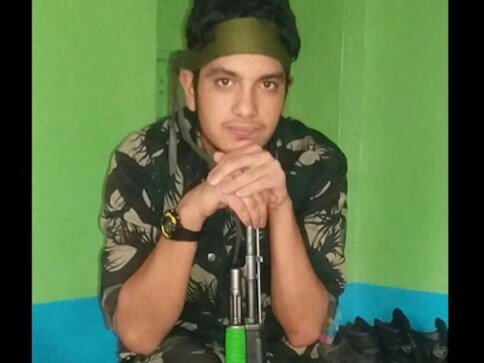 On 14 December 2016, the sun's yellowish beams pierced the haystacks in the vast ploughed paddy fields in south Kashmir's Bijbehara area. I crisscrossed through them before reaching the bank of river Jehlum that cuts through the heart of south. The river was the only route, as the armed forces had blocked all the roads leading to the nondescript village of Marhoum. A young man helped us cross the river in a large boat, used for sand digging. A friend and I managed to give the forces the slip by reaching the home of Basit Rasool Dar.
Dar, 22, a student of civil engineering, was shot dead that morning by government forces during a brief gunfight a few miles away from his village.
He was among the band of young men who picked up guns in 2016's summer uprising after popular rebel commander Burhan Muzaffar Wani was killed on 8 July. After Wani's killing, in the months-long civilian uprising, at least 100 people were killed, 14,000 injured (many blinded due to lead pellets), and thousands put in jail.
The day Wani was killed, Dar had posted on Facebook: "No, I can't believe it." Later that same day, along with his friends, he jumped into the back of a truck to reach the village of Tral — Wani's hometown. On their way, they raised pro-freedom, anti-India slogans and hailed Wani. It was around evening when the group reached Wani's village.
Dar and his friends stayed the night in a mosque just a few metres from Wani's home. By early morning, every nook and cranny of the village was filled with mourners paying their last respect to the fallen hero and trying to catch a last glimpse of Wani. At dawn, I reached Wani's home and saw mourners in huge queues passing by his dead body. Dar must have been around. We may even have seen each other.
**
Dar was one among the thousands of people who gathered on a large ground to offer funeral prayers for Wani. In the coming months, Dar would attend protest demonstrations and rallies in Bijbehara till the end of October, when he left his home and picked up a gun. He had been an active militant for two months when the government forces killed him.
Guiding me through the paddy fields to Dar's house, Tariq Ahmad, a young man from the village, tells me, "He was hit by two bullets. The first bullet hit his head and splattered his brains. We buried parts of it in our village and brought the body here."
Just as Dar had made his way to Wani's funeral, young men now gathered in Marhoum to pay their respects to Dar. I met his friends from school, and neighbours who had accompanied him to Wani's funeral in July. They narrates how they travelled to Tral, and what impact Wani's killing had on Dar.
One of them told me (without disclosing his name), "Dar was always pro-militant but we never thought he would ever join them. He used to argue with people who were anti-militancy. The day he went missing, he left his SIM card at home but took his phone along. Nobody knew exactly what happened or what inspired him, although it was obvious that after Burhan Wani's killing, he had decided to follow this path."
One of his friends met Dar after evening prayers, the day before he left home. The friend says, "I met him coming out of the mosque. He said, 'What are we doing here? What will I do with everything I get in this life?' From the way he was talking, I could sense that he had perhaps made up his mind (to join the militants)."
(Video courtesy Fahad Shah)
**
In South Kashmir, if a young boy is missing these days, it could be that he has picked up a gun. While Dar was an engineering student with a bright future ahead of him, some are following Wani's path much earlier — even knowing what lies ahead.
Wani's killing has had a serious impact on the psychology of the youth, mostly teenagers. During a speech in Mumbai in November, the former chief of the Research and Analysis Wing (RAW) AS Dulat said what has happened in the Kashmir Valley over the four months after Burhan Wani's death was much worse than the beginning of militancy in 1989. "Though things are back to normal, the fact remains that around 1,500 youths are still behind bars for stone pelting," he said. "Burhan Wani too was stone pelter once upon a time, who turned into a militant. We need to ponder over this and think about the youths who are now behind bars."
The reason why Wani joined militancy was because he had faced — firsthand — abuse by the government forces and vowed revenge. Much like what the youth impacted by his killing are doing now. In remote Zarkan village of Shopian district, 60 km away from Srinagar, with hills and forests surrounding it, 16-year-old Waseem Ahmad Khanday was told to visit his aunt in the nearby village of Tukroo. For three days he helped his aunt to pick apples from the orchard.
At his one-storey, large, concrete home, his father, Mohammad Ayub Khanday, 50, tells me that Waseem was not interested in militancy. "On 28 September, he had gone to his aunt's place and that is where he snatched a gun from a local former lawmaker's security guard. The guards had opened fire at him but he managed to escape. We had never imagined it, as militants have had no contact with this village. We had to force him to go to his aunt's place for work and I gave him Rs 20 when he left," Khanday said.
According to police records, around 45 youths have joined militant outfits post-Wani's death, taking the number of total local militants to 122. Snatching guns from government forces has been the first step towards joining any militant outfit — a trend that was popularised by Wani and Majid Zargar (another popular commander of Lashkar-e-Toiba from Kulgam, who was also killed in December).
In the four months of the uprising, around 70 weapons have been snatched from government forces in a dozen such incidents. The technique has been followed by the new Hizbul Mujahideen commander Zakir Bhat as well, who in one of his video messages said: "Anyone who wants to join us, he should snatch a weapon... We welcome them all wholeheartedly." Bhat is also an engineer and was a close aide of Wani.
"After Waseem left with the gun, we were arrested and detained for three weeks," says Khanday. "The police officials told us to bring him back but we didn't even search for him." His mother adds, "Perhaps if we had tried, he may have returned."
Five weeks later, the government forces exchanged gunfire with militants in forest area of Dobjan on 5 November 2016. Waseem was killed in the gunfight, which lasted for a few hours. "We were given his body at the Police Lines Shopian at 6 pm. The whole night we were at the mosque and at around 4 am, we offered his funeral prayers," says Khanday.
Khanday doesn't blame anyone or anything for what his son chose for himself. He says, "This is the situation in the whole of Kashmir, so what can we blame him for? He was in no need of money or anything. It doesn't seem like anything is happening but the impact will always remain. We have oppression here, so he was forced to pick up a gun."
As a child, Waseem suffered from epilepsy and would often be taken to doctors in Srinagar. Sitting in their kitchen, his father kisses a photograph of Waseem and breaks into tears as he recalls the day when it was clicked: it was on one of their trips to the doctor, and they had taken the boy to Mughal gardens in Srinagar later. That's where the photo was shot.
Waseem's last call to his father was to remind him to feed the pigeons in the attic, his pets. The pigeons are still in the attic but Waseem lies buried in the village graveyard. Much like Burhan, Basit and Waseem, many of Kashmir's youth see militancy as the only solution to their problems, in the absence of any political settlement to the larger Kashmir issue of which everything else is an outcome.
India
The work was started in June 2022 and is expected to be completed next month, officials said, adding that the estimated cost of the project is Rs 1.62 core
Entertainment
The filmmakers shared a poster of the Iconic Gold Awards 2023 featuring him and Pallavi Joshi and yet another picture of the award.
World
Zardari also fumbled as he went on to refer to India, describing it first as "our friend" before using the term "neighbouring" country