Bhima Koregaon violence: Devendra Fadnavis orders probe as Dalits call for Maharashtra bandh today
Day after the violence in Koregaon-Bhima left one youth dead, Maharashtra chief minister Devendra Fadnavis announced a judicial probe and a CID investigation into the matter as angry Dalits staged rail and road blockades in several parts of Pune, Mumbai and Aurangabad.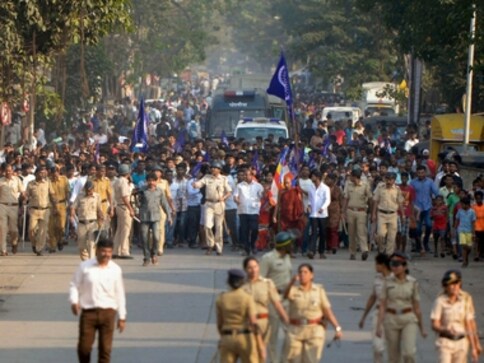 A day after the violence in Koregaon-Bhima left one youth dead and several others and vehicles torched in Pune, Maharashtra chief minister Devendra Fadnavis announced a judicial probe and a CID investigation into the matter ANI reported.
Request will be made to SC for judicial inquiry in Koregaon violence matter and CID inquiry will also be conducted on the death of the youth. 10 lakh compensation for victim's kin: Maharashtra CM Devendra Fadnavis pic.twitter.com/UdtDuYcQwN

— ANI (@ANI) January 2, 2018
Meanwhile, angry Dalits staged rail and road blockades in several parts of Pune, Mumbai and Aurangabad and Dalit organisations called for a state-wide bandh on Wednesday. Bharipa Bahujan Mahasangh chief Prakash Ambedkar — the grandson of Bharat Ratna BR Ambedkar — called for a 'peaceful Maharashtra shutdown' on Wednesday to express anger over the Pune incidents. In a press release, CPM said that it will support the bandh "to denounce violence by casteist and communal forces against Dalits at Bhima-Koregaon." The party further said that the bandh will condemn the "entire manner in which the BJP-led state government headed by Fadnavis handled the situation." CPM alleged that "no action was taken" ahead of New Year, even though the state government was "well aware that lakhs would gather to commemorate the 200th anniversary of this battle." The Left party criticised the state government for not arresting any suspect for killing Fatangale. "It appears that this violence has been deliberately engineered by right-wing forces to incite casteist and communal polarisation in the state," the party said. However, the CPM appealed for a "peaceful and democratic" protest.
Fadnavis orders probe into Bhima-Koregaon violence
Fadnavis on Tuesday said a judicial inquiry has been ordered into the violence which erupted during the 200th anniversary celebrations of the Bhima-Koregaon battle in Pune district." A sitting high court judge will head the inquiry," Fadnavis said,  adding that Rs 10 lakh compensation would be given to kin of the youth killed.  The youth's death would be probed by the CID, Fadnavis told reporters. He appealed for calm and peace and said that Maharashtra is a progressive state which does not believe in casteist violence. Strict action would be taken against those who use social media to spread rumours, he said and appealed to political parties to refrain from saying anything that would fuel tensions. " Around three lakh people had gathered (for the battle anniversary celebrations). Some people tried to create a serious scene. But six companies (of security personnel) were posted. Police promptly controlled the situation and averted a major problem," Fadnavis said.
NCP, Shiv Sena blame BJP government
NCP chief Sharad Pawar on Tuesday blamed the administration for the violence in Pune district and demanded a probe into the incident. Appealing for peace, Pawar said such situations need to be defused patiently by those in political and social spheres without any provocative speeches being made. Pawar tweeted that "the violence was not right".
"Since the administration did not take precautions, rumours and misunderstanding spread. A youth in Nanded died unfortunately. People from political and social field should defuse the situation harmoniously and patiently without making provocative speeches," the former Union minister appealed.
Pawar noted that locals in Vadhu village said that right-wing groups in Pune were making proactive speeches against the event three to four days prior to it. Leader of Opposition in the Maharashtra Legislative Council Dhananjay Munde said the violence was unfortunate and condemnable. Meanwhile, Shiv Sena Rajya Sabha MP Sanjay Raut on Tuesday hinted at a "big conspiracy" in the recent spurt in sporadic caste-related violence that has been erupting in the state, which needs to be thoroughly investigated and "the hidden hand" must be exposed. Speaking to Times Now, Sanjay Raut said: "The incident has not happened suddenly. There is a political conspiracy behind this. Some force wants to break Maharashtra. The government needs to ponder why these incidents have increased. Since the time this government has come into existence, these things have been happening." Maharashtra minister of state for home Deepak Kesarkar on Tuesday visited Bhima-Koregoan and neighbouring villages and said the situation was under control.  
Rahul Gandhi hits out at BJP-RSS
Congress president Rahul Gandhi lashed out at the BJP and the RSS, saying their "fascist vision is that Dalits should remain at the bottom of Indian society" and added that the incident in Bhima-Koregaon (Maharashtra) is an indicator of resistance.
A central pillar of the RSS/BJP's fascist vision for India is that Dalits should remain at the bottom of Indian society. Una, Rohith Vemula and now Bhima-Koregaon are potent symbols of the resistance. — Office of RG (@OfficeOfRG) January 2, 2018
  Maharashtra Congress chief Ashok Chavan condemned the violence and urged people not to believe in rumours. AAP spokesperson Preeti Sharma Menon said the Fadnavis government failed to keep peace. "The attack has resulted in unrest across the state between upper caste Hindus and Dalits," she said.
Violence spills to Mumbai
Several towns and cities in Maharashtra were on edge on Tuesday as Dalit protests against Monday's violence in Pune spilled over to Mumbai, with agitators damaging scores of buses, and disrupting road and rail traffic. In Pune, cases were registered by the Pimpri police against Milind Ekbote and Sambhaji Bhide, who head the Hindu Ekta Aghadi and Shivraj Pratishthan respectively, for allegedly inciting the violence. The two organisations had opposed the celebration of "British victory" in the battle.
Thousands of Dalits took to the streets on Tuesday in Chembur, Mankhurd, Ghatkopar, Bhandup and other strongholds in northeastern parts of the city demanding action against the perpetrators of the Pune riots. The Mumbai police, meanwhile, issued a statement appealing to people not to believe in rumours and verify facts with the police before posting anything on social media. Scores of Dalit youth blocked the Harbour line of the Central Railway near Chembur, leading to train services being halted. Lakhs of commuters were stranded on stations or in trains. Many preferred to walk on the railway tracks to their destination.
Hundreds of youths reportedly swooped onto the roads in eastern suburbs asking shops, restaurants and commercial establishments to down shutters, and staged road blocks. However, police intervened and traffic movement resumed, though it resulted in massive vehicular snarls all over the city, some several kilometres long. Protests and violent incidents were witnessed in other parts of the state, including Ahmednagar, Jalgaon, Dhule, Beed, Nashik, Pune, Solapur, Thane and Palghar as Dalits expressed their ire over Monday's incidents in Koregaon-Bhima in Pune district.
Several buses of the Maharashtra State Road Transport Corporation (MSRTC), besides private luxury buses and other vehicles, were damaged in stone pelting by mobs. The disturbances erupted in the village of Koregaon-Bhima on 1 January during the 200th anniversary celebrations of the Anglo-Maratha War between the army of Peshwa Bajirao II with a small force of the East India Company that comprised a large number of Dalits.
Lakhs of Dalits congregated around the Victory Pillar (Vijay Stambh) erected by the British in Sanaswadi village when suddenly stone pelting started, allegedly by some right-wing groups carrying saffron flags. In the clashes that ensued between the two groups, more than 30 vehicles, including buses, police vans and private vehicles, were torched or damaged and one Nanded youth, Rahul Fatangale, 28, lost his life. The police fired tear gas to control the mobs and prohibitory orders were imposed in the entire Pune district, with the situation reported tense but calm on Tuesday. Over 160 buses were damaged in Mumbai by rampaging protesters over 100 of whom were detained, police said.
Dalit leader Jignesh Mevani, who was at 'Elgaar Parishad' organised to commemorate the 'Battle of Bhima-Koregaon' on Monday, appealed for calm.
Maharashtra government must ensure rule of law. I appeal to the people of Maharashtra to maintain peace.

— Jignesh Mevani (@jigneshmevani80) January 2, 2018
With inputs from agencies
India
An NCP leader had claimed the incident took place when the woman NCP member along with other party workers went to submit a memorandum to Irani over the LPG price hike
India
Amitabh Gupta recently invited questions from people as part of the '#LiveWithCPPuneCity' initiative of the city police
India
Saner elements among Muslims should take adequate steps to thwart attempts by fundamentalists to hijack the entire community for their divisive agenda