Mohan Bhagwat bats for LGBTQ rights: Were Hans and Dimbhaka, King Jarasandha's two generals mentioned by RSS chief, gay?
In a recent interview, RSS chief Mohan Bhagwat said that people from the LGBTQ community should have their own private and social space. He also referred to two brave generals from Hindu mythology, Hansa and Dimbhaka, who fought against Lord Krishna. He said they were 'in that sort of a relationship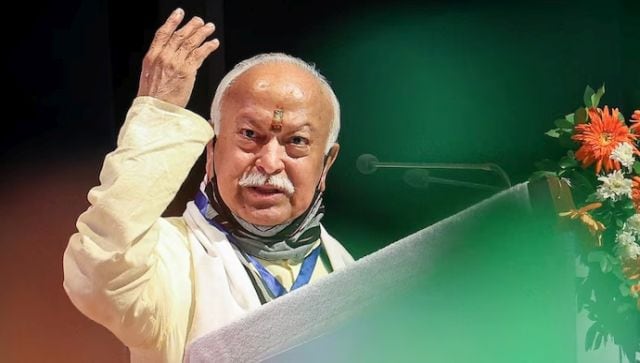 The LGBTQ community in India has found an unexpected supporter in Rashtriya Swayamsevak Sangh (RSS) chief Mohan Bhagwat. In a recent interview, he spoke in support of homosexual and transgender citizens of India. His views have appeared in Organiser, the English language mouthpiece of RSS.
In the interview, the Sangh leader said that LGBTQ people should have their own private and social space as well and that the Hindu society did not see the transgender community as a problem.
What did Bhagwat say?
"LGBT/transgender issue are not new issues; they have always been there… These people also have a right to live. Without much hullabaloo, we have found a way, with a humane approach to provide them social acceptance, bearing in mind that they are also human beings with an inalienable right to live," the RSS chief said in the interview.
Bhagwat explained that the LGBTQ community is not new to India and has been part of Hindu society and tradition. He referred to the story from Hindu mythology about the two generals, Hansa and Dimbhaka, who were in the army of Jarasandha, a powerful king of Magadha.
"Jarasandha had two generals, Hansa and Dimbhaka. When Krishna fanned a rumour that Dimbhaka had died, Hans committed suicide. What does this story suggest? That the two generals were in that sort of a relationship," Bhagwat said, hinting that they were gay.
What mythology says about Hansa and Dimbhaka?
Jarasandha and his generals find a mention in the Mahabharat. According to mythologist Devdutt Patnaik, the story of the two generals comes from Sabha Parva (Rajasuyarambha) Chapter 14:3.
Jarasandha got his daughters married to Kans, Lord Krishna's evil maternal uncle. When Krishna defeated Kans, Jarasandha was outraged as his daughters became widows and he constantly waged a war with Krishna.
The angry king is said to have attacked Mathura 17 times. In the Mahabharat, the two generals, Hansa and Dimbhaka, find a mention during a conversation between Krishna and Yudhishthir, when the former is telling the eldest Pandava about the last battle, the 17th one.
Krishna tells the Yudhishthir that it was difficult to defeat Jarasandha because of the two generals who were as strong as gods. They had a boon that they could not be killed by any weapon and were strong enough to take the three lok (worlds) – heaven, Earth, and hell, Professor Jawaharlal, philosophy department of New Delhi's Shri Lal Bahadur Shastri National Sanskrit University, told The Indian Express.
Also read: MS Golwalkar, Hindutva and LGBT: Mohan Bhagwat demolishes 'demonic' image of RSS, shows organisation as inclusive, modern
Were the two generals gay?
Krisha and his brother Balram found that the two generals were invincible.  Another king who was also called Hansa, also fighting for Jarasandh was killed in the battle by Balaram, Krishna's elder brother.
Krishna spread the news that Hansa had died. Dimbhaka was heartbroken. He decided he could not live without Hansa and jumped into the Yamuna. He drowned.
When Hansa, who was alive, heard what Dimbhaka had done, he too drowned himself in the river.
Krishna was not lying, Hansa had been killed but he was referring to the king and not the general.
Professor Jawaharlal told The Indian Express that the words "saathi" (companion") and premi (lovers) have been used to describe the relationship between the two generals.
However, there is a lot written about the Mahabharata. And many describe Hansa and Dimbhaka as brothers.
Pattanaik writes in The Times of India, "Were they (Hansa and Dimbhaka), friends or father-son? It is not clear. The story mentions 'widow of Hansa' weeping before Jansardhan but nothing else is known about either of them."
What did Bhagwat say about the transgender community?
Bhagwat said that the transgender community is part of our "everyday" lives.
"We have a transgender community; we did not see it as a problem. They have a sect and their own deities. Today, they have their own Mahamandaleshwar too. During Kumbh, they are accorded a special place."
Hindusim has 13 akharas or religious orders and each of them nominates a representative, Mahamandaleshwar, to spread Sanatan dharma.
Bhagwat was referring to the Kinnar Akhada, which participated in the shahi snan ritual in 2019 for the first time at the Prayagraj Kumbh. The akhada was formed in 2015.
Why are Bhagwat's remarks significant?
The statements are seen as RSS's softening stance on homosexuality. However, this is not the first time Bhagwat has spoken about the issue.
In October 2019, he said that homosexuality can be addressed without conflict. He had said that homosexuality is a "variation" and not an "abnormality". "They should be treated as equal human beings and integrated into society," he said while interacting with journalists representing the foreign media.
In 2018, when the Supreme Court decriminalised homosexuality, Akhil Bharatiya Prachar Pramukh Arun Kumar said, "Just like the Supreme Court, we also do not consider this criminal. But we do not support homosexuality, as same-sex marriages and relations are not in sync with nature. Traditionally too, Indian society does not accept such relations."
However, until 2014, the RSS was not in support of homosexuality.
With inputs from agencies
Read all the Latest News, Trending News, Cricket News, Bollywood News,
India News and Entertainment News here. Follow us on Facebook, Twitter and Instagram.
Opinion
India's relations in West Asia have their own independent standing. Clearly peace and stability in the region should be win-win for all, including India
Explainers
Tropical Cyclone Freddy is exceptional mainly due to the fact that it has lasted longer than any other in historical records. Last week, it unofficially broke the World Meteorological Organisation's benchmark as the longest-lasting tropical cyclone set in 1994 for a 31-day storm named John
Explainers
All evidence suggests that coronavirus may have jumped into humans from wild animals in a Chinese market. Political momentum has not always coincided with evidence. Even as the idea of an unintentional lab leak has gained traction in Washington, recent findings have bolstered the market theory