This is what happened when Shah Rukh Khan went to drop Aryan Khan to college
Shah Rukh Khan had earlier spoken about Aryan joining a filmmaking course and how he was helping him with it.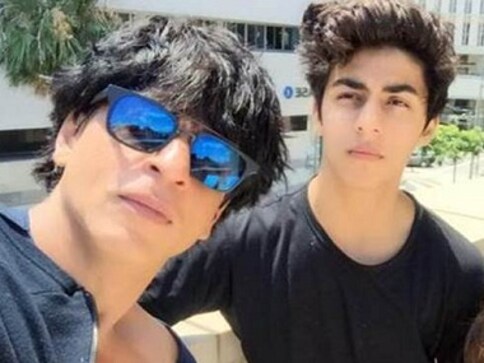 News of Shah Rukh Khan being detained at LA Airport dominated all of last week, but one of the reasons why the superstar was in the US, was to attend his son Aryan Khan's orientation in California. Aryan will be joining a filmmaking course in the University of Southern California.
Times of India reports that upon arriving at the university campus, Shah Rukh Khan, Gauri and children Suhana and AbRam, met with Aryan's classmates and interacted with people present.
There were, indeed, "so many selfies"
Gauri Khan had also posted a picture of some down time with her kids before Aryan started his course:
Shah Rukh Khan had earlier spoken about Aryan joining a filmmaking course and how he was helping him with it.
"I am showing Aryan a lot of films because he will be going to a film school now. I have made a folder which has all the great English classics like The Untouchables, Goodfellas and Michael Douglas'Falling Down. Right now I am showing him English films," Shah Rukh said.
"I have also made another folder that has Hindi classics like Jaane Bhi Do Yaaron, Sholay, Do Aakhen Barah Haath and Devdas, both Dilip Saab's and mine. I want him to see more films and he does watch a lot of films including mine."
When asked if his children are following his footsteps, the 50-year-old star said, "At the moment, my kids are following my footsteps as far as education goes. I had done my Masters and my kids are pursuing their graduation.
"Whether they will become actors or not it is their decision. Now they are getting educated. It is not necessary that because their father is an actor so they should also become one. I would be equally happy if they chose to become something else," he added.
(With inputs from PTI)
Entertainment
The biopic on S Nambi Narayanan's life, Rocketry: The Nambi Effect opens to the world, Firstpost speaks to the persecuted genius.
Entertainment
There is no Don 3 happening in the near future, and certainly not with Shah Rukh Khan and Amitabh Bachchan in the lead.
Entertainment
While the concept of pan-India films has been a trending topic on social media for a while, many cine-goers have not observed the success of crossover films at the box office.