Tanushree Dutta responds to Bollywood support over harassment row: Actions should align with tweets
Tanushree Dutta says Twinkle Khanna has enough power to ask Akshay Kumar to not work with Nana Patekar
Having lived a life in "solitude and silence" for about a decade, Tanushree Dutta, a US resident now, says she has never been so vocal about anything before, alluding to the sexual harassment allegations she has leveled against Nana Patekar. The actress had reported the incident back in 2008 when it allegedly happened on the sets of Horn Ok Please but was silenced as no one supported her claims. Some are calling this the start of India's #MeToo movement and the actress, who has decided to take the legal route, is waiting to see whether the celebrities who have tweeted in her support will actually be by her side in the legal tussle.
"It is not a movement yet but the phenomenon is gaining momentum with the support of several media houses. They are taking it as a cause; it is not personal to me. People supporting me are the real heroes. I spoke 10 years ago and my story remains the same. Earlier when somebody asked me about the episode, I would have a full blown breakdown but now I speak without responding to it emotionally. Now my life has healed me. I live in America and I have a very different life there although the work that I am doing is related to my past glory. I do events within the Indian community," says Dutta, former Miss India and Miss Universe contestant, who's currently in India visiting her family and friends. "I have traveled a lot in the last few years and explored different religions. It has been a very long journey for me," she adds.
Cinema, acting and dancing, Dutta says, was her passion back in those days but she had to walk away from it. "Right after the incident I got 30 to 40 film offers but I was not in a position to take them up at that point of time. Psychologically, I had that irrational fear that perhaps, the same thing will happen again. That is what happens to victims and survivors. They are always looking over their shoulders, always jumping at shadows," she says.
"You don't trust somebody who has offered you a film right after such a big controversy. I used to feel, 'Inko bhi behti ganga mein haath dhona hai shaayad (maybe they want to take unfair advantage of the situation)'. I was doing small and mid-budget movies. I was never part of A-list projects with A-list stars. Dhol was sort of a mid-budget film. Maybe Chocolate had one or two stars who had come back from their sabbatical. But mostly, my career graph has been the career graph of an actor who has been an outsider. If this incident had not happened and had I not walked away, then maybe it would have been an ascending graph. I was on my way up, slow and steady. I was evolving as an actor but it was cut short for me and I had to walk away. Today I have mixed feelings about it."
While over a dozen people from the film fraternity, including Farhan Akhtar, Priyanka Chopra, Anurag Kashyap, Twinkle Khanna, Sonam Kapoor, Richa Chadha and Swara Bhasker among others have extended their support, Dutta says she is still disgusted with the attitude of some people in the industry. "While all this is going on, Farah Khan has chosen to go ahead with Nana Patekar in her cast. Twinkle tweets in my support but her husband is shooting with him for that film. I don't buy the excuse that husband and wife are two individuals. We often hear stories of star wives putting their foot down, breaking even the bestselling jodis in the process. She has enough power to tell her husband to not work with someone and he would comply. If you are trying to show me that you are tweeting in my support but your husband is still working with Nana…well, I have a lot of genuine supporters and I would rather be thankful to them. This fake feminism doesn't really impress me. If they really had the right intention then some semblance of that would have already started showing," says Dutta.
"Tweeting is not a measure of support if it doesn't align with your actions. I love the fact that people are coming forward; there are some genuine people like Farhan Akhtar and some actors and actresses. But I am now waiting to see if their words match with the actions. I am very grateful for their support but I want to see how far that support goes. I don't have anything to lose; that is where the courage comes from. I have been through enough and that is where my confidence comes from," she adds.
However, Dutta says, it wasn't in her subconscious mind to raise the matter until someone asked for her thoughts on the #MeToo movement and if it would ever reach India. "I never thought that Bollywood had evolved. I was shoved in the middle of it by the universe even though I have stayed away for the last eight years. All I have is pictures of me pouting in swimsuits and old footage of item songs. I was generally giving interviews and clarifying a lot of misconceptions that people had about me getting kicked out of films. I was clarifying that I had 30-40 film offers in 2008-09. Nobody was listening and I didn't want to repeat the same story again and again. I had to walk away and focus more on my spiritual healing," she says.
"I wanted to holiday here as I wasn't occupied with work. I was doing interviews, kind of motivating people to follow an alternate path to healing. I was generally doing YouTube videos and somebody asked me about India's #MeToo movement. The movement should have happened 10 years ago.  I was one of the first persons who spoke but I didn't get justice. It came out naturally out of my spirit. It was tweeted and that tweet along with my interview went viral. Then the floodgates of all the media houses opened up. This point hit many people hard. Some people came forward and made it their mission to put my story out," says Dutta.
Ever since she spoke out, people on social media platforms have accused Dutta of looking to gain a foothold in the industry. She shoots back, "How does that matter? People took away my craft from me. If someone offers me work, and if I decide to take it up in a delusional state, does it even matter? Does it take away from my story? I am showing people the human aspect of a person's suffering. People just dismiss the whole thing saying, 'Oh, she is this sexy actress, she accused Nana Patekar and she was out of the industry.'"
"I am giving you a minute by minute account of when I felt harassed, cornered and manipulated. I am showing the psychology of the people, who despite my complaint, decided to give me a super sleazy dance step. And when I walked out, they erupted in anger as their ego was hurt and they thought, 'How could she do this to us?' They could have made changes, worked around it, made me comfortable. I would have finished the song and the song would have got publicity. I would have been the star of the song. They would have got much more out of it. The movie ultimately didn't release. The pressure they put on me to do that step — calling the goons, filing a counter FIR even before I could reach the cops — threw my parents and me in a hell hole. Our car was damaged so badly. I remember sitting inside and thinking whether we would reach home or a hospital" recounts Dutt.
And even as the stage is set for her to speak, Dutta points out how differently she and Nana Patekar are being projected. "He's shown standing in front of Ganpati bappa and on the other side, there's me pouting in a sexy photo shoot, or doing an item song. I don't blame anyone because there are no other visuals of me but there are other visuals of Nana – screaming, fighting, pulling a gun against someone because that is what he actually is. He isn't that pious a man, he has just tried to build that image," laughs Dutta.
Her wounds may have healed but the scars remain, she says. "We are trying to reverse the conditioning. It is not just me. There's an unresolved issue which is coming out in a big way. Compassion develops when you actually feel for people and help them, otherwise you will say, 'Let the court decide'. Tomorrow, someone may not be able to articulate things very well because talking about the experience may still be a trigger for her. Maybe someone in the future will come forward and she may not be an ex-Miss India. We will then simple have to follow our instinct and intuition," says Dutta.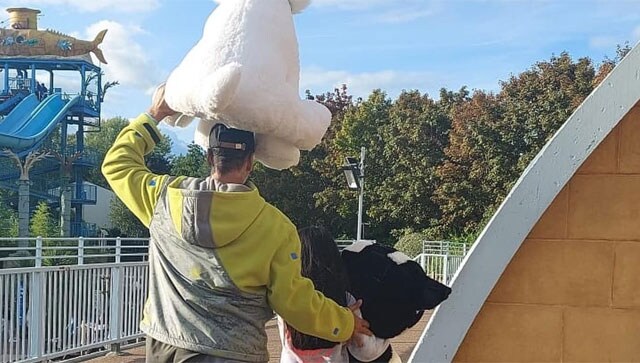 Entertainment
The actor shared videos and pictures of his visit to an amusement park with his daughter Nitara on Instagram.
India
Several people found the advertisement 'problematic', including Shiv Sena leader and Member of Parliament Priyanka Chaturvedi
Entertainment
Right from his views on Raju Srivastava to being accused of groping a woman, he could be the king of controversies and not comedy.