Suspiria: Luca Guadagnino's interpretation of Dario Argento's cult classic shows how to 'improvise freely' with remakes
Luca Guadagnino's Suspiria, starring Dakota Johnson and Tilda Swinton, is a fresh interpretation — rather than a traditional retelling — of Dario Argento's cult horror classic.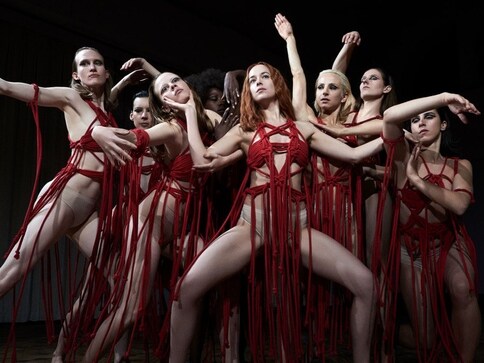 It's true nostalgia has led to the death of originality. With its reboot-reuse-recycle policy, Hollywood has used our childhood memories against us in its efforts to pander to the new generation. It has a terrible track record with its remakes of <insert whatever movie you treasured in the past>.
Having said that, it's hard not to be excited about Luca Guadagnino's Suspiria, which is scheduled for limited release in the US this Friday. When the teaser trailer for the film dropped in June earlier this year, it hinted at a deeply disturbing cinematic experience akin to the original Dario Argento cult classic.
"I was just a boy who had seen a movie that made him what he became. So that's how I am approaching it: a homage to the incredible, powerful emotion I felt when I saw it." - Luca Guadagnino, The Guardian
However, instead of lush, over-the-top visuals drenched in neon lighting, we got a more restrained aesthetic. The music was not as disorienting or aggressive but still made you feel tense and uneasy. On the whole, it looked more Cronenberg or Friedkin than Argento. Though it retained the setting and sinister Gothic imagery of the giallo classic, it was clear this was a new interpretation — rather than a traditional retelling — from a skilled filmmaker with arthouse pedigree and a phenomenal cast.
Dakota Johnson stars as Susie Bannion, a young aspiring dancer, who leaves behind her sheltered Mennonite life in Ohio to join a dance academy in Cold War-era Berlin. She arrives just as another student, Patricia (Chloë Grace Moretz), mysteriously vanishes after confiding her fears to her octogenarian therapist, Dr Jozef Klemperer (credited as 'Lutz Ebersdorf' but really Tilda Swinton in heavy makeup), that the academy secretly houses a coven of witches.
Susie soon rises in the ranks thanks to her raw talent and catches the attention of head tutor Madame Blanc (Swinton without heavy makeup). Bewitched by her ambitions, she is unaware that she is being manipulated by Madame Blanc, who seeks to groom her for something more sinister. As her fellow students are plagued by nightmares and violent fits and with bodies beginning to pile up, she begins to suspect that something is amiss and slowly uncovers the true nature of her tutor and the academy.
"But I can say that my Suspiria is a very personal film; it's like oxygen to me. When I saw the original movie thirty-two years ago, the emotion I felt was so strong, so mind-blowing, and so important to my upbringing. I wanted to investigate the experience I had watching that film." - Guadagnino, Criterion
When Argento's Suspiria released in 1977, it was a cinematic experience unlike any other. It lacked an easily discernible plot, a coherent mythology or effective dialogue. But it more than made up for it with its sheer visual decadence. True, it was an OTT, self-indulgent exercise in style-over-substance but Argento justified every transgression with his artistry and audacity.
The movie felt like an unrelenting and hallucinatory nightmare about dancers and witches bathed in the most gorgeous Technicolor lighting. Each frame looked so meticulously designed and each murder so lavishly dialled up with red and blue hues in elaborate, campy set pieces. You couldn't tear your eyes away, but at same time you wanted to squeeze them shut. The aggressive, pulsating synths of Italian prog-rock band Goblin perfectly complemented its mood and tenor, leaving you spellbound in all its opulent giallo majesty.
But in the new Suspiria, Guadagnino replaces Argento's colouring book palette of deep blues and crimson reds with a more muted one — heavy on charcoal greys and coffee browns. Goblin's music imbued Argento's film with an eerie, foreboding quality to it with haunting whispers, pagan chants, clanging bells and echoing drum beats. Guadagnino, meanwhile, has enlisted the help of Radiohead frontman Thom Yorke, who in his debut feature-film score, makes effective use of gentle piano tunes, orchestral strings, unsettling drones and his chilling falsetto vocals.
"For me, I always think of the setting of the story before I decide anything about the light and the color of my films. And this is a movie about Berlin, 1977, a country that is almost on the verge of civil war, where there is a great generational divide, where the horrors of the past are confronted by the urgency and the violence of the present, a period that was called the German Autumn. We started to see the pictures of the time, and in particular the wonderful lesson of [cinematographer] Michael Ballhaus in the films of Rainer Fassbinder. And we started to think of how a great painter like Balthus created such uncanny eeriness and fear in his amazing paintings. And that led me, my production designer Inbal Weinberg, my costume designer Giulia Piersanti and the director of photography Sayombhu Mukdeeprom to go for browns and blacks and blues and greens, all muted and juxtaposed, so that we could in a way encompass this idea of a German Autumn. That's why the colors are not primary. They do not pop at you. I hope that they infiltrate you and they go deep into you." - Guadagnino, The Hollywood Reporter
The trailers and featurettes for Guadagnino's Suspiria also reveal a larger focus on dancing as a metaphor and a form of expression, which in the original was reduced to a backdrop. In a recently released clip from the film, Tilda Swinton's Madame Blanc tells her class about a new piece about rebirth and asks Dakota Johnson's Susie to "improvise freely." Soon, we see Susie contort her body out of shape — as if possessed — before the camera twirls to reveal the sinister force at play beneath the floorboard.
Taking cues from films like The Red Shoes and Black Swan, the new Suspiria looks to reveal the grotesque reality behind the dancer's desire for perfection.
Contorting themselves into unnatural positions of stretched limbs, over-extended hips, arched backs and arabesques, dancers look to create picture perfect moments of effortless grace and unaffected athleticism. True, there is a poetic beauty in a dancer's movements but their expressionless faces and neatly-wrapped feet hide their pain and anguish. The self-destructive tendencies of their obsessive pursuit of excellence and the fight for control with their overbearing teachers have been well-documented in the aforementioned films and only take a darker turn in Suspiria.
"It's inspired by the same story, but it goes in different directions, it explores other reasons. It's semantics, of course, but I think people really have to understand that this is not a remake, because the word "remake" gives the impression that we want to erase the original, and the opposite is what we tried to do." – Guadagnino, Allocine
Having found beauty in the morbidity of Argento's original, Guadagnino has sure made a compelling case for horror lovers to come back for a second dose. But he clearly seems to be operating on a different wavelength to Argento, choosing to tell the story in his own way. Rather than making another listless remake, he has taken a beloved horror film from his childhood in a bold, new direction, turning a previous exercise in style into one of substance.
Taking Madame Blanc's advice, he has "improvised freely."
Dario Argento's Supiria (original) will be screened on 26 and 31 October at ​Jio MAMI 20th Mumbai Film Festival​ as part of the "Restored Classics" section.
India
It is time we seriously examine our consumption and disposal of electrical and electronic equipment and make it environmentally conscious
India
It is important that we Indians defer to the experience and wisdom of our ancestors on animal health
Entertainment
A deep dive into the ending of Daniel Craig's No Time To Die and what it means for the James Bond franchise