Flashback to Dario Argento's Suspiria, as the remake readies for Venice Film Festival 2018 premiere
Suspiria is like Rosemary's Baby on LSD.
With the dawn of the millennium, Village Voice – the famous New York-based newspaper, and America's first alternative newsweekly – felt it was time to come to a consensus on the 100 best films of the 20th century. Distinguished film critics were invited to participate in a poll, and the results were published in the 4 January, 2000 edition. At Number 1 was, unsurprisingly, Citizen Kane, and the list continued along expected lines. Renoir. Hitchcock. Ford. Dziga Vertov. Murnau. Jean Vigo. Dreyer. Bresson. Kurosawa. Kubrick. Coppola. Ray's Pather Panchali came in at Number 13. In short, the films already celebrated as classics were the films that were found here – until you came to Number 100. That place went to Dario Argento's Suspiria (1977), whose kinda-sorta remake, by Luca Guadagnino, will premiere at the Venice Film Festival this year.
Why is the inclusion of Suspiria, in this list, a surprise? Because it's hardly a "classic" in the generally understood sense – it's more of a cult film, a guilty pleasure. Look at the tone of even the positive reviews.
Mike D'Angelo (Letterboxd) wrote, "In which Argento wisely minimizes the expository 'dramatic' stuff at which he stinks and prioritizes the gaudy delirium at which he excels."
Ed Gonzalez (Slant) wrote: "It may be Argento's silliest work, but while its plot is scarcely sensible, the film rightfully earns its notoriety via Argento's fabulous and detailed engagement and reworking of fairy-tale motifs."
Scott Tobias (The A.V. Club) wrote: "With sights and sounds that aim for sensory overload, Suspiria converts vulgarity and excess into high art, escalating to a fever pitch on former Antonioni cinematographer Luciano Tovoli's eye-popping images and Goblin's assaultive score."
You can catch that score in this trailer above – the creepy, lullaby-like chant strikes notes of dread when the tabla is sounded. Goblin is an Italian prog-rock band, and they collaborated with Argento earlier in Profundo Rosso (1975). (Fun fact: Suspiria was such a runaway hit in Japan that the completely unrelated Profundo Rosso was released as Suspiria Part 2.) If we, today, don't feel the newness of the music all that much, it's probably because a predominantly synth-driven score was still a rarity in 1977, when composers used full-fledged orchestras. The reason Suspiria's score is inseparable from the film is that Argento played the music while shooting, to set the mood and pace for the actors and the staging. He told the band, "I need the audience to feel that the witches are still there, even if they're not actually on the screen."
Coming to the plot, Suspiria tells the story of an American ballet dancer who moves to Germany to study dance, discovers odd goings-on in the institution, realises witchcraft is involved, and flees as the place goes up in flames. It's like Rosemary's Baby on LSD, and stripped of its distinctive visuals, the plot bears a remarkable resemblance to the 1973 made-for-TV movie, Satan's School for Girls. (Here, a student in an exclusive school for girls discovers it houses a Satanic cult; at the end, the school goes up in flames. See clip below.) The trailer for Guadagnino's remake looks pedigreed, classy. (Quentin Tarantino was reportedly moved to tears after a private screening.) Argento's film, on the other hand, is schlock, a badly written and acted movie with stunning music and highly stylised visuals. I'm not saying Suspiria shouldn't be on the list. I'm just saying it would be interesting to learn the reason(s) these well-regarded critics voted for it. (Though I must point out that Tobe Hooper's 1974 gore-fest, The Texas Chainsaw Massacre, made it to Number 83.)
Maybe the out-there wackiness is the attraction, the deliberate deviation from "good taste." Or perhaps it was the need to include as many genres (and subgenres) as possible, including giallo. That's the Italian word for yellow, and the term is derived from the yellow covers of pulp mystery novels that were popular in Italy in the 1930s and 1940s. Giallo cinema typically blended mystery, eroticism and gory violence, and is the forerunner of the modern-day slasher movie. Eli Roth, director of Hostel (2005), said he watched Pupi Avati's The House with Laughing Windows (1976) while prepping for his film. That's another thing about giallo: the fabulous titles. Seven Blood-stained Orchids (1971). Don't Torture a Duckling (1972). The Red Queen Kills Seven Times (1972). Your Vice Is a Locked Room and Only I Have the Key (1972). Strip Nude for Your Killer (1975).
But snobby purism apart, it's easy to see the attraction of giallo – especially for lovers of "pure" cinema. Speaking of The Texas Chainsaw Massacre, Nicolas Winding Refn (Drive) said it has no meaning other than experience, and that it's very pure in that sense. That, in a nutshell, describes Suspiria. Is it a Great Movie™? I don't know. But it's campy. It's pop art. Its colours – neon red, neon blue, neon green – are like a teacher's rap on the desk with a cane; you snap to attention. And its legacy is tremendous. It's not just the mainstream slasher films like Hostel. Its genes are also in artier fare like Refn's The Neon Demon, which has a memorable, blood-soaked eyeball-spitting scene. (See clip above.)
When I watched The Neon Demon, this is what I wrote: "A shallow film, but a very pleasurable and sensuous one where the style IS the substance – it plays as though a still photographer wandered around the sets of a very sick (and sick-making) horror film taking pictures, which were then spliced together into a tableau with fabulously lurid colours and an exhilaratingly cheesy synth-techno score. In the best horror-movie tradition, the plot is just a clothesline for a series of set pieces, and the film keeps us under a spell – it's like entering someone else's surreal dream (lions! vampiric models! necrophilia!). I was hugely entertained." I'd probably write the same about Suspiria.
Baradwaj Rangan is Editor, Film Companion (South).
Find latest and upcoming tech gadgets online on Tech2 Gadgets. Get technology news, gadgets reviews & ratings. Popular gadgets including laptop, tablet and mobile specifications, features, prices, comparison.
India
For the best part of the century, Kashmir's politics has been shaped by opportunistic compromises, half-measures—and, when these failed, ruthless coercion
World
Given the dynamics at play, India is reduced to a mute spectator as are the other neighbouring countries like Iran, Tajikistan and Uzbekistan who have their own sovereign, sectarian, ethnic and strategic interests at stake, with the evolving narrative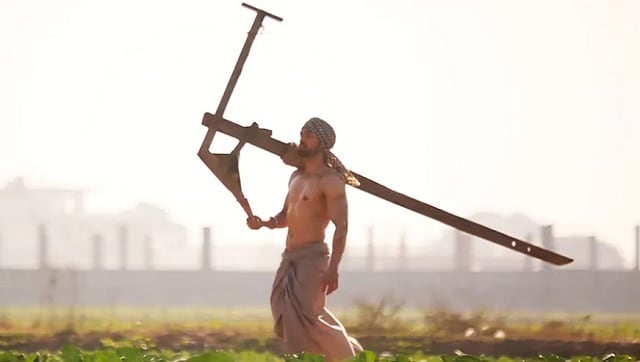 Entertainment
Punjabi cinema and music has lent the farmer a certain amount of wilful dignity that sees him or her as something other than the hapless victim. By assigning these characters a sense of heroism and flamboyance, the region's cinema sees the farming community as stories in themselves.