Shazam! trailer: Breakdown of all Easter eggs in the new DC superhero film, from Justice League to Watchmen
Shazam! director David Sandberg left more than one Easter egg for the well-informed comic book fans of the DC Extended Universe and beyond.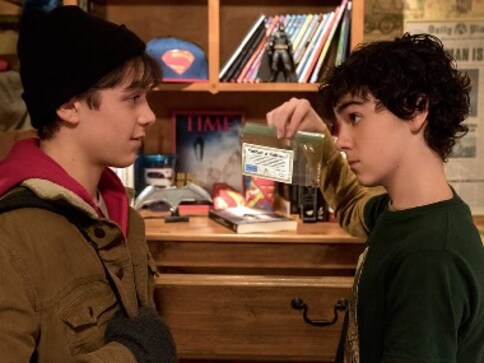 Warner Bros. has had some ups and downs with its DC Universe films, but with a clear runway to be the biggest show of the convention with the absence of the Marvel Cinematic Universe, Star Wars or Game of Thrones, the studio came to Comic-Con ready to fight with Aquaman, some early footage from Wonder Woman 1984 and the Shazam! trailer. It was easily the best-received presentation of the convention and generated interest for its superhero slate with a notably light-hearted tone, in stark contrast to the DC darkness that has basically become a cliché (and fodder for a Deadpool 2 meta joke).
Other than your usual plot tease that comes with any trailer, Shazam! director David Sandberg left more than one easter egg for the well-informed comic book fans. These included several references to other characters from the DC Extended Universe and beyond.
A story abour General Zod's spaceship and his battle with Superman in Man of Steel is featured on a mock-up cover of Time magazine while an edition of Daily Planet describes the superhero's return in Justice League, with a headline that reads "Superman is Back." Another curious bit of info revealed on the newspaper's front page is Lex Luthor's involvement in the film. The article seems to blame the whole thing on Luthor and his associates, rather than Steppenwolf.
Barring the DC EU references, Sandberg also leaves Easter eggs referencing Watchmen with the Comedian's signature bloody smiley face badge. The movie's protagonist Billy Batson is seen rocking a Wonder Woman t-shirt while his foster brother Freddy Freeman is wearing an Aquaman t-shirt. Many of these Easter eggs have been confirmed by the film's director on Twitter
However, Shazam! will not have references to Captain Marvel name, Sandberg confirmed. The film is based on the DC superhero Shazam, which was initially in the comics called Captain Marvel. But, the DC comics officially changed his name to Shazam after Marvel trademarked the title for its own superhero back in the 60s.
Shazam! arrives in theatres on 5 April, 2019.
(With inputs from agencies)
also read
Entertainment
According to reports Prince Harry and Meghan Markle's 'very strange' decision to not celebrate five-year wedding anniversary.
Entertainment
Harry & Meghan's asking for discount at Princess Diana's favourite hotel lead to the near catastrophic car chase.
Sports
The actress has created a niche market of her own and enjoys a dedicated loyal fanbase across the country.