Ram-Leela review: Bhansali killed Shakespeare's Romeo and Juliet
It doesn't help that Bhansali sets a his story in a world as believable as Hogwarts and gives you a setting which looks suspiciously like the inside of a India-themed restaurant abroad.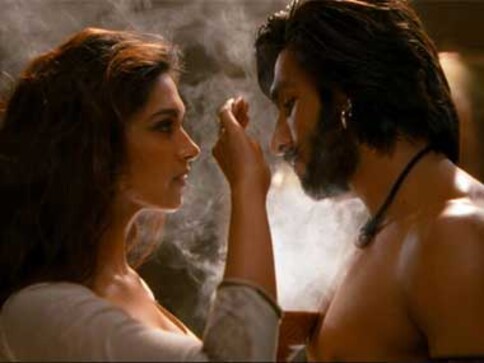 I wouldn't want to be Leela in Sanjay Leela Bhansali's Gujarati Disneyland called Ranjhor. Even in a world that is as absurd as Mallika Sherawat's "Swayamvar" or as hypothetical as Rahul Gandhi's Prime Ministership, this is an impossibly tall claim to make. By denouncing Bhansali's lovely Nerolac-perfect world, here's what I'm giving up: an Incredible India-meets-Buckingham Palace house, a balcony that is tailor-made for the most traffic-stopping Facebook DPs, a collection of bandhni lehengas for which I would give up chocolate. And a lover boy like Ranveer Singh - cocky, just tolerably silly, a fine wear-er of shirts with prints I wouldn't buy cushion-covers in, rustic phrase-turner extraordinaire, abs made in heaven, abs made in heaven, (okay shoulders too)... in short: just right!
Leela's script in Sanjay Leela Bhansal's Goliyon Ka Raas Leela Ram Leela takes off as a feminist's, girl-rocker's, closet man-hater's dream come true. The closest contemporary Bollywood has come to defining 'stud-woman', Leela is the blinding gorgeousness that is Deepika Padukone. When she runs into the bronzed-brawn Ram (Singh) in this tripping-on-testosterone Gujarat village, sparks fly. For context, this village has two communities with a 500-year-old enmity. Why they are baying for each other's blood is as consequential as asking who selected Rakhi's wig in Karan Arjun.
So all-hotness Ram is your textbook Bollywood lover. While the rest of the men want to kill, he is busy showing off his scrupulously sculpted thorax to swooning women. He also runs a blue film parlour whose decor is Andy Warhol's dream-come-true. When men are on the verge of killing each other, he grabs the nozzle of the gun to stop bloodshed (cue to go 'awww'). And in a khap-like meet (that is, if khaps were made up of men in white, dressed like Bollywood back-up dancers), Ram is all Bombay tapori, with his printed shirt, goggles, low slung jeans, glorious hair et al.
True to his character, he decides to go play Holi in the "enemy's quarters". And that's where he sets his sights upon Leela. Leela, who wears cholis that will make the rest of us want to strangle our tailors for their ineptitude. Leela, who glides in tonnes-heavy lehengas across stairs and balconies. Leela, whose smiles could kill. Leela, who spots Ram and is gobsmacked. Ram is fully clothed, smiling like a buffoon, his hair flying and doing the shampoo ad gig. In a few seconds they are flirting like nobody's business with Leela planting a kiss on lover boy's mouth. And all this happens in a few minutes, even according to reel time.
As I struggle to understand what about Ram throws Leela off that quick, I turn to personal moments of epiphany and conclude that since Milind Soman has been relegated to selling aftershaves while half-naked in inane ads, and Hrithik Roshan has undone every minute spent on the treadmill with a thing called Krrish3 and Sachin Tendulkar is retiring, it makes no sense to let a good-ish looking man slip. Ogle-worthy men, like onions in India, are indeed endangered species. So Leela loses no time in going for the kill. The rational woman in me, after a moment's thought, mutters, "Nicely done!" Then, Leela goes on to valiantly explore and establish the 'goodish-ness' by pawing all over this new-found, extremely paw-able man. Again, my heart mutters, a little jealously, "Niiiiicely done."
But oh good lord, what happens after? In a 'goliyon ka raas leela' sequence, lover girl's brother bumps off lover boy's brother. In retaliation, lover boy bumps off the said killer brother. And that's when stud-female does a quick rewind and goes back to being Bollywood heroine. Here when I was just starting to ward of extreme jealously and applaud Leela's stud-dom, Bhansali quickly makes her degenerate into a simpering, picturesque woman whose eyes are perennially as watery, like ours are while chopping onions. From someone who grabs the boy's butt with the kind of zest with which most of us pick up cheesecake, one who throws caution to the winds and shows up at Ram's video parlour to make out, who doesn't wait for the man to make the first move, Leela is reduced to a woman who is unsure about spending a night with her lover under the same room, unmarried. Here's where I die a bit and tweet to all dare-you-defile-Ram brigade that all is well with their world. Purity and morality are intact in Bollywood. And that is more heartbreaking to me than Bhansali's baffling spin on the all-too-familiar storyline of Romeo and Juliet. Gah, Bhansali even gives Leela a balcony Juliet would kill for!
Since it declares right at the outset that it is inspired by Romeo and Juliet, there's not much by way of suspense as the film builds up to its climax. It doesn't help that Bhansali sets a his story in a world as believable as Hogwarts and gives you a setting which you're told is somewhere near Kutch, but looks suspiciously like the insides of a very expensive and beautiful, India-themed restaurant abroad. What is this place where they stock bullets in biscuit tins? What is this place where they make Kalashnikov-like rifles and sell them in a fish market-ish system? Where is this place where they have Chhau dancers from Odisha in a Ram Leela procession? You want to believe every bit of it because its all so stunning. Even police raids are picturesque here, thanks to a red shower of, wait for it, chilli powder. How does a village subsist on a gun-market and blue-film parlour? Does Ranjhor even belong to this world? Perhaps like the director himself, we don't know where Ram and Leela come from.
In a time when noir has been defined by visceral works like Gangs of Wasseypur or a trippy Shanghai, Ram Leela is almost like that chick-flick pretending to be noir, or a noir killed by its secret wish to be a romantic musical. For all its beauty, it's a baffling film.
Entertainment
Kuruthi Aattam is a fragmented tale about betrayal and revenge that suffers from inconsistent writing and haphazard execution.
Entertainment
People for the Ethical Treatment of Animals (PETA) India has reached out to Bollywood actor Ranveer Singh for another nude photo shoot, close on the heels of his controversial images for Paper Magazine that have garnered a mix of applause and flak.
Entertainment
Hrithik Roshan is prepping really hard for his next film Fighter that also stars Anil Kapoor and Deepika Padukone. The man is built like a tank and looks like a beast in the pictures he shared with fans recently.