Phillauri quick review: Anushka Sharma is a natural; chemistry with Diljit Dosanjh a highlight
Anushka Sharma is convincing and engages the audience as a ghost. Moments through Phillauri, we understand exactly why she took up this project.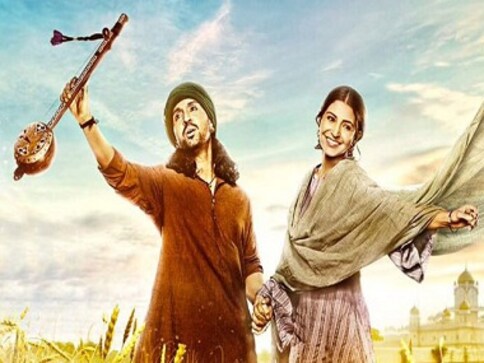 (With inputs from Reema Mukherjee and Mridula Ramadugu)
Set in modern and old Punjab in parallel narratives, Phillauri is a typical pre-independence era love story.
The movie begins with Kanan (Suraj Sharma), an unhappy bride groom baffled by the fact that he has to be wed to a tree for the sake of tradition. We are then introduced to Shashi (Anushka Sharma) who is on Suraj's back 24/7 only to add to the pressure he already has to deal with. He's married a ghost!
Remember Love Aaj Kal? Just like that Imtiaz Ali film, through the first half of Phillauri, we have the present and past playing out simultaneously. We get glimpses of Diljit Dosanjh and Shashi, while Suraj is absolutely frazzled in the present.
Dosanjh plays a singer and supposed writer. Until the two meet and there are some intense emotions playing out. There is tension in the air every time the two chance upon each other. He's the heartthrob of the town, but clearly doesn't seem to be on Anushka's good books, until the two get on the same page due to a common interest.
Meanwhile, Anu (Mehreen Pirzada) is clueless about why her childhood sweetheart has cold feet before their wedding. Shashi (Anoushka) wants Diljit Dosanjh (who is called Phillauri, till the first half) to realise the importance of the words he writes. There's more to his music than meets the eye.
Well into the first half, and you're still left thinking about what's really happening in Phillauri. The movie doesn't give away too much in the first half. We know that the dadi of the family loves to drink, so we have a new favorite dadi post Vicky Donor. We know that there are two parallel love stories set in different eras and both are interlinked.
The conflict of identities involved with the characters in Phillauri is what the second half kick-starts with. She writes, he sings. Her poetry is read and loved across Punjab. But nobody knows that. She wants to write but she can't let others know because "acche ghar ki ladkiyan inn sab cheezon mein nahi padti".
Anushka as Shashi is intriguing and absolutely natural. It's nice that Bollywood has attempted this genre after a while. Anushka is convincing and engages the audience as a ghost. At glimpses we understand exactly why the actress took up this project. Suraj Sharma as Kanan is at his vulnerable best and together they add quite a lot of subtle humour to the film.
Why Shashi as a ghost chances upon Suraj, how does Dilijit and Anushka's love story unfold is what makes for the latter half of the film.
Watch out for Anna Vetticad's movie review later today.
Entertainment
Have a look at these queens who took over the first half of 2022 with their fantabulous performances.
Entertainment
"Over 150 people involved in making the score," says Laal Singh Chaddha composer Tanuj Tiku.
Entertainment
Here are the three new on-screen power couples that we will get to see in upcoming films.