'Phillauri makes you believe in fairytales': Here's Alia Bhatt, SRK and other celebs' verdict
Anushka Sharma's film Phillauri is already a profitable venture, before its release.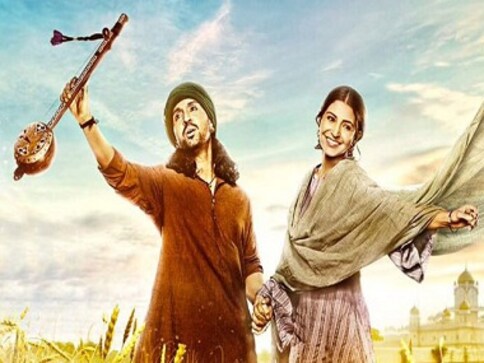 Phillauri is Anushka Sharma's second production after 2015's slasher thriller NH10, and so there's a lot at stake for Anushka Sharma, who's Clean Slate Films has helmed this film, purely on the basis of expectations.
It is now become a trend for films to be shown to fellow members of the industry a day before it releases to create hype around the film. Even though big films like Phillauri (and film studios like like YRF and Fox) donot have press previews for critics and journalists, they make sure to show the film the celebrities who have multiple followers on Twitter.
Any publicity is good publicity right? And so, while we 'common folk' wait with bated breath for Phillauri to release, the film was shown to multiple celebrities on Wednesday night in Mumbai. Here's what they have to say about the film:
Phillauri the attempt at doing wot u believe in. @AnushkaSharma @diljitdosanjh #anshai #karnesh keep believing in the impossible.

— Shah Rukh Khan (@iamsrk) March 22, 2017
#Phillauri is such a lovely unique film!!!With such honest performances from the whole cast!!!! @AnushkaSharma you are such an inspiration❤️ — Alia Bhatt (@aliaa08) March 23, 2017
And as usual @diljitdosanjh totally wins you over with his simplicity and charm! The film leaves you with a beautiful thought and message! ✨

— Alia Bhatt (@aliaa08) March 23, 2017
Phillauri is a such a beautiful film with a lot of heart. Topnotch acting, 🔥soundtrack, beautiful climax. @AnushkaSharma @diljitdosanjh 🙏🙏 — BADSHAH (@Its_Badshah) March 23, 2017
#Phillauri is a must watch, it's beautiful and makes you believe in fairytales. @AnushkaSharma take a bow @diljitdosanjh so dreamy #Anshay💗

— Rhea Chakraborty (@Tweet2Rhea) March 23, 2017
#Phillauri is such a lovely film, loved it... so unique & heart warming @AnushkaSharma #karneshsharma @diljitdosanjh #AnshaiLal #anvitadutt — Shashank khaitan (@ShashankKhaitan) March 23, 2017
#Phillauri. Sweet & touching film!👌Kudos to you @AnushkaSharma for making this film, & for delivering yet another sterling performance.👍👏 pic.twitter.com/Hz0uj5tYrc

— Avinash Gowariker (@avigowariker) March 23, 2017
@AnushkaSharma what a lovely film you've made. Every actor is brilliant.Funny.Sweet. Romantic film.Climax is breathtaking #philauri — kunal kohli (@kunalkohli) March 22, 2017
I love Shashi @AnushkaSharma! #Phillauri has a heart of gold All my love and best wishes to you and the entire team ✨#1DayToPhillauri

— Dia Mirza (@deespeak) March 22, 2017
Everything abt #Phillauri is beautiful .. Very well written n executed .. every performance so spot on!! Anshai you beauty ❤✌🏻 — Saqib Saleem (@Saqibsaleem) March 22, 2017
Meanwhile, it is being reported that Anushka Sharma's film is already a profitable venture, before its release. It has allegedly been made at a budget of 21 crore including marketing and distribution, and has already recovered 12 core from satellite and music rights, reports India Today.
Entertainment
Meenakshi Sundareshwar, the fifth collaboration of Netflix India and Karan Johar's Dharmatic Entertainment, will release on 5 November.
Entertainment
Akshay Kumar in his post said he had gone for a morning run on the sets of Raksha Bandhan in Chandni Chowk, his birthplace
Entertainment
Drug abuse is a complex issue and since Bollywood is at the centre of all the media spotlight, celebrities should behave responsibly and present a social conduct which inspire the young to be creative.