Naam Shabana review round up: Taapsee Pannu, Akshay Kumar's action steals the show
Reviews of Naam Shabana have also stated that the film gets better in the second half and that this is Tapsee Pannu's big solo break.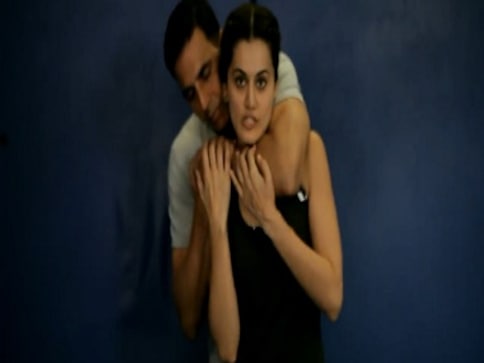 Naam Shabana is an off shoot from Neeraj Pandey's Baby universe, and it stars Taapsee Pannu, Akshay Kumar, Anupam Kher, Danny Denzongpa and Manoj Bajpayee. The film has been directed by Shivam Nair.
The film has been lauded for giving Taapsee's character from the film, Shabana, her own backstory and character arc. It will release in theaters on 31 March, but a couple of reviews of the film have already surfaced.
Indian Express' Shubhra Gupta writes that the film works only because of Taapsee and Akshay Kumar, however the storyline is faulty.
"What's not to like about a film which toplines a girl who kicks serious butt? Given producer and writer Neeraj Pandey's record of ratcheting up the patriotic quotient, it comes as no surprise that Naam Shabana's leading lady does it for her country. What does come as a surprise, however, is just how much of a drag the film is. Except for a few stray sequences in which the limber Taapsee Pannu goes after the bad guys, and the ones in which co-star Akshay Kumar moves in to demonstrate how the big boys do it, there is nothing either novel or interesting about the film."
Times of India's Meena Iyer writes that Naam Shabana is 'Girl GiJoe with good gusto':
"Most critics who saw Neeraj Pandey's action-drama, Baby (2015) praised agent, Shabana's cameo in it... Taking the praise to their heart, this time around, the makers dedicated 148 mins, (really?) to the spunky agent. Sorry, but the running time is the film's first inherent flaw. Frankly, Shabana shone in Baby because she was in a cameo. Someone missed the point, guys."
Mumbai Mirror's Kunal Guha calls the film Taapsee Pannu's big solo break:
Taapsee Pannu as a diabolical killing machine of a secret agent offers pure popcorn fun. With frosty determined eyes and hybrid martial arts skills, her military focus barely reveals her character's troubled past. In recent years, female actors who can pack in a punch or demolish with high kicks have barely knocked out the box office. But this one need not worry.
The Quint's Stutee Ghosh writes that the film is 'strictly average':
One hundred and fourty eight minutes long, Naam Shabana pans out like an uneventful bus ride. You know everything, from the time the bus will arrive, to the route it will take, the stops it will halt at and of course the dull end to an everyday journey.
Bollywood Life's Sreeju Sudhakaran writes that the second half fare better than the first:
Naam Shabana is like two movies rolled into one. While the first half shows how Shabana gets into the secret service program, the second half focuses on the mission in Malaysia. This could not have been a bad thing if the second half hadn't completely alienated the events of the first half, and even ignoring to some extent, Shabana herself.
Entertainment
Sooraj Pancholi was booked for alleged abetment to suicide in the case and is now out on bail.
Entertainment
Kamaal Khan in his plea said a film viewer cannot be prohibited from making comments about a film or its characters.
Entertainment
Kangana Ranaut will play Sita in The Incarnation, which will be directed by Alaukik Desai.