My source for Bhavesh Joshi Superhero was my own anger; I turned it into an alter-ego: Vikramaditya Motwane
In this exclusive interview, Vikramaditya Motwane opens up on Bhavesh Joshi Superhero, Sacred Games and his love-hate relationship with Mumbai.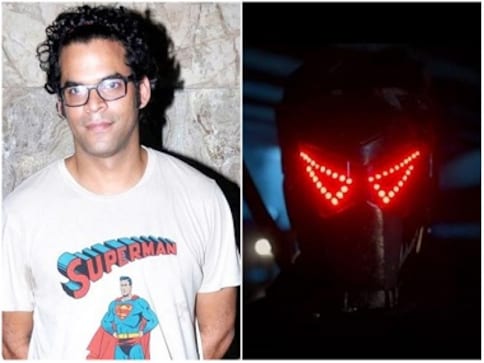 Vikramaditya Motwane's resume is as long as it is varied.
His name appears in a number of filmmaking departments including choreography, sound design, cinematography and screenplay under films such as Deepa Mehta's Water, Sanjay Leela Bhansali's Hum Dil De Chuke Sanam and Devdas, Vivek Agnihotri's Dhan Dhana Dhan Goal and Anurag Kashyap's Dev D. But Mumbai boy Motwane's heart was always in direction.
His directorial debut, Udaan, premiered at the Cannes Film Festival in 2010.
He followed up the the coming of age drama with Lootera, an ambitious period romance. Then came survival drama Trapped. Now, on 1 June, he unveils his homegrown superhero Bhavesh Joshi. Motwane is also the show-runner on Sacred Games which premiers on Netflix next month.
Excerpts from an interview:
The vigilante film is a cinematically-rich genre. What were the challenges in creating and making Bhavesh Joshi Superhero?
Living in Mumbai, one lives with frustrations, especially at age 40 when I have seen two different cities – the pre-1995 Bombay and post-1995 Mumbai. After 1995, the ownership of the city and love for it began to change. I have seen it get a little bit frayed at the edges. Because you spend so much time on the road, one of the first things you notice is the lack of traffic discipline. Any order went out of the window in the late 1990s. The idea of vigilante Bhavesh is someone who is pissed off about this kind of stuff.
The film has gone through a few modifications and casting changes.

The earlier story was about land grabbing, land scams etc. But that film didn't take off. Then, when it came to reviving the film, no one really cared about the land issue so much. It was taken for granted. The issue changed to water. Now the film is about a vigilante with a mask who uses martial arts to fight. Filmmakers in the indie world tend to say this story only needs this much, but it took my partners to say why not make it for a bigger audience. That has been part of my process and learning. In terms of casting, Bhavesh went from Imran Khan to Sidharth Malhotra and now we have Harshvardhan Kapoor.
Every vigilante needs a motivation. What's the motivation here?
It's personal for him because of the loss of someone, but then he realises that the cause is bigger than him and he has to decide — how do you do your bit to ensure other people do not suffer?
Bhavesh Joshi is an origin story but I don't know if it makes for a franchise. For me it's about a guy who wanted to do the right thing, told in a superhero format. I feel vigilantes are born when the justice system does not work.
For example, Batman and Superman were born in the 1930s and 1940s in America or the angry young man emerged in 1970s India. They appeared because the justice system was broken. If you cannot depend on the system that is supposed to work for you, then you feel the need for someone to do something, and that's when vigilantes are created. But vigilantism can also go the wrong way e.g. moral policing. It's a grey area and not the solution.
Superhero stories follow certain tropes – loss, reluctance, fighting for what's right. Is there any other way to tell the story?
This is every hero's story; I think the genre has broken out of its sub-genre conventions to become a much bigger genre by itself. Superman was an alien on an alien planet who was driven by the loss of his parents and by his need to do good. Batman was motivated by the loss of his parents. These are tropes.Today, Iron Man and Black Panther do not have similar motivations. We have accepted superheroes to a point now where we don't need those tropes. And we have accepted that they are out there to do good.
My source for Bhavesh Joshi was my own anger and annoyance and I turned it into an alter ego. Taking off from the angry young man of the 70s and 80s, here is a guy in this day and age who is not hero enough to show his face, so he goes behind a mask and does heroic things.
From Udaan to Bhavesh Joshi, you seem to be drawn towards the reluctant hero.
I think all heroes are reluctant in the beginning. Look at Sunny Deol in Ghayal, Amitabh Bachchan in Zanjeer, or Bruce Willis in Die Hard. And that's the point. Your call to action gets you out of whatever comfort zone you are in into an uncomfortable zone. I like that conflict.
Which film do you consider your most challenging so far?

I like challenges because you are entering unfamiliar territory. You learn along the way and cannot lean on tropes. I actually feel the biggest challenge for me was Lootera. Trapped was easier because you know you have to follow the character and make the audience feel his pains. Lootera was much broader throughout. How do you make a period romance which is also a thriller?
There were so many moving parts on that film that while I think I got to a place, I don't think I got all the way to where I wanted to with Lootera. It was only one month later that I realised, damn, this is what I should have done. Sometimes instinct tells you something is wrong, but you but the solution comes to you only much later.
What, if anything, would you have changed about your previous films?

I would rewrite some of Lootera and Trapped. The storytelling of Lootera could have been better. I think I could have flipped the perspective in the second half and told the story from his point of view, on why he chose to go see her. I wish I could have shot the hospital scenes of Udaan better but I felt the emotion and the story of Udaan were right. The emotion was almost singular to the end.
You are also the showrunner (and director) on Sacred Games. How has that experience been?
Premium streaming content platforms and the way they function is great for show-runners, writers and actors. The show-runner has the macro view of script, characters, arc, edit, music, mood. Netflix describes the role as a "constant creative voice". Writers can really flesh out and layer the characters. And it's fab for actors. They can bring in so much depth to the character and really get under the skin. As a director, though, it's less exciting than a feature, but for a show-runner it's very stimulating. It's also exciting that the show is going global, releasing day and date with all episodes dubbed and sub-titled in multiple languages.
What lies ahead for you?

Well, Chakra (based on Stan Lee's first Indian superhero character) is in development. Sacred Games season 2 will happen. Then there's a show called Stardust (about rival film producers) with Amazon. And I want to make another feature film soon.
also read
Entertainment
In an interview with Firtspost's Lachmi Deb Roy, actor Sonakshi Sinha says, "I had to learn how to ride a bullet and now I am a proud owner of it."
Entertainment
Haesoo, a 29-year-old Korean trot singer, has died by suicide recently, leaving behind a suicide note. The star- world is not so 'starry' as you think it to be. It has its own set of hurdles
Entertainment
Based on a true case with added frills, Sanya Malhotra's Kathal touches upon the socio-economic condition of our country.