Margot Robbie reveals title of upcoming Suicide Squad spin-off; Twitter thinks it's not 'Harley enough'
Margot Robbie and Ewan McGregor star in Birds of Prey (And The Fantabulous Emancipation of One Harley Quinn).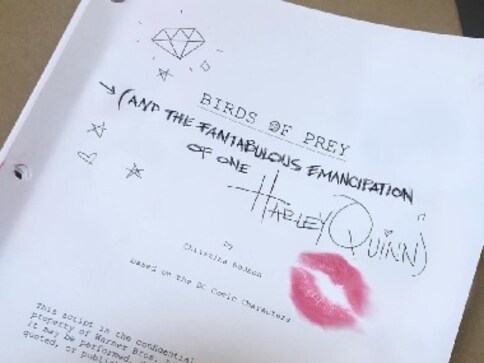 Margot Robbie-starrer Suicide Squad spin-off has been titled Birds of Prey (And The Fantabulous Emancipation of One Harley Quinn), the actor announced on 21 November. The 28-year-old actor shared the news on Instagram where she posted the title page of Christina Hodson's script for Birds of Prey, which includes a handwritten addition, revealing the full name of the feature.
Warner Bros also shared the same image in their announcement of the film's release date via Twitter. The spin-off is set to hit cinemas on 7 February 2020.
@MargotRobbie #BirdsofPrey (And The Fantabulous Emancipation of one Harley Quinn) hits theaters 2.7.20. pic.twitter.com/TDFRgwmPJA — Warner Bros. Pictures (@wbpictures) November 20, 2018
Robbie will be reprise her role as Harley Quinn from 2016's Suicide Squad. The Hollywood Reporter writes that the spin-off will show her gather a group of female superheroes and villains to take down a bad guy. Joining Robbie will be Mary Elizabeth Winstead as Huntress, Jurnee Smollett-Bell as as Black Canary, Rosie Perez as Renee Montoya and Ella Jay Basco as Cassandra Cain. Ewan McGregor will play Batman villain Black Mask.
Cathy Yan will helm the film and will be the first female Asian director to take charge of a superhero film. The film will be co-produced by Robbie along with Sue Kroll and Bryan Unkeless.
Some Twitter users appreciated the catchy title, while some were of the view that the spin-off's plot did not seem true to the Birds of Prey comic series.
Creative and original title. Reads like a comic book..

— WE ALL DIE. (@blockboi_4eva) November 20, 2018
Silly name, but I think this will be good. Robbie is great as Harley. — Adam Winchell (@Adam_Brendan_W) November 21, 2018
I still don't like how Harley Quinn is stealing the spotlight from Barbara Gordon. She should be leading the team as Oracle. Harley Quinn fits better with Gotham City Sirens. It would've been great to have two ensemble movies with the most popular female characters from DC. pic.twitter.com/uO1Tbv0Hz2

— Christian Arcobaleno (@realarcobaleno) November 20, 2018
That title This has to be a joke right? April Fools was a while ago @wbpictures — Michael Martinez (@MoneyMikeMovies) November 20, 2018
I thought it was Margot Robbie being cute until I saw this tweet from Warner brothers

— Daniel Findura (@findura_4) November 20, 2018
Probably the best movie title for a hero movie I've ever heard — J.Clark (@BL00DYKILLS) November 20, 2018
"the fantabulous emancipation of harley quinn" i am screaming, margot robbie really hates harley & joker as a ship so much lmfaooo. she's ALWAYS called out how abusive the joker is to harley and could not wait to break the two apart, and she finally did! we love an intellectual. https://t.co/thkWCWZ4Nl — gabi (@harleivy) November 20, 2018
they could've went with harley quinn & the birds of prey but i guess that was too simple and not harley enough — nadine (@margotrvbbies) November 20, 2018
I am no longer excited for Birds of prey. This is a glorified Harley Quinn film not a birds of prey film. pic.twitter.com/xlMkOaKNjX — Eofthewest (@Eofthewest) November 20, 2018
Reminder that people keep using this image for Birds of Prey but Batgirl isn't actually in the movie because it's really a Harley Quinn movie with a bunch of female DC characters thrown in that they're pretending is a Birds of Prey movie https://t.co/kET7q2zRyy — DoctorDoom (@Acidic_Heart) November 20, 2018
(With inputs from Press Trust of India)
Entertainment
Ernie Lively passed away due to cardiac complications in Los Angeles on 3 June.
Entertainment
Wolf Country is being touted as a "muscular thriller", where Eiza Gonzalez will play a young deputy officer.
Entertainment
The official selection was announced last week, with 24 films from renowned names such as Wes Anderson, Nanni Moretti and Sean Penn, competing for the Palme d'Or and the affection of a jury headed by Spike Lee.