Mard Ko Dard Nahin Hota's Abhimanyu Dassani on being a star kid and how he prepared for his debut role
I want to make movies that are not just a one-time watch, but something that lives with you for years to come - Mard Ko Dard Nahin Hota star Abhimanyu Dassani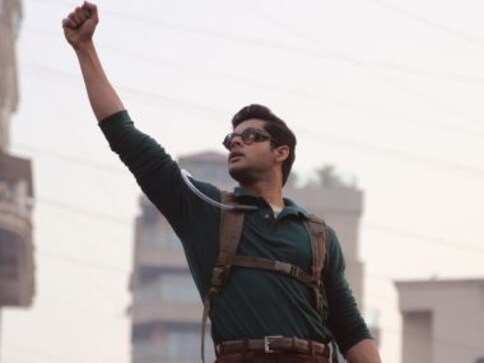 It took months of auditions, days of disappointment and much uncertainty before Abhimanyu Dassani landed the lead role in Mard Ko Dard Nahin Hota. Director Vasan Bala's film recently won the Grolsch People's Choice Midnight Madness Award at the Toronto International Film Festival (TIFF) 2018. At his Mumbai home, just days before the Toronto screening, Abhimanyu is excited and described this phase as "thrilling".
Shielded from the trappings and intrusions of celebrity life by his parents, actors Bhagyashree and Himalaya, Abhimanyu took calculated steps before stepping in front of the camera and signing his first film. "Everyday is a new adventure," he said, as he began describing his own journey from the son of movie stars to becoming a serial entrepreneur to film school to landing the part of a boy with congenital insensitivity to pain and an obsession with hydration.
In its review of the film, the critic for American trade magazine Variety wrote of the debutant's performance: "Dassani strikes the perfect balance of ingenuousness and ferocity as the hero who repeatedly discovers new ways to hydrate." The TIFF award and these early reviews are a positive and encouraging start for the young actor who gave 25-30 auditions over a month for the part of Surya.
"We had workshops for the top six boys and girls. I would perform every day, not expecting to be called back the next day. Props to (filmmaker) Ayan Mukherji for giving me great advice. He said just remember why you got into it. When they say 'action', I feel like Popeye on spinach—the energy in those two minutes between 'action' and 'cut' is beautiful."
Even where other contenders might have given up, Abhimanyu said he enjoyed every audition. "Someone else would have cried—going to a casting studio everyday from 9am-6pm for a month. They don't even give you food!"
It's hard to imagine the son of the star of Maine Pyar Kiya enduring such hardships and taking the road less travelled. "It took me some time before I decided that I want to venture into acting," he said. From age 16, driven by the desire for financial independence, Abhimanyu dabbled in a variety of businesses from organising New Year's parties to importing sweet corn from America to setting up a martial arts centre.
"I was not allowed to go to the first New Year's party I organised because I was too young. But it made me a lot of money, which was cool. I enjoyed building things and making them profitable after which I would move on and create something else. The art of creation is what drives me, which is how this film came to be."
Much before landing this part, Abhimanyu started testing the waters. He assisted filmmaker Rohan Sippy on Dum Maro Dum while still doing his graduation in finance and marketing in Mumbai. Then he went to the New York Film Academy to study filmmaking. When he returned to Mumbai, he assisted Sippy on Nautanki Saala and then went back to the US to study acting.
"While I was at Lee Strasberg Institute, I asked my teacher Lola Cohen if I should let acting remain a passion or did I have what it takes. She said if you don't give this an honest chance in life, I'll be disappointed because every time you perform, you bring something new to the table. That pushed me," he said.
The decision to try his luck in Bollywood did come with reservations from his parents. "They were so shocked when I said I wanted to try acting because they had consciously and successfully kept me away from the industry all these years. My mother wanted me to do an MBA in the US," said the 28 year old.
It wasn't until August this year, when feedback for the trailer started rolling in, that his father Himalaya, a businessman who also acted in a few films with Bhagyashree, warmed to the idea of his son's career choice. "Being skeptical of your son's choices is a dad-like thing to do, I guess," chuckled Abhimanyu before adding that he believed his parents kept him away from Bollywood because "an industry like this comes with a lot of rejection, disappointment and pressure. The glamour aspect is maybe just 5 per cent."
Speaking about his childhood, he said, "I had a normal upbringing with strong values and principals. My mom never worried about whether I was coming first in school or first in a race, but she placed a lot of emphasis on being a good person."
Mard Ko Dard Nahin Hota is a Hindi language action comedy about a boy with this condition who trains in martial arts and goes out to seek vengeance. To prepare for the part, Abhimanyu spent months gaining mixed martial arts, boxing, stick fighting and taekwondo training, ending the day with a swim and meditation.
On the preparation process Abhimanyu also connected with people with this physical condition via various online forums. "A girl I chatted with in Seattle didn't know for a month that she had a fracture until she tried to wear heels and her foot didn't fit in the shoe. As you have seen in the trailer, I am bleeding from all over but it's not a superpower. If my hand is broken and I still try to use it, I will worsen it."
A stylised film with an emphasis on martial arts required a lot of stunt work and Abhimanyu is especially proud that he did all his own action scenes, much to his mother's chagrin. However no body double and no wires also meant a broken finger, a dislocated shoulder, scars, cuts by switchblades and a bike accident. "I made sure mom didn't come on set during the action scenes. She knew about the broken finger of course and she was angry. She also saw me get cut by switchblades but I immediately gestured her to chill," said Abhimanyu.
Expectations might have been that he would take a conventional and commercial route into the industry. Abhimanyu's start has gone against the tide and he has charted what he calls a "21-year plan" focussed on building a body of work with longevity. Movies with repeat value, that suck you back into their world even 10 years after first watching them, excite him. "That's the kind of movie I want to make—not a one-time watch, but something that lives with you for years to come."
His future goal is to work on characters unlike Surya. "I am taking it a day at a time. Having a plan in this industry is scary because nothing goes to plan, though I am clear about the kind of films I want to make. I want to come to a point where someone would look at mom and say that is Abhimanyu's mom."
"That would be cool."
Entertainment
A video has gone viral showing actress Taapsee Pannu getting over being mobbed by reporters. She was then asked about the actor-comedian's demise.
Entertainment
Atlee is presently working with Shah Rukh Khan for his Bollywood debut, Jawan, which is all set to release on June 3 next year.
Entertainment
Bhediya is directed by Stree and Bala helmer Amar Kaushik. It stars Varun Dhawan, Kriti Sanon and others.