Manikarnika: The Queen of Jhansi director — 'Kangana Ranaut is destined to play this role'
In an exclusive chat with Firstpost, director Krish talks about working on Manikarnika for 3 years and how Kangana Ranaut is perfect for the role of Rani of Jhansi.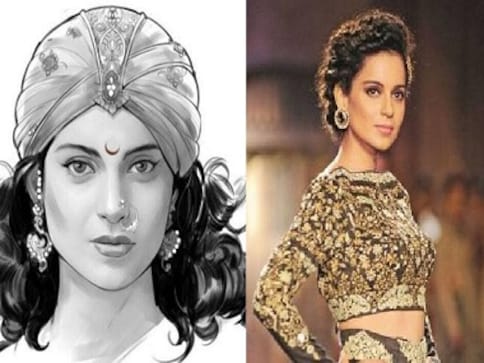 The poster of Manikarnika: The Queen of Jhansi was recently launched on the banks of the Ganges in Varanasi by Bollywood star Kangana Ranaut. The film is being directed by National Award-winner Krish Jagarlamudi. Produced by Zee Studios, the movie is set to go on floors in June and is likely to release in April next year.
In an exclusive chat with Firstpost, director Krish talks about the movie, Kangana Ranaut and more.
Tell us how Manikarnika: The Queen of Jhansi came about.
When I went to Jhansi I heard so many folktales about Jhansi Laxmibai. As I started to read up about her there were so many formidable tales – she lost her mother when she was two years old; she married a King and her name was changed from Manikarnika to Laxmibai; she lost her newborn son when he was three months old; she lost her husband and kingdom. Despite all this, she fought the British. This was a great story which I wanted to make for a long time.
When I first met the producer Kamal Jain, Kangana Ranaut and Vijayendra Prasad, I had a vision as to how I wanted this film to be. We were all in sync and I got the opportunity to direct the film. Vijayendra Prasad (director S S Rajamouli's father) already had the story but we sat together and developed it further. I think it's one of the best stories – it's enthralling, inspiring, emotional and more than anything, it's a great a heroic film.
Talented Kangana Ranaut has proved her versatility in her recent films. How apt is she for the role of Manikarnika?
I've always believed that every story chooses the narrators and the protagonists. Even as a person, Kangana Ranaut wants to excel and rise against all odds just like Rani Laxmibai. I can see a lot of similarities between the two of them.
Kangana Ranaut is destined to do this – there's no one else in the universe who can enact this role.
For instance, the poster of the film was just released in Varanasi when Manikarnika was born. When Kangana was told about taking a holy dip in the Ganges, she was ready. She can go to any lengths for a role as she's highly passionate, energetic and has the qualities of a leader. We can see this on screen as well as in her personal life. That's why I'm sure she's our Manikarnika.
Vijayendra Prasad has worked on several big hits like the Baahubali franchise and Bajarangi Baijan. Now, he's part of this project.
He's approaching this film in such a way that it should bring out the phenomenon of the Queen of Jhansi, be true to its historical nature and appeal to the contemporary audience. And he has vast experience as a story-writer. He told us that he had a double responsibility on his shoulders where this film is concerned because his daughter's (director S S Rajamouli's sister) name is Manikarnika. He told me he was destined to do this film. I think each one of us was destined to work in this film. (Smiles)
As a director, you've done several period films in Telugu. Do you think you're now well-versed with the period genre of film-making?
Absolutely. With this film, I've got an opportunity not to make the mistakes I've made in my previous films. Making period films isn't easy – there's constant learning every day. If you take Rajamouli, he prepared himself to make Baahubali by working on Eega and Magadheera.
When I got the opportunity to direct Manikarnika, I knew why I had made two back-to-back period films. In Kanche, there was a lot of gun battles and in Gautamiputra Satakarni it was about fighting with swords. Manikarnika is about a war in 1857 which sees the use of both these methods in battle. For me as a filmmaker, it's very exciting.
I've spent a good three years preparing for Manikarnika and it'll reflect in the film. I have a huge vision for this film – it should be grandiose and entertaining.
How easy or difficult will this film be for you as a director?
It's not about easy or difficult – direction is my passion, my work and my life. It's great story to tell. The film is as easy or great as the script. If you have a great script, then your work becomes easier. I have got wonderful technicians on this film – cameraman Gnanashekar, costume designer Neeta Lulla, art director Sukhant, Prasoon Joshi and music directors Shankar-Ehsan-Loy. We have a great team.
The background score is important in a period film, isn't it?
Very important. A film is a marriage between sound and visuals. The score elevates a film. 90% of the time when we narrate a story, we have imaginary sounds playing in our mind. The rhythm, tempo and mood the scene always plays in the mind of the director. I've got great technicians for this film.
Do you think period films are now changing Indian cinema?
Period films have been in the making for a long time in Indian cinema. It's been happening on and off in Indian film industry but right now the availability of big budgets has pushed these films to the forefront. The market has expanded now and VFX has helped making these films much easier now.
Kangana has proved that she can carry a film on her shoulders whether it was Queen or Tanu Weds Manu. Will Manikarnika be a turning point in her career?
Yes. She is a true hero at heart, by will and talent. She will definitely pull this film off.
Bollywood
Swastika's hold on her craft motivated me to perform better, says Plabita who plays the role of Fetish Girl in Escaype Live
Entertainment
After shattering box office records, Jr NTR and Ram Charan's RRR is set to stream on Zee5 in Tamil, Telugu, Kannada, and Malayalam with English subtitles. It is directed by SS Rajamouli.
Entertainment
In Dhaakad, Kangana Ranaut does a female Rambo act with aplomb approaching a nirvanic expedition.