Maatr first look: Raveena Tandon looks fierce but why must older actresses always play mothers?
Raveena Tandon joins the long list of senior actresses who are only given the role of a mother on screen.
Raveena Tandon sports a sombre, fierce expression in the first look of her film Maatr - The Mother. As is evident from the title of the film, she essays the role of a mother in it.
Witness a #Maatr that crosses all the boundaries to do the impossible. Saga unfolds in cinemas on 21st April, 2017. #MaatrPoster pic.twitter.com/CtkatbIzcI

— Maatr The Film (@MaatrTheFilm) March 21, 2017
Almost everything we know about the film so far fixates on the fact that Raveena plays a mother. In the poster, the word 'mother' written in many different languages has been superimposed on her face. The caption of the tweet featuring the poster says, "Witness a #Maatr that crosses all the boundaries to do the impossible," highlighting the importance of the maternal aspect of Tandon's character.
Since 2006, this will be the third time that Tandon will be essaying the role of a mother, after Sandwich and Buddha Hoga Tera Baap. Fierce as she may be in Maatr, she is still forced into the stencil of a maternal figure. It is not difficult to conclude why she was given this role. Tandon is 42 years old, an age at which actresses in Bollywood are considered "well past their prime".
They no longer qualify for the same roles as actresses in their twenties and thirties. While Priyanka Chopra and Deepika Padukone play single women in films like Dil Dhadakne Do and Piku, where their personalities outshine their marital status, 53-year-old Sridevi plays the titular character in her upcoming film Mom. She also played a mother in her last film, English Vinglish.
Bollywood seems to typecast actresses who are above the age of 35, limiting their potential to roles of mothers and mother-figures.
This is despite the fact that actors above the age of 45, such as Akshay Kumar and Shah Rukh Khan, still play lead roles where the only significant characteristic is not a paternal side. This says much about the inherent sexism of the casting process; older actors are thought of as 'sexy' or 'attractive' despite being old, whereas older actresses must resign themselves to playing 'caring' and 'maternal' roles.
Juhi Chawla, who last starred in Chalk n Duster, played the role of a teacher and mother in this film. Of the last three films that Kajol has done since 2010, she is a mother in two — My Name Is Khan and We Are Family. These casting decisions cannot be isolated cases; there is a clear trend when it comes to the films that are offered to actresses who began their careers in 80s and 90s.
drishyam and dedh ishqiyaIt is only in stray cases such as Madhuri Dixit-Nene's Dedh Ishqiya or Tabu's Drishyam that these actresses have gotten the opportunity to portray diverse characters. But the larger picture indicates that Bollywood as a whole is not willing to give senior actresses a wide range of roles citing their age, rather than focusing on their acting talent.
It uses the simple reductionist principle that older actresses must play mothers.
This problem is not limited to India. Even Hollywood succumbs to such typecasting. 55-year-old Meg Ryan has played a mother in four out of five films that she has done since 2008. Jodie Foster too has played a mother twice and a wife once since the last 6 years. Julia Roberts was a mother in Mother's Day (2016) and Geena Davis played the mother in Stuart Little, Me Him Her and Accidents Happen.
Entertainment
Maestro never pretends to be anything but a tamed version of its original. Director Merlapaka Gandhi wanted to make a film that is easily accessible, and as such he mostly succeeds.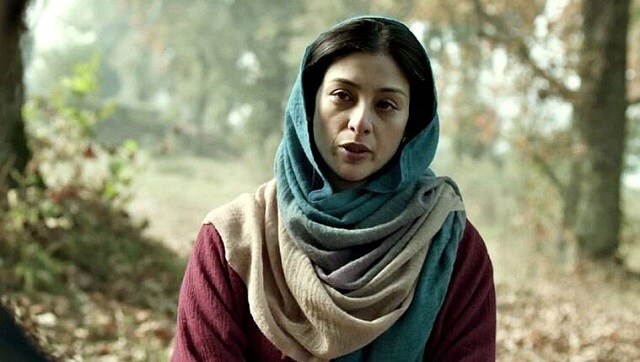 Entertainment
Khufiya will see Tabu play a R&AW agent "grappling with her dual identity of a spy and a lover."
Entertainment
The Bollywood dream sequence helped stretch my imagination in a way that I believed the whole world was within me. This self-sufficiency helped me get through the physical setting I was in, from awkward social gatherings to the confines of my home during the pandemic.