Kong Skull Island review roundup: A theory of de-evolution indeed, where VFX is king
VFX seems to be the only King in Kong Skull Island.
The last time King Kong made its onscreen appearance, it was in Peter Jackson's 2005 film. King Kong stomps back into cinemas looking bulkier than ever before along with superstars Samuel L Jackson, Brie Larson, Tom Hiddleston and an fantastic VFX team. How does the film fair with reviewers?
The film as a whole
Jeremy Jahns, a popular Youtube film reviewer says, "Conceptually the film has it down. It's a great concept to have Samuel L.Jackson on a witch-hunt for the character. But the script doesn't give a shit. The problem is that the film only exists as a point: to tie it over with the future Godzilla movie. The pacing is really choppy, and I was bored for the majority of the film."
NME says, "Kong: Skull Island's simplicity is refreshing, with only John C Reilly's Hank Marlow, a stranded World War II soldier the crew find on the island, given a proper backstory. Vogt-Roberts supplies lots of CGI surprises and wry period details. In one scene, we see crew member Reg Slivko (Me And Earl And The Dying Girl's Thomas Mann) introducing an out-of-touch comrade to David Bowie's 'Ziggy Stardust'."
The most important question: how is King Kong?
The Guardian reviewer seems frustrated, "The dramatic presence of Kong himself is muddled. The film tries to make him the island's noble-savage deity, the hairy good guy, as opposed to the huge baddie lizards who are scuttling around the place but are kept in check by the mighty Kong. The script makes a half-hearted joke about not knowing what to call these lizards; I suspect none of the writers could agree. How did we get from the 1933 King Kong to this? A theory of de-evolution is needed."
Brie Larson's role
Oscar winning actress Brie Larson scored the Best Actress award in 2016 for Room.
Can we expect a lot from her character, who plays a photojournalist (the profession still exists because it's 1977 in the film)?
Reviewers don't seem to think so: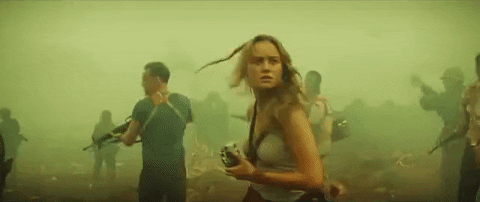 Screen Rant says, "In another Kong, Brie Larson's character would have served as the ape's crush, and the conduit to the warm heart beneath his ruggedly furry exterior. Apart from a few sideways glances, Kong doesn't show much interest in Skull Island's heroine. Neither, for that matter, does the movie; Larson mostly stands around admiring Hiddleston's luxurious hair and taking pictures of stuff. It's another classic example of an Oscar winner immediately cashing in on their award with a lucrative gig that's way beneath their talents."
Popular Youtuber Grace Randolph of Beyond The Trailer says, "Brie Larson's character was frustrating. She just carries the camera around like she is war photographer barbie. She seemed more interested in getting Tom Hiddleston to date her."
How does the fan favourite Loki fare?
Can Tom Hiddleston take down King Kong, if not his step-brother Thor?
Vox doesn't think so, "The movie misses the mark when it comes to trying to put believable human beings into the middle of Kong's jungle. Its lead is Tom Hiddleston, for some reason, but I couldn't tell you a single thing about his character beyond the film's insistence that he's highly competent in wilderness environments. (We never see him demonstrate this particular skill set.)"
Entertainment
The structure of The Last Duel will divide audiences. The polar opposite approaches to storytelling in the men's versions and the woman's make for a hybridity that does not always work.
Entertainment
Oh Manapenney is a light, breezy film, but it might work better if watched as a stand-alone film, without the lingering presence of its original Pelli Choopulu
Entertainment
In an industry that insists that star kids are the next best thing, the title Most Eligible Bachelor is annoyingly declarative. But thankfully here, the title is not an assertion, but an interrogation.