Koffee with Karan season 5: Kangana roasts Johar on nepotism; Saif admits to cheating
Saif and Kangana, will bring the house down with their banter and palpable chemistry on this episode of Koffee with Karan. Shahid Kapoor is expected to make an appearance on the show.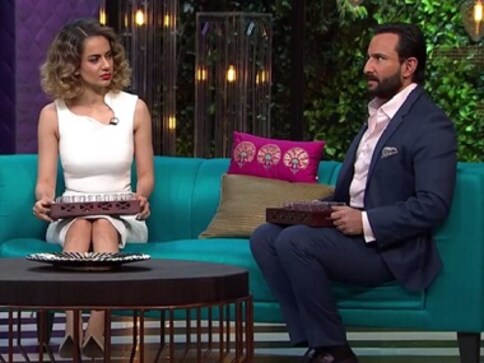 This season, Karan Johar has brought some unconventional pairings to the Koffee couch.
From Ranveer Singh and Ranbir Kapoor, to Katrina Kaif and Anushka Sharma to Farah Khan and Sania Mirza, these dynamic celebrities have definitely brought in an element of freshness to the show. Adding to this list of quirky Bollywood duos, superstars Kangana Ranaut and Saif Ali Khan are all set to feature together for the first time in the upcoming episode of Koffee with Karan.
The episode which will air this Sunday, will feature the bold and outspoken Kangana along with the dapper and witty Saif.
The duo will bring the house down with their banter and palpable chemistry, putting Karan through a roller coaster ride.
When asked about the first thing he notices in a woman, Saif admits that a woman's hair and eyes allure to him the most, and during the course of the show also admits that he has cheated on a partner.
Kangana takes the humour up a notch when she comes clean about being envious when other actors' films are successful, referring to Dangal in this instance.
She also teases Karan by revealing that if there was a biopic made on her life, Karan would play the villainous, snooty film-maker AKA movie mafia.
Kangana leaves no stones unturned in vocalising her opinion on everyone in Bollywood, while Saif sheds light on past rumours. Together, they leave Karan flabbergasted.
also read
Entertainment
In his latest interview, Manoj Bajpayee was asked about his rumored Rs 170 crore net worth. He replied amusingly saying he was not from south Mumbai to have such a value to his credit
Entertainment
The actor added, "I can only give him the strength to fight that battle. I cannot fight his battles. I can never be that dad who would go and tell the other person, 'why did you wrong my child.'"
Entertainment
Zee Studios and Roy Kapur Films has announced their collaboration on a high-octane, action-thriller featuring Shahid Kapoor in the lead