Kedarnath music review: Amit Trivedi, Amitabh Bhattacharya concoct an album that's both divine and deep-rooted
Amit Trivedi's inventive composition and Amitabh Bhattacharya's layered lyrics in Kedarnath prove how music is inextricably linked to love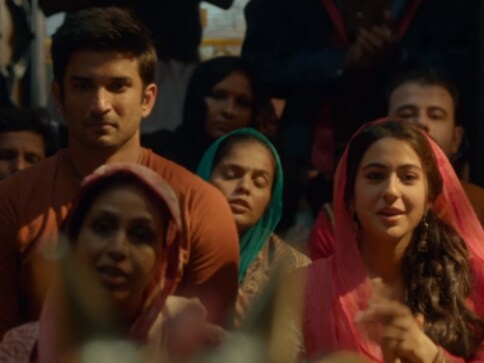 The music of Abhishek Kapoor's upcoming romantic drama Kedarnath oscillates between love for the special one and love for the divine. The lines often get blurred, creating a spiritual concoction, thanks to the combined genius of composer Amit Trivedi and lyricist Amitabh Bhattacharya.
The first song, 'Namo Namo', can emerge as the next big devotional song. Over the years, Bollywood has churned out memorable songs like 'Deva Shree Ganesha' from Karan Malhotra's 2012 revenge saga Agneepath, 'Ae Malik Tere Bande Hum' from V Shantaram's 1957 Do Aankhen Barah Haath, 'Ek Tu Hi Bharosa' from Rajkumar Santoshi's 2000 action film Pukar, 'O Palan Haare' from Ashutosh Gowariker's 2000 period drama Lagaan and 'Khwaja Mere Khwaja' from Gowariker's 2008 period romance Jodhaa Akbar.
'Namo Namo' is an ode to Lord Shiva. While Bhattacharya saves Sanskrit shlokas for the chorus, he borrows from mythology around Shiva in the stanzas to come up with a song that is devotional enough to be included in the above list. But what makes it truly divine are Amit Trivedi's vocals. They have a pristine quality attached to it. As the composer, he fares equally well. He liberally uses sitar and dhol. While the classical touch provides the spiritual quotient, the dhol lends the song a communal touch since the film is set in the pilgrimage town of Kedarnath, where pilgrims embark on a journey that is as communal as it is personal.
'Qaafirana' is also a song deeply rooted in the setting. Since Sushant plays a pitthoo in the film, he encounters hundreds of pilgrims every day. Bhattacharya's lyrics translate his feelings of meeting 'the one' among the many beautifully. The words almost paint his newfound love interest as a divine entity. Trivedi strikes a balance between Indian instruments and Western beats in his composition. The chorus takes you by a surprise as the electronic beats give momentum to Bhattacharya's words, but are soon followed by flute and sitar, which lend poise to those words. Even the choice of singers reflect this dichotomy. Arijit Singh's textured vocals ground the song whereas Nikhita Gandhi's smooth voice gives it wings.
'Sweetheart' is a celebratory song. Trivedi goes full throttle with this one, coupling dhol beats with a local string instrument used in the hills of Uttarakhand. Bhattacharya's lyrics are simple and sweet (Read: "Daawat mei jaise 'shahi tukda', usko jaisi na koi naazneen"). Pawan Negi, who delivered hits like 'Radha' and 'Butterfly' last year in Imtiaz Ali's romantic comedy Jab Harry Met Sejal, elevates the song with his innocent vocals. He also gets the rhythm of the track just about right.
'Jaan Nisaar' is a romantic song that has two versions. The male version is rendered by Arijit Singh, who replaces the spunk he has in 'Qaafirana' with a suitable vulnerability. Bhattacharya's lyrics make it quite clear that the song has a tinge of melancholy to it. It comes across as an "In defense of love" letter to a scared or betrayed lover. There is also a female version, and Asees Kaur's vocals are relatively softer, huskier and more intimate. Trivedi teams those up with an electronic undercurrent to his composition. While the song is immensely hummable, the chorus ending on a cliched note steals it of an exclamation point.
Overall, the music of Kedarnath has many flavours. It incorporates elements of folk, Indian classical, devotion and signature Bollywood music. The concoction never feels crowded as the elements do justice to Bhattacharya's layered lyrics. The resultant songs prove how music is inextricably linked to love, both for God and of every other kind.
Listen to the entire album here.
Kedarnath is jointly produced by Pragya Kapoor's Guy in the Sky Pictures and Ronnie Screwvala's RSVP Movies. It is slated to release this Friday on 7 December.
Entertainment
Twitter users were furious at Jimmy Kimmel's error in calling RRR a "Bollywood" movie and immediately expressed their displeasure at the matter.
Entertainment
The video of the actor's gesture is going viral on social media.
Entertainment
In a video shared on Nick Jonas' Instagram handle, he can be seen waiting for someone as he continues to check the time. He also added a hilarious text on the reel for indirectly teasing his wife.