John Wick: Chapter 4 movie review — Keanu Reeves goes all out to deliver a visually stunning action spectacle
Keanu Reeves' John Wick: Chapter 4 is an action-packed adrenaline rush filled with breathtaking cinematic moments.
Cast: Keanu Reeves, Donnie Yen, Bill Skarsgård, Laurence Fishburne, Hiroyuki Sanada, Shamier Anderson, Lance Reddick, Rina Sawayama, Scott Adkins, Ian McShane
Director: Chad Stahelski
Language: English
In the newest part of Keanu Reeves' celebrated franchise John Wick, we see our lead protagonist and the unretired title hitman is done running and is now ready take against the High Table (a group of global crime lords). John kills one of the members of the group, which brings him to the radar of Marquis de Gramont (Bill Skarsgård) a powerful authority of the High Table, who raises the bounty and sends killers from across the country to assassin John Wick including Caine (Donnie Yen) one of John's oldest friends and blind martial-arts master Caine and mysterious Tracker (Shamier Anderson).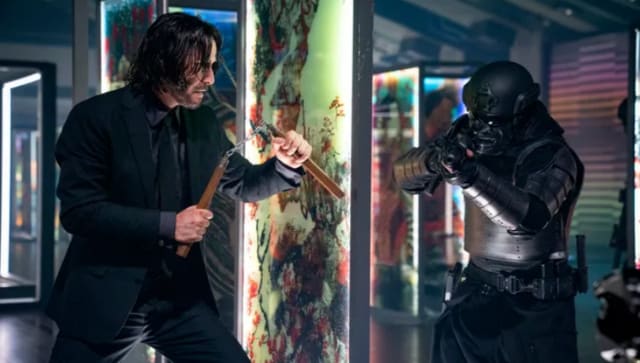 Now to get back his freedom, John can challenge the High Table provided he gets support from a big crime family. So, Wick has a number of missions before setting up the epic climax in Paris, which will not only make you root for the lead star but also cheer for the thematics and stage-actioned choreography.
Talking about the performances, Keanu Reeves goes all out to deliver the best John Wick film of the franchise. Apart from delivering mind-boggling action pieces against formidable opponents, the actor expresses the poignancy of his character with his subtle gestures and fewer words, which makes a big impact. Wick allies, Ian McShane and Laurence Fishburne give the film a cool comic vibe with their presence. Scott Adkins is superb as ex-assassin Killa and Donnie Yen shine as Caine thanks to his best one-liners and cockiness. Bill Skarsgård impresses with his menacing and sadistic act.
Director Chad Stahelski delivers a film, which will be remembered as one of the best actioners of Hollywood. The film has explored all elements of action. Right from a desert horse chase to a swift sword fight, the technical team has designed every piece of action like a visual treat. Despite the runtime of over 2 hours and 50 minutes, John Wick: Chapter 4 grabs your attention right from the first frame and leaves you clapping, hooting and teary-eyed during the end credits.
Rating 4 (out of 5 stars)
John Wick: Chapter 4 is releasing on 24th March
Read all the Latest News, Trending News, Cricket News, Bollywood News, India News and Entertainment News here. Follow us on Facebook, Twitter and Instagram.
also read
Entertainment
Trishla's debut at the Cannes Film Festival was nothing short of breathtaking.
Entertainment
Harry's representative has dismissed all such claims by saying all these reports doing the reports are not true
Entertainment
Pavitr Prabhakar, or Spider-Man India, and Ariel as a mermaid of colour add originality to known stories