Indie band The F16s on their Asia tour adventures, and upcoming EP 'WKND FRNDS'
The F16s' guitarist Abhinav Krishnaswamy speaks about the band's first international tour, which includes performances at Hong Kong and the Philippines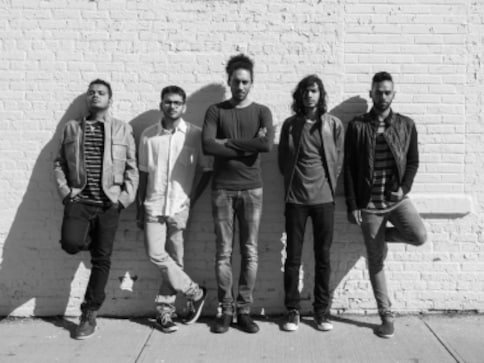 If we take into consideration the last few decades, it can be said that no band's first overseas tour is smooth sailing. Chennai indie rockers The F16s embarked on their Asia tour on 23 November with two shows in Singapore, followed by an appearance at Quest Festival in Vietnam on 25 November. Only, an hour before their flight to Hanoi to reach Quest, the festival was called off due to problems with local authorities.
"We ended up seeing the email at Hanoi immigration," guitarist Abhinav Krishnaswamy says. But touring is also about thinking on your feet, making the most of a date in a new territory. An acquaintance of the band who had moved to Vietnam a few years ago swung them a last-minute gig. "It took place at Hanoi Rock City, a killer space with a great DIY aesthetic," the guitarist says. Even crazier is the fact that drummer Vikram Yesudas wasn't allowed past Vietnam into Thailand due to a damaged passport, which meant The F16s began playing with the drums in the backing track. "He had to return to Chennai to fix whatever the hell happened. Fingers crossed that he can make it back," says Krishnaswamy.
Despite the hurdles, the excitement is still quite alive for this band, which began looking for shows outside of India after it had played at pretty much every big stage and gig-hosting town in the country. Assisted by manager Roshnee Kumar, the band bagged their first shows in Singapore and Vietnam, followed by shows in five more countries between 23 November and 8 December, including Thailand, Cambodia, Malaysia, Hong Kong and Philippines.
They're currently raving about the beer-for-a-dollar rates in Phnom Penh and the "beastly" weather ("even for us Chennai boys," Krishnaswamy says), but they're content. "The shows so far have been unique, to say the least. Singapore was unique because we had to play three back-to-back sets on two consecutive days. We took a whole mess of merchandise along, and are glad to say that Singapore loves merch," Krishnaswamy adds. Does traveling through these territories involve eating fried (and not so well-done) insects at bazaar stalls and street-side restaurants? Krishnaswamy is amazed we asked. "Sorry for being stereotypical, but you and we both know that insects were a part of this. Most of this trip is an excuse for us to eat our way through Asia," he says.
An international tour was clearly the way to go for The F16s, considering they had gained some global cred thanks to their trip to New York to record at the Converse Rubber Tracks studio in 2014 and consequently released 'Moonchild' off their debut album Triggerpunkte. "A couple of venues have had people who'd never heard us before, but some surprisingly had people who had heard us via Spotify," the guitarist says.
After releasing Triggerpunkte in 2016, they've been working on a follow-up EP called WKND FRNDS (Weekend Friends), due early next year or perhaps even earlier. The band began building up to the recording of WKND FRNDS and the Asia tour by launching an ongoing crowdfunding campaign via their website. The reception has been great so far, according to the guitarist. "We have got donations from all over the place. Some bountiful, some scant, but we welcome any and all amounts. We were apprehensive early on, looking at third-party crowdfunding websites to get an idea and it seemed like a whole lot to keep track of. So we just thought we should do this ourselves, and even if the money takes time to come in, it will."
Known for their well-crafted, often shimmering mix of indie, electronic-tinged rock, there's a music video for 'Cannibal Life II' in the works off Triggerpunkte as well. As for the new record, it's being mixed and mastered while the band is on the road. Krishnaswamy says, "(It's got) mellower sounds for the time being, we're planning on making this part one of a two-part album."
With Hong Kong (6 December) and the Philippines (8 December) left, the band says they've met plenty of musicians on the road so far. Plans are being made to get them to India or do some sort of exchange, it'll be worth it," Krishnaswamy says.
also read
Lifestyle
Maalavika Manoj decided to collaborate with her grandfather, who can play the harmonica and harmonetta, because she realised the influence he has had on her style
Entertainment
At its session for Patio Unplugged, Corner Cafe Chronicles played originals Sunday Nights With Rosie and Rochelle
Entertainment
Here are eight of the most interesting Indian independent music releases of November and December — two albums, two EPs, two singles and two music video