In defense of Badrinath Ki Dulhania: Varun's character is problematic but also learns his lesson
Badrinath Ki Dulhania would have managed to strike gold with the audience had Vaidehi remained true to her own self and had she continued to be Badri's friend rather than making a choice of marrying him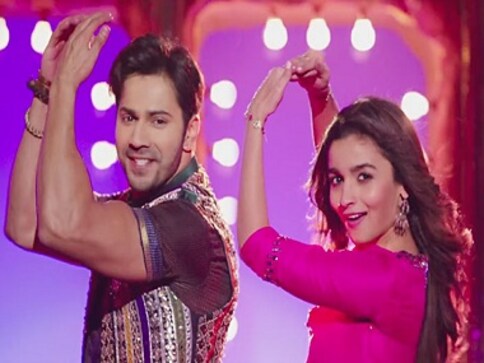 Some critics have already hailed Badrinath Ki Dulhania as a great new statement for feminism in Hindi cinema while on the other hand, some have argued that it in fact, only adheres to the Bollywood's skewed perspective when it comes to gender and feminism.
The film's plot revolves around a boy Badrinath (Varun Dhawan) and his love for a girl, Vaidehi (Alia Bhatt), and how he tries to 'win' her by any and every means available. The film's narrative checks every single box when it comes Bollywood clichés but intriguingly enough tries, and to a great degree also manages to leave the viewer with a simplistic message – one cannot and ought not force someone to fall in love.
The rather banal manner in which this Shashank Khaitan directed film plays out makes it a highly unlikely contender to make any kind of social statement and yet it seems to have managed to achieve just that. In the midst of all the noise surrounding Badrinath Ki Dulhania a small but rather significant detail, which has the capacity to change the perspective the film, is being overlooked.
The fact that Badrinath Ki Dulhania in more ways than one is an unabashed celebration of Raja Babu (1994) — the Govinda-Karishma Kapoor starrer from the 1990s that relegated gender stereotyping and misogyny in popular Hindi films to a new low — suddenly makes you look at the Varun Dhawan-Alia Bhatt film in a new light.
The similarities between Badrinath Ki Dulhania and Raja Babu are glaring enough for the film to be considered a remake in the true sense of the word.
In both the films, the plot revolves around a slacker rich kid (Govinda/ Varun Dhawan) who falls for a well-educated girl (Karishma Kapoor/ Alia Bhatt) with a mind of her own and believes that everyone irrespective of their gender ought to be given an equal chance to do what they want. In both films, the element of arranged marriage becomes a meet-cute for the lead pair and in both the films the girl rejects the boy for being a mismatch in every conceivable way.
While in Raja Babu, Raja initially brushes rejection off and later tries to 'sing and win' over Madhubala (Karishma Kapoor) — remember 'Aa aa ee mera dil na todo'? — he simply moves on when Madhu insults his parents (Kader Khan, Aruna Irani) for not educating their son. Later Madhu is shown feeling bad about the way she expressed herself and forgives Raja for, well, being himself and the two then hatch a plot to win over the heartbroken parents to get them married.
In Badrinath Ki Dulhania things play out differently. Badri's ego is far too big to give up once Vaidehi ditches him at the altar. Badri's father (Rituraj), too, eggs him on as the patriarch would love to hang Vaidehi by the door to make an example of her for other girls who would dare to run away. On the pretext of getting some answers on why Vaidehi rejected this uncouth but dil ka heera ladka, who even helps her family tide over the trouble of arranging the dowry money for her elder sister's marriage, Badri tracks Vaidehi down to Singapore.
He and his buddy, Somdev, kidnap her, dump her in the boot of a car and drive off. They have a conversation and she tries to reiterate that she does not see herself with a guy like him but like any Hindi film hero, Badri tells her that she could have told him a few times more instead of running off. He then fights with her hostel guards and almost endangers her job prospects but Vaidehi refuses to give up on him because she believes that she is also to be blamed for his behaviour for she bolted from the boondocks for a better life.
There is enough in Badrinath Ki Dulhania that fans age-old Bollywood traits like stalking is love, when a woman says no it means yes, and that a man must win over the woman at all costs.
Moreover, the worrying factor, and rightly so, is that young actors like Dhawan and Bhatt are fanning this mindset that somewhere could inspire the young viewer in believing that how it plays out on the screen must be replicated. However, it is important to note that the inclusion of a stereotypical scene where the hero is doing something out rightly wrong does not necessarily mean that it is being promoted.
The film is set in Uttar Pradesh and this is what happens there in real life.  In Badrinath Ki Dulhania and perhaps even in Raja Babu the male protagonists are shown undergoing a certain degree of transformation; needlessly to say that it comes at a great cost and after much wrong has been committed but there can be no confusion about the transition. The manner in which the first half of the imagery is highlighted across films right from Deewana Mujh Sa Nahin (1990) to Dilwale Dulhaniya Le Jayenge (1995) to Tere Naam (2002) and in more recently Raanjhanaa (2013) many times pales the second part, as in the case of Badrinath Ki Dulhania where Badri says an emphatic 'no' to this father's and, up until then, his own ways of doing things.
The reason why Badrinath Ki Dulhania has somehow managed to convince many that, its flaws and shortcomings notwithstanding, it is a feminist film is because of the lead characters and the actors who play them.
Both Dhawan and Bhatt are very credible and more than strike a chord. Dhawan might not be in the same league as a Bhatt in both stature as well as talent (more on that in a bit) but he has managed to place himself in a unique position. He does not seem to be competing with a Ranbir Kapoor or Ranveer Singh and is more than leagues ahead of his contemporaries such as Aditya Roy Kapur, Siddharth Malhotra, and Tiger Shroff.
This makes Dhawan the most amiable face of his generation and is reason enough for the audience to lap him up. Bhatt is perhaps the second most fascinating talent after Kangana Ranaut in Hindi cinema today and although she might not have had her Kajol moment with a Dilwale Dulhaniya Le Jayenge or a Raveena Tandon like cult post-Mohra, she is the only one out there with the same verve that defined divas like Hema Malini, Sridevi, Madhuri Dixit or Juhi Chawla.
In Badrinath Ki Dulhania she has one of her toughest roles: to be a typical Hindi film heroine (read: be willing to come second to whoever be the hero) and at the same time be someone real.
Badrinath Ki Dulhania is a deftly crafted film, and even though it suffers from the curse of the third-act, it is enjoyable. Had the film been constructed better, it had what it takes to become a milestone. In saying this, this writer is certainly not making a case for what the lead character of the film does on-screen. There is no disagreement that the film in some way glorifies stalking but at the same time it also more than ensures that the lead learns his lesson.
Is that enough? Probably not when it comes to messaging about gender equality and feminism.
But within the realm of popular Hindi cinema, Badrinath Ki Dulhania, in a narrow manner, does suggest that Bollywood knows it cannot remain insulated from the real world anymore. Even in 2017, both onscreen and off it, Bollywood is grappling with the concept of choice – in the real world Karan Johar does not like Kangana Ranaut exercising her choice and in the reel world, Badrinath does not get that he ain't Vaidehi's choice no matter how many times he spins the wheel.
Badrinath Ki Dulhania would have managed to strike gold with the audience had Vaidehi remained true to her own self and had she continued to be Badri's friend rather than making a choice of marrying him. It would be a far greater and more organic statement. But this is Bollywood, people!
Let's not fool ourselves that Bollywood would give up living in a fantasy just because it made more sense.
Entertainment
The incident occurred on Monday evening near a temple in Andheri, according to police
Entertainment
Gehana Vasisth is accused of threatening, coercing and luring women with money to act in pornographic films
Entertainment
Saira Banu's family friend Faisal Farooqui said the actress was back home and recuperating.