Headed for the hills: Indie bands are shooting expensive music videos around Shimla, but to what effect?
Music videos set in scenic locales around Shimla aren't doing much for bands, but have helped a film industry come up in Himachal
A  guitar-heavy track, aerial shots of a Volkswagen Beetle driving through a dense belt of deodars, five men hopping around with their instruments over beautiful landscapes — the background a stunning yet deserted ensemble of mountains and clouds. This may seem like the video to an early-ish Coldplay song, but it isn't: It's the visual for 'Bulbule', the first single from a little-known Shimla band called ISPAT.
ISPAT released the video on YouTube on 1 January 2017. What has since followed is steady recognition, and popularity by way of social media. While the music can only be categorised as decent, it is the visual flavour of the video, and the extent to which the group has gone to have it shot, that's the real attention-grabber.
For starters, around 30 seconds of the video comprises shots from the Chanshal Pass, which, at an altitude of 4,500 metres above sea level, links the belts of Rohru and Dodra Kawar in north east Himachal Pradesh. In scenes from the Pass, the ISPAT boys stand in front of a lake, miming with their instruments as they lip sync lines from 'Bulbule'.
"We wanted to shoot the visual beauty of Himachal. But we wanted to shoot at a location which was untouched, with no one around. The filming crew did not want to at first, but we were persistent and sure that we wanted to shoot there," says Ravi Chauhan, the rhythm guitarist and lyricist of the band. The video cost the group a figure upward of Rs 4.5 lakhs. Though the sum may not seem that high, consider the fact that a song can be uploaded online for free or even marketed for a few thousand rupees. And when you juxtapose that against what such a video actually accomplishes, the cost seems steep. "There is no culture of music as such in the state. Even though the video became popular, we don't really earn a living off it, or get any opportunities. We would love to play gigs. It is every band's dream," Ravi says. Among his bandmates, Ravi has a day job at a bank while another owns a business. The rest are still finding their way.
ISPAT's music video is not a flash in the pan. Since 2013, a narrative has been developing of musicians from in and around the hills of Shimla, splashing money to make such videos.  Visually stunning, aesthetically leaning towards the cinematography of the west and strung through exceptional takes by drones, these music videos stand out for the visual element alone. So is music only an afterthought here? Deepak Rathore of the Deepak Rathore Project believes this is not the case and the video is a way to holding on to the identity of the music. "Only popular tracks sell in bars and cafes even in Delhi and Chandigarh. People want to listen to what they already know. It is basically compromising your individual freedom in creating music. What would an artist do in that case?" he says. Rathore has spent around Rs 5 lakhs on two music videos. But he has in a way benefited, as he gets regular opportunities and has travelled as far as Kolkata and Mumbai to play gigs. But is the music any good in the first place?
In 2015, Laman, a folk band from Himachal became probably the most famous entity to be associated with music from within the state — after Mohit Chauhan. And though it is was their simple palette that held the heart, Laman's 'Kaali  Ghaghri'  too extracted whatever it could of Himachal's visual charms . More than the music, the video's success inspired not only those who understood what the song was, but also those who merely understood the language of vision. Central to the development of this intriguing relationship between music and film is Rajeev Thakur, the man behind SnowLeopard Productions, a small production house that started in 2011 out of Shimla. "Last year we shot around 28 music videos. Of these 18 were shot in Himachal alone. And this included artists even from South India," Rajeev says.  Though the visual brilliance of Rajeev's work owes much to the state's natural charms, Thakur's own sensibility is modern and quite self-aware in terms of setting itself differently from mainstream Bollywood. Even the Facebook page of SnowLeopard Productions lists its mission, rather unabashedly, as: 'To create (a) Hollywood-like experience in (the) Himalayas'. Business, for Thakur, is booming. Musicians and groups from Chandigarh and Delhi are now flocking to the hills.
Apurv of Delhi-based group Mridul debuted with a video called 'Bekhabar' in April 2017. He believes a video is essential for giving the music a face. "Adding visuals means you are giving people something to connect with. If you notice our video is not simply stunning backdrops, but it has a narrative line," he says. Interestingly, Mridul's video does not feature the group at all, but a solitary actress. When asked why that is the case, Apurv says it is just the way they have decided to do things.
The turning point in all of this, Rajeev says, came with Swastik The Band's 'Kuch Bhi Karlo', a high-on-ideas, rustic concept that he himself came up with. It got a lot of people's attention, who saw it as something unique, yet easily accessible. The key of course was to set the aesthetic apart from what is expected of everyday cinema in India. "Even when I conceptualise these short videos, I'm aware that we have to set ourselves apart from Bollywood. This is completely different. If we follow the same aesthetic as Bollywood, then it is all for nothing," Rajeev says. The work clearly carries the influence of the west, typically of western films, and has a consistently existential undertone to it – light Terence Malick, if you like. But where does the music go after that?
Two heavy metal bands from Shimla, The Ear Split and Deathknell, after they launched similar videos in 2015, have since disappeared or are inactive. Rajeev confirms that the majority of people he has worked with follow a similar fate. Is it then an indication of vanity, of a desire to claim the fabled 15 minutes fame that attracts musicians? Thakur says that while it cannot be denied, there are other factors that have to be considered as well. "A lot of people who hired us in the past, simply gave up or have started to doing other things. It is disheartening even though my business only increases. So I make it a point of asking the young ones to be serious about what they are trying to do. A lot can be done. But most people I have worked with are simply okay with one-time popularity," he says. The Local Train, a band now based in Delhi is an exception to the case in point. Having gotten past their initial struggles, Rajeev says, they are now well settled. Laman's success on the other hand, has largely been due to their understanding of the market, their music driven by native aspirations and their sheer ability to connect with the local people.
It is worth considering, at this point, the possibilities that independent musicians from in and around the hills of Shimla can look at. Most of these small bands or groups survive by playing at college fests and private parties or marriages. Although the money is decent, there remains the itch to put your own foot forward. Given the inventory of the spectacular at your disposal in the context of Himachal, it also makes sense to build a resume. "Social media is the big game changer now. It is a time when anyone who gets the music and visual aspect right, could become a star. In the '90s the likes of Euphoria and Silk Route triumphed because they gave you a break from Bollywood in both music and visual techniques. These people are trying to be just that. We have made videos for as little as Rs 15,000 as well. Some of them are just looking to get out there, and not be gobbled up by the noise that Bollywood is," Thakur says.
While the quality of the music is debatable, a spate of these videos over the years have given rise to a small film industry in itself, perhaps Himachal's first. Thakur's work has led to another parallel studio in Silent Hill Studios, that has come up in Hamirpur, and is releasing its first feature film Saanjh, based in Himachal this year.  Thakur plans to plunge into filmmaking by 2018 himself. It is an odd story, of aspiring musicians, and not even music, giving the local filmmaking culture a lift, in a state which despite being cast in the Bollywood lens so regularly has failed to produce anything of worth that is local in flavour. Thakur now has two offices, one of which is in Chandigarh. He shoots 30-40 music videos a year, including for artists from as far as Tamil Nadu.
As for ISPAT, was it worth lugging up all that equipment for a 30-second bit that people might only perceive as a tourism advert? "Absolutely," says Ravi Chauhan. "We wouldn't change anything about it even if given the chance."
Find latest and upcoming tech gadgets online on Tech2 Gadgets. Get technology news, gadgets reviews & ratings. Popular gadgets including laptop, tablet and mobile specifications, features, prices, comparison.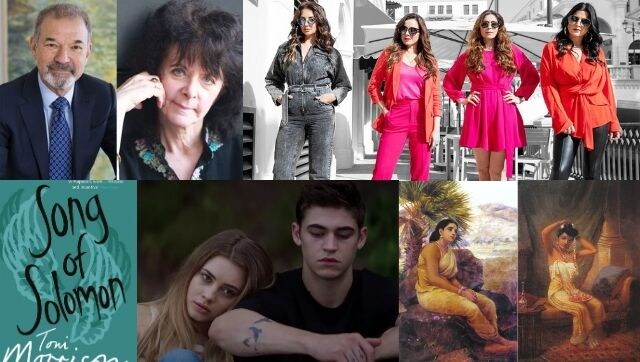 Lifestyle
Every Friday, we'll bring you a curated list of online experiences — performances, talks, tours, screenings — to mark on your weekly calendar.
Entertainment
For Hansal Mehta, while the story of Harshad Mehta's aspirations was an extension to his upbringing in a middle class Gujarati family, Chhalaang was a project he undertook to have fun, and not overthink.
India
Delhi's air quality also improved to the "moderate" category due to favourable wind speed and is likely to get even better, according to the Centre's Air Quality Early Warning System