Get Shorty TV series isn't a remake of the famous 1995 John Travolta film
The new 10 part series Get Shorty will premiere on 13 August and stars Sean Bridges and Ray Romano in lead roles.
The new teaser for the 10-part episode series Get Shorty is out.
And if the name seems familiar to you, it is because Get Shorty was a 1995 film starring John Travolta and Gene Hackman based in part on the 1990 Elmore Leonard novel of the same name.
The 1995 film followed Chili Palmer (John Travolta), a Miami mobster who gets sent by his boss, the psychopathic 'Bones' Barboni (Dennis Farina), to collect a bad debt from Harry Zimm (Gene Hackman), a Hollywood producer who specializes in cheesy horror films.
When Chili meets Harry's leading lady (Rene Russo), the romantic sparks fly. After pitching his own life story as a movie idea, Chili learns that being a mobster and being a Hollywood producer really aren't all that different.
The 1995 film was loved by fans and critics alike, with renowned critic Roger Ebert gives the film 3.5 stars and the film earned $115 million at the box office.
Here's the trailer:
Now the new series follows Miles, a hitman from Nevada who tries to become a movie producer in Hollywood as a means to leave his criminal past behind and win back his recently estranged family.
There, he meets Rick, a washed-up producer of low-quality films who's desperately hanging on to the rungs of Hollywood relevancy and begrudgingly becomes Miles' partner and guide through the maze of show business.
The series also stars Sean Bridgers, Lidia Porto, Megan Stevenson, Carolyn Dodd, Goya Robles and Lucy Walters.
Get Shorty premieres at 10 PM 13 August, Sunday. Here's the trailer:
Entertainment
Aamir Khan's Delhi Belly press conference turned out to be the performance of a lifetime.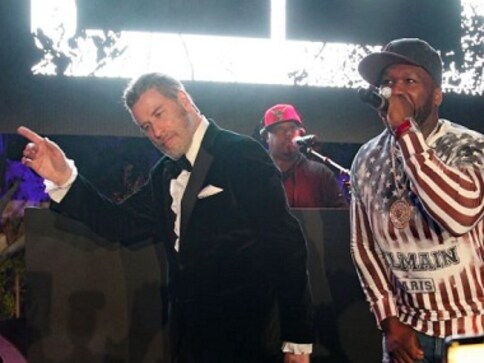 Entertainment
John Travolta has a strong connection with the Cannes Film Festival, where he made his comeback from a post-Grease slump in 1994 with Pulp Fiction.
Entertainment
The Irishman also stars Al Pacino, Ray Romano, Bobby Cannavale, Jack Huston, Harvey Keitel and Stephen Graham.