Cosplay culture in India: Fast-evolving field represents younger generation's drive
The cosplay culture in India is fast evolving like the most advanced Pokemon.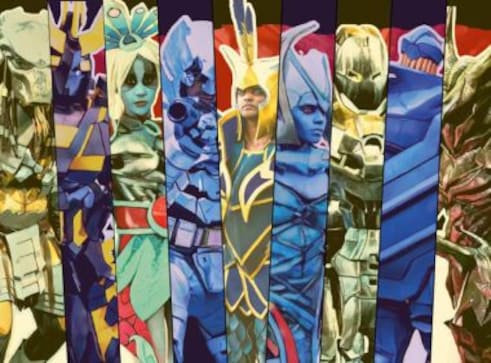 Back in 2013, the Comic Con in India was very different. There were no foreign celebrity guests, the entry wasn't priced, and the cosplay was relatively simple and conventional, with popular characters like Darth Vader and Iron Man taking the prizes home.
Cut to 2016. There are famous celebrities from various field of pop culture — cartoonists, writers, actors – coming to India, there are ticket prices to meet said artists, and the cosplay competition has evolved like the most advanced Pokemon.
Today you will find a number of people dressed in enormous, elaborate, and intricate costumes representing characters from niche fandoms — games, graphic novels, webseries and the like. The competition in the cosplay contest is also intense with some big incentives on the line, motivating cosplayers even more.
And the Alto Indian Championship of Cosplay has made it even bigger.
The country's premier cosplay competition brings together the nine best cosplayers from each Comic Con in India – i.e. the grand prize winners of the cosplay competition at Hyderabad, Mumbai, Bengaluru and Delhi Comic Con 2016 — to compete against each other for the chance to represent India on international level. The winner will get to participate in the Annual Crown Championships of Cosplay at Chicago Comics and Entertainment. It is set to take place on 12 February in New Delhi
Comic Con India says it is aimed at encouraging local cosplayers to go professional and provide them an international platform. Jatin Varma, the founder of Comic Con India, has said "Comic Con India has been at the forefront of promoting and fostering the cosplay eco-system in the country and with this initiative we take it a step ahead."
This ecosystem he talks about, it's fast burgeoning into a culture, and the cosplay culture in India is only growing bigger.
*****
The first ever Comic Con in India was held back in 2011, hosted by Twenty Onwards Media in Delhi. That was also one of the first times that cosplay event at that big a scale took place in India. Since then, the the Comic Cons in India have become a regular and much anticipated event among pop culture fans. The 2014 Mumbai Comic Con featured the first international guest at an Indian convention Mark Gatiss writer, actor and co-creator BCC Sherlock, – interactions with whom were free of cost then – and that pulled in even more fans. This was followed by a plethora of diverse global artists visiting India, with soaring ticket prices to interact with them – Kristian Nairn, who plays Hodor  Game of Thrones, Natalia Tena who played Nymphadora Tonks in the Harry Potter series, Ty Templeton, the Eisner award-winning artist of Batman, Rob Denbleyker, creator of Cyanide and Happines, Doctor Who and The Hobbit star Sylvester McCoy, Gavin Aung Than, who created Zen Pencils, Supernatural actor Jim Beaver among others. There have been video interactions with author Neil Gaiman and Steven Moffat, show head for Sherlock and Doctor Who, over the years. This list of prominent pop culture icons goes on to show just how much ground Comic Con has gained in India over the last couple of years.
As Comic Con India became an annual event, with a reach as wide, naturally the elements under it flourished. And nothing grew as fast and big as the cosplay competition. From basic masks-and-wigs costumes, the participants began to turn out in increasingly ambitious costumes. From a simple costumes from mainstream fandoms, cosplays have evolved to represent more obscure, rare characters. And Comic Con India took notice, setting the stage and bar higher for these cosplayers.
Says Sameer Bundela, one of the finalists in the Indian Championship of Cosplay (ICC), "Earlier when we entered cosplay competitions, you could see a few cosplays and think 'this one is going to win' by the sheer scale of it. But ever since the ICC began, the participation has increased and so has the competition. There are so many good participants at ever Con now, it is difficult to to chose. Especially this year, after the ICC was announced in advance, a lot more people have put in a lot of effort in each city. In inspires us to put in more effort as well"
Sameer was dressed in a film-accurate costume of Chewbacca when we first met at the 2015 Comic Con. In 2016 he was dressed as Pyro from Team Fortress on the first day. On the second day, he came in the elaborate garb of Skywrath Mage from Dota 2, a cosplay that has won him the grand prize and saw him represent India at the gaming Cosplay championship in Malaysia. He has been participating at conventions all across the country in as Skywrath, lugging around the heavy costume. Ask him about the logistics of such an ambitious project, and he makes it sound almost easy.
"The execution took me a couple of weeks, but it has to be assembled properly. For Skywrath, I had to melt acrylic sheets and fashion them for the staff. I had to redo the wings as the mechanism had to work properly. The initial contraption wasn't as flexible and the new one, which had to be simple enough to be taken apart and packed in boxes for travel. At conventions, I end up repairing the costume everyday because of the wear and tear but once you get it in place, it's not that difficult," he says.
Sana Khan, a 23-year-old graphic designer and another finalist at the ICC, probably has the most interesting background as a cosplayer. A fashion designer by education, she has the rare distinction of actually being qualified to cosplay. It took her about five months to assemble her costume as a Vengeful Spirit from Dota 2, and it was her first-ever attempt at an elaborate cosplay (she has done relatively simpler costumes before). For a first-timer, her detailed outfit was highly impressive and deservingly won the award.
"Looking back, Cosplay has been my calling from childhood, I just didn't put it together. I wanted to study animation but there weren't any good colleges in India so I ended up going to NIFT. But it just happened that I learnt to make costumes in college and that really helped me make my cosplay outfit," she says with a laugh.
On the face of it, the time and effort involved seem like a lot for something that is considered a hobby. But for cosplayers, the investment is worth it.
"It was more than worth it, I never realised that people would come up to me and say you inspired me with your costume. I feel like I have dome something, I have achieved something," gushes Sana. "The feeling you get when people recognise your cosplay is great. It's also thanks to my cosplay that I got a chance to go to Malaysia," adds Sameer.
Why do you cosplay? Ask this to the people in costume, and a lot of them are stumped. 'What question is this?' 'I don't have a simple answer.'
Justin Sequeira, a cosplayer from Mumbai who took more than half a year to assemble his completely handmade Boba Fett costume, says he does it for the fun of putting it all together. "It was really fun working on it. I guess I had the most fun figuring out how exactly I would wear the entire thing. For me it was the first time cosplaying something that big and it was totally worth it though. I didn't even think I'd be recognised because Boba Fett is such a character that only fans of the franchise would probably know, but I got called out by a fan while I was still getting ready at the convention. It was such an awesome experience," he says.
"I cosplay because I like sharing the things I am passionate about – and by dressing as these characters, more and more people know about the game. I know so many people who have started playing Dota in the last few months after they saw my cosplay as Skywrath and that makes me feel good, that I have spread the passion for the game," says Sameer.
As a cosplayer myself, the best I can put it is 'connection'; one cosplays for the connection it gives you with other people who share the same passion as you.  Cosplay is not just about elaborate costumes for competitions and conventions, it is about expressing your love a character and a story. While the elite few enter competitions and a select few even make a career of it, cosplaying largely is a hobby – a fulfilling one at that.
*****
Cosplay, among pop culture enthusiasts, in fairly common on a level, and not limited to Comic Con.
When Harry Potter and the Cursed Child released in July 2016, I was at Crossword to collect my pre-ordered copy. In keeping with tradition, the bookstore had organised thematic events and there were many kids dressed as tiny Harry or Hermione. On the first day of Star Wars: The Force Awakens, the theatre was filled with people carrying lightsabres. At the special screening of the 50th Anniversary episode of Doctor Who in Mumbai, half the crowd was wearing costumes similar to the characters in the show.
But a pet peeve would be the dismissal of cosplay as 'fancy dress', like it's the colony/school's annual program, not a competitive comic convention. Adults playing dress up for role play is probably the worst way you can put across the concept of cosplay. The whole idea is to establish that connect with people who are on your wavelength. And the connect is very strong with them.
There are Facebook pages and groups for Indian cosplayer to interact, where a lot of share their work and help each other. A look at the registration booth at the conventions and you will see one elaborately dressed cosplayer help the other with glue, paint, makeup. The Mumbai Comic Con even had the 'Cosplay Doctor', who had stationary and other assorted material to fix cosplayers in trouble. Apart from the support, the mutual admiration is splendid – from the most basic to most elaborate, cosplayers form a community at a convention and the companionship carries forward even after Comic Con.
That being said, it must be mentioned that Comic Con is not always a great place as a woman cosplayer. The incessant troubling of women in more risque costumes used to be high but Comic Con India took note of it and launched the 'Cosplay is not consent' initiative. "While fellow cosplayers are most respectful of your space, the other fans at the convention tend to keep staring and then ask for photos and try to invade your personal space. It can make you uncomfortable but I have always called them out in such a situation and there has been no untoward situation yet," says Sana.
The cosplay culture in India is one of those rare things that represents this generation's drive to do something different. For all the comments on the 'lazy, online gaming-crazy youth', the effort expended by the cosplayers show that there is no lack of creativity or intent there. The cosplay community has found their niche to showcase their fantastic potential and this should be more recognised more, applauded more and definitely supported more.  With the all India competition starting soon, one can't wait to see what new innovation these youngsters will bring to a fast-growing field.
The Alto Indian Championship of Cosplay will take place on 12 February from 12 PM at Ansal Plaza, New Delhi. The event is free to attend, however visitors have to register for an invite. There will be a cosplay event for visitors as well and the Fan Cosplay Contest (Open for all) will have a prize money of 15,000.
also read
Entertainment
The attendees will also be treated special performances from comedians Rohan Joshi, Sahil Shah, Nishant Suri, rappers Shia and Zero Chill, Geek Fruit, Mentalist Vivek Desai, the comical band - Kapow
Business
I will always remain the person who started Comic Con in India, says founder Jatin Varma.