Caraoke: The cast of Lipstick Under My Burkha belt songs from their movie while on the road
Watch as Ratna Pathak Shah, Konkona Sen Sharma, Plabita Borthakur and Aahana Kumra drive around Mumbai, singing songs from Lipstick Under My Burkha.
Just when you thought Lipstick Under My Burkha finally seeing the light of the day was the best thing to happen to you this month, here is a video of Ratna Pathak Shah, Konkona Sen Sharma, Aahana Kumra and Plabita Borthakur casually singing songs on the first episode of Caraoke.
What is even more awesome is Shah shimmying in the backseat while discussing her encounters with men who found her intimidating and women who hit on her.
Watch them as they discuss men, women while bopping to the songs from their upcoming film.
Lipstick Under My Burkha has been directed by Alankrita Shrivastava and releases tomorrow, 21 July, 2017.
Entertainment
Lipstick Under My Burkha is unrelenting in its social commentary, unapologetic about the mirror it holds up to Indian patriarchy, and reminds men that women – even those old enough to be their mothers – have sexual desires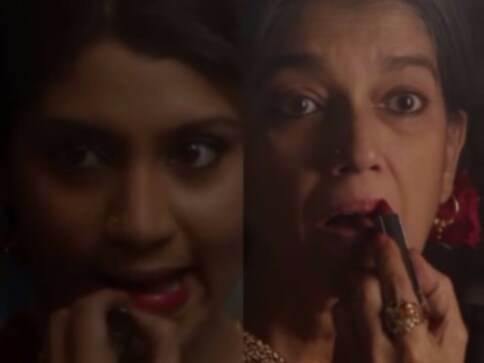 Bollywood
FIlms like Lipstick Under my Burkha, The Lunchbox and Queen could point to a deeper malaise in the publicly held notion of the 'independent woman'.
Bollywood
Lipstick Under My Burkha director Alankrita Shrivastava says that she will "live with" the changes the FCAT has suggested.