Breaking Bad: Why it's impossible to imagine a Skyler White on Indian TV
Skyler is hated because she is decidedly gray and usually, in both society and pop culture, there is no room for moral ambiguity in women.
(Please note the article contains spoilers about the serial) 
On Sunday night, after five years of playing the part to perfection and in her second year of being nominated, Anna Gunn finally won the Primetime Emmy for Outstanding Supporting Actress in a Drama Series for her role as Skyler White on Breaking Bad. This made me very happy as I was totally gunning for her and I had this pun all showered, perfumed and ready to be typed out on a fresh, white Word document.
Skyler's transformation from middle-class mom caught between an unplanned pregnancy and a sick husband, to a money-laundering accomplice unafraid to get her hands dirty, has been one of my favourite bits about Breaking Bad. You know, along with all those handy lessons on how to get rid of a dead body, and Jesse Pinkman's impressive collection of hoodies that he stole off the sets of The Fresh Prince of Bel-Air.
Recently, I found out that loving Skyler White's character and discussing said love on a Breaking Bad forum was the TV equivalent of announcing your support for Rahul Gandhi during a Falguni Pathak dandiya night, ie simply not tolerated. Skyler is one of the most hated characters on TV, a fact that a beleaguered Gunn tried to analyse in an op-ed piece for the New York Times, giving all fans of the show something to think about, apart from wondering when Walter finds the time to shave his perfectly bald melon-head between cooking up meth and making plans to destroy his villain du jour.
Skyler is hated because she is decidedly gray and usually, in both society and pop culture, there is no room for moral ambiguity in women. Audiences are far more forgiving of men, a fact clearly depicted by the love we still bear for Jesse Pinkman, who has abused drugs, cooked drugs, sold drugs, killed at least one man in cold blood, and been indirectly responsible for the deaths of a few more, simply because oh, at least he feels bad. Heck, we even want Walt to still come out on top somehow. But not Skyler. For her, we've already written a gruesome death involving zombies and chainsaws that still hasn't come, much to our frustration.
Characters like Betty Draper on Mad Men, Debra Morgan on Dexter, Nancy Botwin on Weeds and Carmela Soprano on The Sopranos have all been victims of our Moral Ambiguity Syndrome. They reacted to the moral failings of the men in their lives by adopting a few of their own, instead of being the moral compass of the show, and they were reviled for it. On Indian television, our female characters are two-dimensional and classically black and white.
The bad bahu creates obstacles in the path of the good bahu, and the good bahu sidesteps them all with her powers of wholesome goodness, as though she were a packet of something Kajol would endorse. They continue this coyote and roadrunner game till the audience gets tired of their faces and demands replacements, and then off we go again, up the mountains, down the valley. Our Mihir Viranis are allowed to slip, fall, make mistakes, but if our Tulsi Viranis aren't picking them up and dusting them off, what kind of women are they?
Anna Gunn is a stellar Skyler White, and Skyler White is one tough cookie. She's just as deserving of our empathy as Walt, Jesse or Hank. A smart woman with sharp instincts and an even sharper need to protect her children, she deals with the terrible situation in which she finds herself deftly, and with as much dignity as she can muster. It's impossible to imagine a woman like this on Indian television, for all the dolphin-hunting by Satyavati in the new Mahabharat and shows like Maryada, which do a little something to rattle stereotypes.
When Indian television grows up enough to be able to create our own Skyler White, let's hope that our audiences are mature enough to handle her, in all her shades of black, white, grey or rainbow LSD trip. Knowing Indian audiences though, that will be around roughly the same time as the apocalypse, so I wouldn't hold my breath.
Find latest and upcoming tech gadgets online on Tech2 Gadgets. Get technology news, gadgets reviews & ratings. Popular gadgets including laptop, tablet and mobile specifications, features, prices, comparison.
Entertainment
Two french filmmakers and fans of Breaking Bad have handpicked scenes to create a feature film out of the show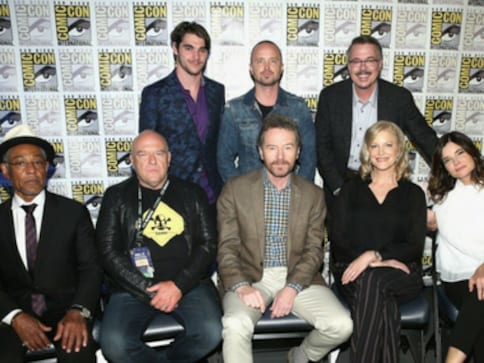 Entertainment
They reflect on the fate of their characters, more Better Call Saul and Breaking Bad crossovers, and the possibility of a movie.
Entertainment
'There's still a lot of pain': Bryan Cranston discusses the childhood trauma of his father's desertion and mother's alcoholism.