Jagga Jasoos trailer: Ranbir Kapoor jumps off Ferris Wheel and sets out to find missing father
In the trailer of Jagga Jasoos, Katrina Kaif and a stammering Ranbir Kapoor whiz through streets in several chase sequences.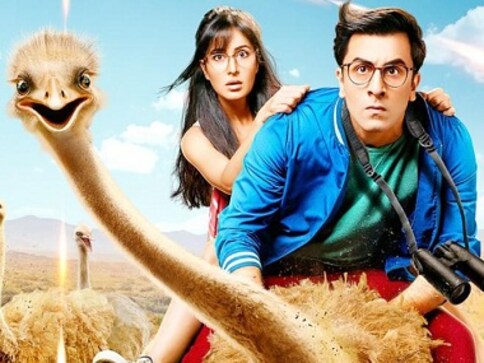 The run up to the release of Ranbir Kapoor and Katrina Kaif-starrer Jagga Jasoos has been marked by an increase in the intrigue surrounding the film. Several details about the film have been revealed, such as Ranbir's role as a detective in search of his missing father, Katrina's role as a journalist and a possible sequel, which may involve Jagga's grandchildren.
Now, the trailer of the film has been released, and in it Ranbir almost seems suicidal, as he casually jumps off a Ferris Wheel. His character also has a stammer, and he says that he prefers singing rather than talking to overcome the challenge it poses for him. The sense of adventure in the film is apparent, as the lead actors whiz through streets in several chase sequences.
But the most important takeaway from the trailer is Jagga's intuition about his father — at first, he says that he did not commit suicide but rather was murdered. Later, he says that his father is still alive.
Visually speaking, the warm tones of the trailer will remind you of Anurag Basu and Ranbir Kapoor's first collaboration Barfi! which released in 2012.
Jagga Jasoos also stars Sayani Gupta, Saswata Chatterjee, Saurabh Shukla and Karan Wahi. It marks Ranbir's debut as a producer, and he is joined by Disney India and Anurag Basu's Ishana Movies in this capacity. It also marks the first collaboration between Katrina and Anurag.
Three of the 29 songs in the film have been released. Pritam, Arijit Singh and Amitabh Bhattacharya's musical and lyrical prowess shows in 'Jhumritalaiyya', which explores the relationship between Ranbir and Katrina's characters, 'Ullu Ka Pattha' has a mix of simple music and EDM and 'Galti Se Mistake', which is about Ranbir's character's school days.
Ranbir called the adventure comedy musical a family entertainer that children will enjoy. But he added that he does not wish to pursue producing as a full-time job, as it is not his cup of tea.
The film is slated to release on 14 July, much to the relief of fans, who may have been undoubtedly disappointed when the release date of the film kept getting pushed.
Watch the trailer here:

Find latest and upcoming tech gadgets online on Tech2 Gadgets. Get technology news, gadgets reviews & ratings. Popular gadgets including laptop, tablet and mobile specifications, features, prices, comparison.
Bollywood
Jagga Jasoos has been in the making since the release of Anurag Basu's last film, Barfi in 2012.
Entertainment
The Jagga Jasoos shoot was resumed in Mumbai over the weekend, And Firstpost's photographer was on hand to document Ranbir Kapoor on location, with director Anurag Basu.
Entertainment
In the Jagga Jasoos first look Kapoor captures the innocence and unadulterated joy attached with one's childhood and college days aptly.