Anil Kapoor's iconic song Ek Ladki Ko Dekha Toh Aisa Laga to be recreated for his next co-starring Sonam
Ek Ladki Ko Dekha Toh Aisa Laga was originally featured on Anil Kapoor and Manisha Koirala in Vidhu Vinod Chopra's directorial 1942: A Love Story.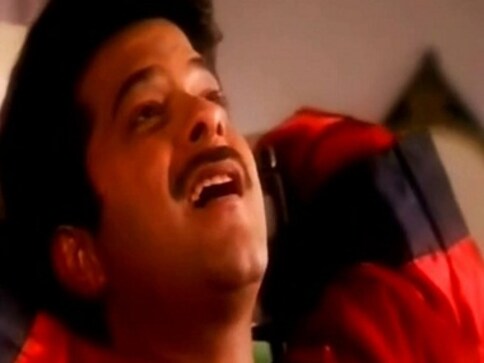 Anil Kapoor and Sonam Kapoor have started shooting Shelly Chopra's Ek Ladki Ko Dekha Toh Aisa Laga. Director Shelly Chopra is planning to recreate the song 'Ek Ladki Ko Dekha To Aisa Laga' from 1942- A Love Story for her film.
Shelly says to Mumbai Mirror, "Yes, we are recreating the original and we want to replicate its iconic status. It's hard to beat the original so I will be happy if we are at par with it. However, we'll have to wait and see who sings the new version and for whom in the film."
The original song had Manisha Koirala and Anil Kapoor in it and is known as one of the most loved romantic numbers in Indian cinema. Further details about the new song are yet to be revealed.
The cast, which also includes Rajkummar Rao and Juhi Chawla, are shooting in different parts of Patiala and Chandigarh currently. Rao plays the love interest of Sonam in the film. While Juhi will be seen in an upbeat character and share screen space with Anil, the real-life father-daughter will play father-daughter in the film too.
While speaking about the bonds that the actors shared on the sets, Shelly says to Mumbai Mirror, "It was lovely to see two friends come together after a long time. On their first day together, I gave the clap and called it a historical shot as it was the first time we had two big stars who are also father and daughter. Anil is a typical dad who asks us to take Sonam's shots first; I find it endearing. We have been shooting at night and it gets nippy at times, so Sonam is constantly checking up on her father."
Sonam, who is currently riding on the success of Padman, had also shared a picture of father Anil Kapoor and Rajkumar Rao posing with sanitary napkins together.
As the film began rolling, Anil also shared a post where he said it was his wish to play reel-life father-daughter with Sonam which finally came true.
Entertainment
For a second, it felt like the uncles who forward 'wife jokes' on WhatsApp had come to life - except this time, they were being polished and sophisticated while doing the same jokes because after all, it is KWK - one must be classy while being problematic.
Entertainment
A recent report says Firoz Nadiadwala is planning to make a film on the Mahabharata and the actors he has in mind are Ajay Devgn, Ranveer Singh, Anil Kapoor, Paresh Rawal and Nana Patekar.
Entertainment
While the latest episode managed to dig deep and bring out some unheard confessions from the actors, fans were surely stunned to learn how Varun felt after Karan Johar didn't cast him in his recent projects.