Bigg Boss 10 winner Manveer Gurjar being wooed by SP, BSP to campaign during UP polls?
As per reports, both the SP and the BSP have approached Manveer Gurjar's family to rope him in as the star campaigner for the upcoming state Assembly elections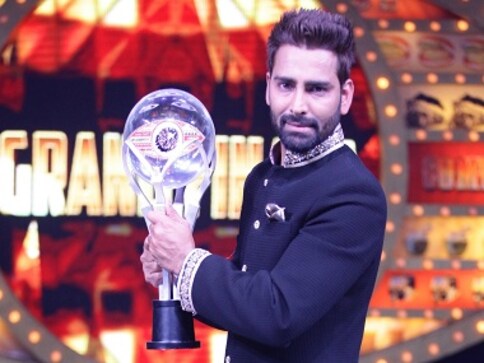 Manveer Gurjar was announced the winner of Colors TV's Bigg Boss 10 late on Sunday night, 29 January.
But news developments over just the past two days have shown how much the Noida-based dairy farm owner's life has changed due to his Bigg Boss stint.
While videos of the huge crowds that gathered — some with dhols — to greet Manveer on his return home have been going viral, the Noida traffic police had to issue a traffic advisory, in anticipation of the massive snarls that occurred as a result of the unprecedented number of people on the roads.
Meanwhile, Manveer had to spend the night at a friend's farmhouse as the crowds at his village prevented his reaching his family home. An Indian Express report stated that he sustained a minor injury due to the crowds and had to receive first aid.
However, the real test of just how popular he has grown is the fact that two of the major political parties in the state — the Samajwadi Party and the Bahujan Samaj Party — have come calling, to rope Manveer in as their star campaigner.
The Times of India reported that the SP candidate for Noida, Sunil Choudhary and BSP's Ravikant Mishra were among those who dropped by to congratulate Manveer. The report quoted Manveer's uncle as saying, "Offers (have) come from the parties. Mayawati's brother had come and met the family members. They said that if not Manveer, (his) elder brother Anoop can campaign but we said that he have nothing to do with any political party."
However, spokespersons for both political parties said no official proposal had been made to Manveer regarding campaigning, although his 'support was welcome'.
In other news, the Bigg Boss season 10 winner found himself in the midst of a controversy after videos and photos purportedly from his wedding were released online on Tuesday. Several reports claimed that Manveer had kept his marriage a secret and was also the father of a three-year-old.
also read
Bigg Boss Season 10
Day 68 — what was broadcast as episode 68 — of Colors TV's Bigg Boss 10, saw a major fight between Lopamudra and Priyanka, but also visits for all contestants from their loved ones
Bigg Boss Season 10
Day three in the Bigg Boss house saw commoners Manu Punjabi and Priyanka Jagga dominate over the celebrities and make their lives hell.
Bigg Boss Season 10
The contestants have a chance to increase their prize money as they head into the finale of Colors TV's Bigg Boss 10