Bigg Boss 10, Episode 100, 24th January 2017: Bani-Manu defeat Lopa-Rohan in 'dhaba' task
Manu Punjabi, Manveer Gurjar, Ban J, Rohan Mehra and Lopamudra Raut mark Day 100 in Colors TV's Bigg Boss 10 house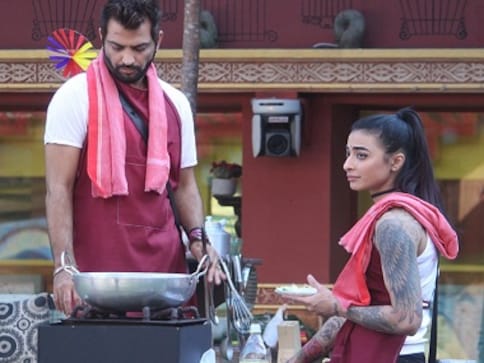 Marking the 100th day of their journey inside Colors TV's Bigg Boss house, the housemates wake up to the song 'Daawat-E-Ishq'. In the morning, Manu Punjabi is seen getting a bit emotional thinking about how he is going to miss staying in the Bigg Boss after the finale. He says it was their last Monday in the house and he is not at all excited about going back to his own home, probably hinting that he will miss his mother, who passed away few weeks ago. Later, Manu, Manveer Gurjar and Bani J get together and the former two tell Bani that they would like to shift to Mumbai and ask for her help in finding a place to stay. Initially, Bani pulls their leg saying that it isn't easy for bachelors to rent a place in Mumbai, but on a serious note tells them that a friend of hers can help them out.
Soon after, Bigg Boss introduces the 'BB Dhaba task' wherein the housemates are divided into two teams: Lopa- Rohan and Manu-Bani. Both the teams have to cook food in the given time frame. Manveer is chosen to be the sanchalak and owner of the dhaba who will get food orders from Bigg Boss and ensure that both the teams prepare it in the given time limit.
A dhaba-like set up is arranged in the garden area. Both teams have to share a stove area. The housemates are asked to dress up like dhaba chefs with aprons and gamchas and pick up all the required ingredients from the store room every time they get an order. After the task completion gong rings, both the teams have to get Manveer to taste their dishes and while he decides whether to accept or reject the dish. However, the final decision lies with Bigg Boss. In the first round, Bigg Boss asks the contestants to prepare a Chinese food item in the span of one hour. Both the teams gear up for the task and hit the storeroom to get all the necessary ingredients and the responsibility is upon Bani and Lopa. Bani is quick enough to pick up all the sauces while Lopa struggles to get the right ingredients. Lopa requests Manu to share sauces with her but Manu politely declines and says that she should have thought of it before and he won't be able to help her now.
As the task end buzzer rings, both the teams display their food items in a serving bowl and put it in front of Manveer for assessment. Without wasting any time, Manveer declares Manu and Bani as the winners and keeps their dish in the confession room for Bigg Boss's evaluation. Up next, Bigg boss asks both the teams to prepare an Italian dish in the span of one hour. Bani and Lopa rush inside the store room to get the ingredients and once again Lopa loses out on picking the pasta packets as all of them go in Bani's kitty. Lopa starts blaming Bani for doing it purposely but Manveer objects her. He says that she got an equal opportunity as Bani to get the food items and she can't blame Bani for her own mistake. Furthermore, Manveer and Rohan also get into an argument. Manveer votes for Bani and Manu yet again. Bigg Boss then announces that they have to make a dessert now. Lopa and Bani rush into the store room again to grab ingredients. Lopa gets upset that Bani took the only sugar packet. The contestants start making the dessert and this time too, Manveer likes the Indian dessert made by Bani and Manu making them winner in all three rounds. Later, Manu remarks that the dessert that Lopa and Rohan made was so bad that it will be seen lying in the refrigerator until the finale. Manveer, who had called Lopa and Rohan's dessert 'poison', agrees with Manu.
In the evening, after the completion of the task, Bigg Boss gives the housemates a big surprise in the form of the popular celebrity chef Zorawar Kalra. He enters the house along with his two assistant chefs to celebrate the contestants' victory and to cook a scrumptious meal for them. Zorawar interacts with the housemates and tells Manveer how his beard and hairstyle have become the rage in Delhi and his fan following has increased manifold. Along with his assistant chefs, he prepares Indian fusion food giving a twist to every food item. From kebabs, to daal chawal starters and twister jalebis, the housemates gorge on the delicious food and profusely thank Zorawar for making their Bigg Boss milestone a special one.
And tomorrow, former contestants Mandana Karimi and Nitibha Kaul will enter the house and there will be 'BB Mela' and in one of the tasks, each contestant will be given a chance to vent their frustration on each other with Lopa being on majority's target. Not just that, Mandana will pull up Lopa saying that even as she was a beauty queen, her behaviour was like a little girl who was forever nagging. Mandana will further tell Lopa that she was being disloyal and behaving badly by making uncharitable remarks against Bigg Boss. Lopa will break down and tell everybody that she wants to go home and doesn't want to be present during the finale.