Beyoncé's Madame Tussauds' wax statue retouched after fans complain it is too white
Beyoncé's wax statue at Madame Tussauds museum was 'adjusted' after fans said it was much thinner and whiter than the singing sensation in real life.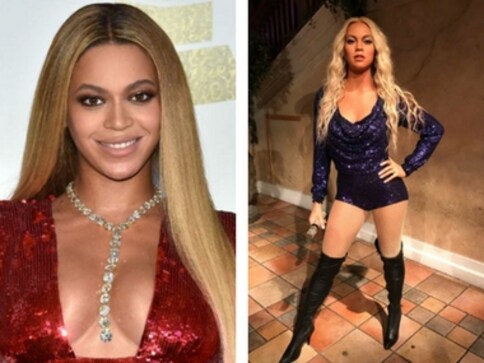 Madame Tussauds' in New York, the wax museum which is famous for its epic wax statutes of celebrities, retouched a Beyoncé statue after fans complained of it being too white.
According to Billboard.com, the statue seemed to be a lot thinner and lighter in colour than the singing sensation in real life.
The museum said that lighting has huge part to play in how the statues look.
"Our talented team of sculptors take every effort to ensure we accurately color match all of our wax figures to the celebrity being depicted," a representative of the museum told Billboard.
The artists at the museum have now fixed the lighting and styling, in order for it to look more like the star.
Before the adjustment was made, fans pointed out on Twitter that the statue looked like Shakira and Lindsay Lohan more than the 'Lemonade' singer. Here's a photo of the statue a fan tweeted:
The Twitterati was obviously confused with the discrepancy in the skin colour and were not pleased about it. Here are some tweets from the Twitter community expressing their displeasure:  
Recently, Kim Kardashian was bashed for posting picture of herself with a darkened skin tone to promote her cosmetic line. Fans had taken to social media to express their disappointment in the 36-year-old reality TV star for purposely making her face darker in her new make-up campaign.
Fwire
Incredibly life-like wax figures of five Hindi cinema legends, including megastar Amitabh Bachchan and superstar Shah Rukh Khan, will be on display at Madame Tussauds Washington DC through the end of the year.
Fwire
A Robert Pattinson wax statue has been unveiled at the Madame Tussauds's museum in Blackpool but the statue barely resembles the Twilight star.
India
Kolkata will soon have a wax museum of its own on lines of the world famous Madame Tussauds, West Bengal Chief Minister Mamata Banerjee said here Monday.