Befikre chat: Ranveer Singh, Vaani Kapoor spill their secrets on this episode of The Firstpost Show
The latest episode of The Firstpost Show features the lead actors of Befikre, Ranveer Singh and Vaani Kapoor who are all geared up for the release of their film on Friday,  9 December 2016.
Directed by Aditya Chopra, Befikre is a much-awaited movie among fans of Ranveer and Vaani.
Our host Renil Abraham caught up with the gorgeous Vaani and the ever peppy Ranveer, for a candid interview at the Yash Raj Studio office.
The Shudh Desi Romance actress said that she has no fans, unlike Ranveer's crazy fan club and hopes to reach that phase someday. Speaking of crazy fans, we also heard how Ranveer had his butt squeezed by one!
The show ends with an exciting round of Truth or Dare that revealed Ranveer and Vaani's secrets!

Watch the full episode and find out more.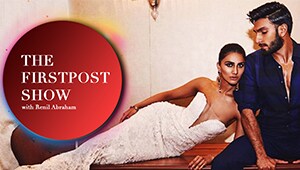 Updated Date: May 23, 2017 17:56:24 IST