Baywatch stars Priyanka Chopra, Zac Efron, Dwayne Johnson impress at CinemaCon
Her blink-and-miss appearances in the Baywatch trailers so far have led to some disappointed murmurs among fans, but at CinemaCon, Priyanka Chopra did manage to make quite an impression with the special footage unveiled for the audience there.
CinemaCon, which is being held in Las Vegas over 27-30 March for journalists and theatre owners/exhibitors, saw the Baywatch team touch down for their presentation. Dwayne 'The Rock' Johnson, Zac Efron and Priyanka Chopra were all present for the event, where an extended trailer of Baywatch was screened.
The team called it the "FU" trailer ("F****** Unbelievable") and from the reactions to it that poured in on Twitter, it seems Priyanka's badass avatar as Victoria Leeds — she apparently shoots off the F word and has some gun toting action sequences in the CinemaCon footage — was among the highlights.
New #Baywatch trailer includes a gun-toting & F bomb dropping @priyankachopra. I'm into it. #CinemaCon2017

— Lauren Cox (@Iaurencox) March 28, 2017
When @priyankachopra drops the F bomb on #Baywatch you best believe I'm gonna play that on loop my new favorite song — pcmaniacs;mystrength (@hipslikePC) March 29, 2017
Priyanka shared a short video with her followers on Instagram before heading into the event:
Later, she shared backstage photos of herself with her Baywatch co-stars:
The team even took their sense of fun and obvious camaraderie on stage, where their shenanigans had the audience in hoots: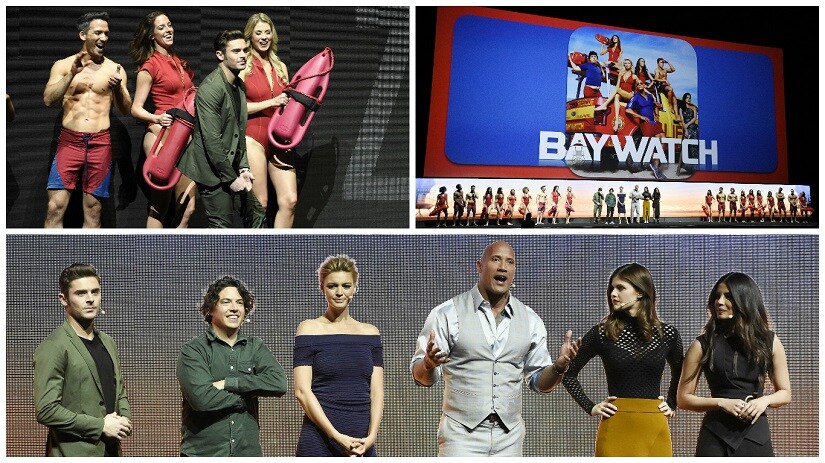 While we don't have access to the CinemaCon footage, here's another look at the newest trailer for Baywatch:
Updated Date: Mar 29, 2017 13:50:49 IST