As Rajinikanth set to play Kaala, fans wonder if it will be more Baasha than Nayakan
Rajinikanth's next film Kaala seems to be a marriage between Baasha, one of Thalaiva's biggest hits, and Kabali, his last film.
The jeep has been in the news for all the wrong reasons in recent days so it is a relief when Rajinikanth decides to perch himself on it. That's good enough for his fans to go into a collective frenzy, swooning over the swag in his body language.
It is an interesting fish eye panaroma first look of Rajinikanth's 164th production, Kaala Karikaalan that was released on Thursday evening. Rajini's son-in-law actor Dhanush whose Wunderbar Films is producing `Kaala' tweeted with the hashtag #makewayfortheking.
Superstar Rajinikanth's #kaala Telugu and Hindi first look posters. pic.twitter.com/q4SldoXrUN

— Dhanush (@dhanushkraja) May 25, 2017
Kaala is easily one of the more classy Rajinikanth posters one has seen in recent years, though it has a Kabali deja vu about it.
The movie set in Mumbai will see Rajini in the role of an ageing Tamilian don and that explains the jeep's Maharashtra number plate. An indie mongrel gives him company atop the bonnet while the Superstar's sartorial style is un-Kabali like. He has discarded the sharp suits for a black kurta, brown veshti, black sunglasses with slippers. The rugged bearded look holds promise of seeing the Superstar in an intense role.
The movie that is being helmed by Kabali director Pa. Ranjith, will shoot 40 per cent of its portion in Mumbai while the rest will be shot at a Mumbai-like set that is being erected at EVP Film city in Poonamallee in Chennai.
In fact, it will be like shooting Kabali part 2 for Rajini because barring the editor and producer of the film, the entire crew is borrowed from his 2016 superhit. Santhosh Narayanan will compose for Kaala as well, amidst expectations that his music's 'Neruppa da' temperament will continue to bring much magizhchi (happiness).
Those in the know say Kaala despite the similarity in the basic texture of Rajini's character, will not be a Kabali. The theatre of Kaala is set in the slums of Dharavi in Mumbai.
It is interesting that Rajini in the twilight of his career has decided to embrace Dharavi. And it is inevitable that comparisons will be drawn to the performance of his friend Kamal Haasan who played Tamilian don Varadarajan Mudaliar in the 1987 critically acclaimed superhit Nayakan. Kamal won the National award for best actor for the Mani Ratnam-directed movie.
With Kabali, Ranjith showed himself to be a director who believed in realistic portrayals, instead of completely succumbing to the over-the-top heroism that characters played by Rajini usually exhibited.
Will Kaala then be Rajini's "Naan late aa vandalum latest aa varuven'' (even if I am late to arrive, I will be the latest) answer to Nayakan, where the actor in him will showcase his craft? It is interesting that the two Dharavi movies are separated by three decades.
K Hariharan, Author and Professor of Film Studies however thinks Kaala will be more Baasha than Nayakan. Baasha that released in 1995, was based on Amitabh Bachchan's Hum and is one of the biggest hits in Rajinikanth's career.
"It will be a case of Kabali marries Baasha,'' says Hariharan. "Baasha was not a high-budget film so here you will need special effects to enhance the Rajini viewing experience. But it seems to me that the theme will be that of a modern-day reluctant fighter like Baasha.''
Unlike Nayakan, Kaala is not based on a real life character. Though there were reports that Rajinikanth will reprise the character of Haji Mastan, it was denied after Mastan's adopted son raised objections to his father being portrayed as a smuggler and an underworld don. Incidentally Mastan, like Mudaliar, was also a Tamilian. He was born in Ramanathapuram and in fact, was good friends with Mudaliar.
In the opening scene of Kabali, Rajinikanth's character is seen reading the book 'My father Balaiah', the story of discrimination against Dalits in south India.
The film was also set in the milieu of social discrimination. Knowing Ranjith's proclivity to make a social comment through his movies, attention has been drawn on social media to the number plate of Rajini's jeep - MH 01 BR 1956, with one Facebook user wondering if this is a reference to the year of BR Ambedkar's death.
With speculation that Rajinikanth is eyeing a political entry, the question that arises is whether a 2.0 that will release next January. and Kaala, will be the right vehicles for a political launch.
MGR always played roles that cast him in a do-gooder image and that impression stuck in the public mind even when he turned a politician.
Another actor-turned-politician Vijaykanth starred as an anti-corruption crusader in Ramana emphasising an intolerance towards corruption. Rajini on the other hand, is experimenting with shades of grey, perhaps aware that the knowledgeable Tamil audience can distinguish between real and reel personas.
Find latest and upcoming tech gadgets online on Tech2 Gadgets. Get technology news, gadgets reviews & ratings. Popular gadgets including laptop, tablet and mobile specifications, features, prices, comparison.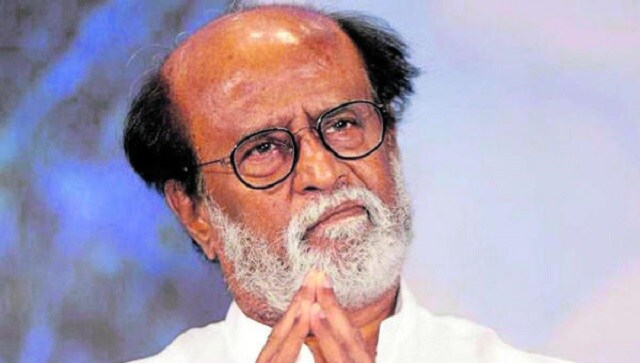 India
The resignation of RMM office bearers comes after actor Rajinikanth said he would not enter politics in time for the Tamil Nadu Assembly elections due in April-May
Entertainment
Minnale goes from relatively harmless, goofy rom-com to a story about dudes engaging in rather alarming behaviour.
Entertainment
Minnale, which released on 2 February 2001, seemed to be one of those progressive, liberal movies that were just a hop, skip and jump away from being an outright feminist treatise in English.