Apurva Asrani on Section 377: 2013 ruling was a travesty of justice, we felt like we had been cheated
Apurva Asrani spoke with Firstpost about the recent Supreme Court hearing on Section 377, coming out of the closet, Satya, his writing, rift with Hansal Mehta and more
Following a rough patch last year, both personally and professionally, Apurva Asrani, writer, and editor of acclaimed films like Aligarh and Shahid, is in a happy space now. Having moved to Goa, he is now focused on his new writing and directorial venture.
Asrani sat down with Firstpost for a candid chat about the recent Supreme Court hearing on Section 377, coming out of the closet, Satya, his writing, and editing, among other things.
Asrani seemed excited as he headed for the screening of his film Aligarh — a story about the ordeal of 64-year-old Professor Siras (played by Manoj Bajpayee), who was suspended by the Aligarh University for being homosexual — at the Cinephile film club of Entertainment Society of Goa at Panaji.
He believed that the screening of his film comes at the right time when there is much discussion happening in the country around homosexuality and Section 377. Speaking about the SC hearings, he says that he is hopeful about the judgment and glad that these discussions are happening publicly.
"The 2013 Supreme Court judgment (reestablishing Section 377) was a travesty of justice. After having exposed ourselves from 2009-2013, we felt like we were being cheated. Many of us were suddenly exposed without any support structures. Again being criminals in the eyes of society, a lot of gay men and lesbian women who I know, have suffered from acute depression over the last four years. These are the things that society is not able to see," Asrani said.
"Why is it not able to see? Because we are not able to come out and say we are gays, lesbians. Imagine the plight of LGBTQ who are not allowed to seek help related to their mental and physical health. It's been a very unfair and unjust period," he added. "But the flip side of this has been that it has galvanised the community. And more people have come out with very powerful voices to say that we don't accept this. They are asking for equal rights."
Asrani says that the grounds on which the judgment was passed in 2013 gave him sleepless nights. "We were called 'minuscule minority'. How can you count the numbers if you are labeling us criminals for putting our hands up to say 'count me'? So then, how will I come out to be counted in the community? So there's no way to get a correct number. Even if this is a minority, in a democracy isn't the minority suppose to have an equal right to life and dignity?"
Asrani said that the statements of the Supreme Court during the current hearings on Section 377 gave him hope. "Justice Indu Malhotra pointed out that homosexuality is rampant in the animal kingdom as well. Justice Chandrachud is making supportive statements, so is Justice Nariman. I am so glad that all this is happening publicly and we all can be part of it. So, we are minutely following every discussion that's happening in the court."
Asrani also opines that in the past three-four years, many movies too have come out which have a gay protagonist — like Kapoor & Sons and Arvind Swamy-starrer Dear Dad. "It speaks about that masses have warmed up to the fact that we are part of an intrinsic fabric," he says. Both Aligarh and Kapoor & Sons received critical acclaim and were commercially successful.
Being part of Satya and looking back on the journey
Asrani, who started his career as an editor on the critically acclaimed Satya, maintains that working on the film was like being in a film school where he learned about the various facets of filmmaking.
With Satya turning 20 recently, he recounts how, along with director Ram Gopal Varma, he practically "lived" the movie. "Ram Gopal Varma used to live, breathe cinema. During the making of this film, we used to practically live in his apartment, plan for next day's shoot, spend the whole day on the set as I also assisted him, and at night I would go and edit. Also, he handpicked the whole team, like getting a cameraman from Hollywood; Saurabh Shukla; people who worked on Bandit Queen; brilliant talent like Anurag Kashyap, and actors like Urmila Matondkar, Manoj Bajpai, and an actor from the south, Chakravarthy and a newcomer like me," says Asrani.
He also believes that it was brave of Varma to make a film that spoke of the underworld. "Satya was made at a time when Mumbai was in the clutches of the underworld. It was real. People from the film industry were getting killed. On the first day of the shoot, Gulshan Kumar, a friend of Varma, was killed. And we were making a film where a producer gets shot in a similar way. So, you know, in such times it is more than a film, it is a cry from the society. And the fact that Varma chose to continue making this film shows immense courage and bravery."
Asrani, who is known for his editing skills, is also a film writer and for him, there is hardly any difference between the two. "I never saw the difference between editing and writing. They are closely related. I would experiment with a screenplay, as on the editing table you have the ability to take it to another level. Sometimes the end of the film can be the beginning, the beginning can become the middle or some insignificant character on paper can come out fantastic on screen. The editor needs to put on creative writer's hat and see if re-writing is needed," says Asrani, who admires Renu Saluja's work as an editor and states that he learned a lot from her films.
Asrani gives credit to filmmakers like Hansal Mehta and Varma for his success as they helped him to bring out the best in him. Like, while working on the film Shahid, he says that it was Mehta who encouraged his writing as he wrote the additional screenplay. "As the movie was made with less money, we had days where there used to be no shoot. So, we used to sit and write stuff differently if we can't shoot a human bomb, because of financial constraints. That's how my writing developed, encouraged by Mehta." However, his film as a writer is Aligarh, which he also edited.
Writing credit and controversy
Last year during the release of Mehta's Simran there was a rift between Asrani and actor Kangna Ranaut regarding writing credits. It was a tough time for Asrani as at the same time his parents fell seriously ill. "It was a tempestuous time for me. My brother and I were dealing with a situation which we completely didn't expect. But then I saw the battle through till the end. My parents recovered and also got the credit for the film. But the stress of both these things took a toll on me," he says. He was then diagnosed with Bell's palsy (a type of facial paralysis) and is still recovering from this condition.
Speaking about the controversy, he says that he has no regrets and holds no ill will towards any party involved.
The process of healing and shifting to Goa
Asrani Bell's palsy diagnosis made him think over whether or not he should be part of this rat race, and soon enough he decided to move to Goa. "Good I got Bell's palsy. Otherwise, I would be in a traffic jam in Mumbai, sitting in one edit studio and running to the director's office. Sleeping at 2 am getting up at 8 am, and then running again. That was my life. So, I shifted to Goa where I am focused on my writing and it is quite peaceful here."
He is now working on two scripts and also working on a directorial venture which will be a family drama. "I am really interested in family drama. I think who we are in a society has everything to do with our childhood and parenting. So, I am exploring the making of a person," says Asrani.
Asrani also points out that coming out and speaking about his illness helped him to heal. "When I was diagnosed with Bell's palsy, I didn't know anything about it. But, when I wrote about it, many people wrote back and shared their stories. Now if anyone is suffering from it, they can reference this. The scary thing is that when you think you are all alone. You have to come out of closets. In life, there are not one closed door, but many close doors, our own fears, prejudices, and judgments of ourselves. We have to keep coming out of those closets," concludes Asrani.
Find latest and upcoming tech gadgets online on Tech2 Gadgets. Get technology news, gadgets reviews & ratings. Popular gadgets including laptop, tablet and mobile specifications, features, prices, comparison.
Entertainment
The Indian adaptation of Call My Agent is set to go on floors in October and will star Soni Razdan, Rajat Kapoor, Aahana Kumra, and Ayush Mehra in pivotal roles.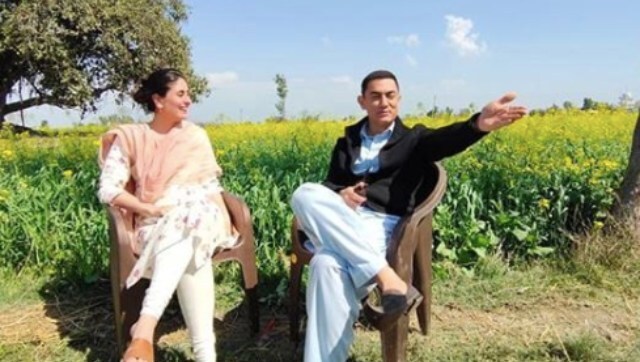 Entertainment
Kareena Kapoor Khan, who announced her second pregnancy in August, reportedly resumed shooting for Laal Singh Chaddha last month.
Entertainment
Kangana Ranaut claims the film industry runs on an unwritten rule of "you hide my dirty secrets I will hide yours," in response to top Bollywood filmmakers and producers moving the Delhi high court against media houses and journalists for "defaming the industry."