Alizeh, Udta Punjab, Mallika Dua, Baked: 2016 was the year of characters
2016 was a year which we will remember for the kind of people it introduced us to on celluloid and in web series, from Alia Bhatt's unnamed character in Udta Punjab, to the web series Baked, where each character has its own charm.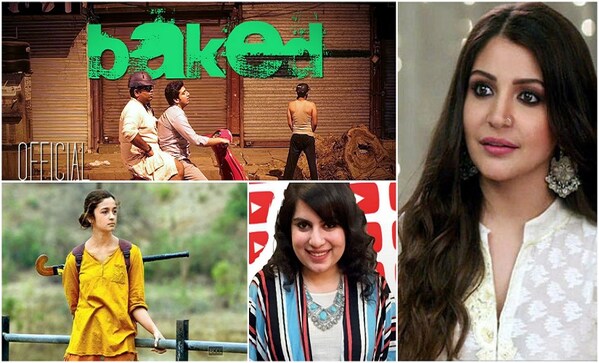 The biggest win for Udta Punjab, 2016's most controversy-mired film (arguably), was that you're never told Alia Bhatt's character name. She's called Mary Jane through the film, and it made me wonder if she was the human personification of marijuana. Think about it.
At the end of the film, she's finally free; after being a Bihari migrant labourer, a sex slave, and an unwitting drug addict, she's finally herself. In a film about drugs, I can't think of another comparison.
You're probably thinking that's way too much over-thinking for one character. Well, that's the beauty of Udta Punjab. You can decipher pretty much any take-away from the film to suit your reading of it. You can walk away thinking this is Tommy Singh's journey where he happens to meet Mary Jane. Or this could be Preet Sahni (Kareena)'s story; of how drugs can only lead to a psychological downfall. This could also be read as a moral tale on what intoxicants can do to your family, from Sartaj Singh (Diljit)'s perspective.
It's all different piece to one cinematic puzzle; putting it together is on you. These kind of films are the best, because it give the audience the space to create their own stories, where the champions are the characters, and not stars.
2016, for me then, was the year of characters. It was a year which we will remember for the kind of people it introduced us to on celluloid, and even web series (a growing market for great stories).
A stark contrast to Alia Bhatt's character in Udta Punjab is Alizeh from Karan Johar's Ae Dil Hai Mushkil. She is the typical muse; the person around whom a whole narrative is based. If "Mary Jane" from Udta Punjab is the abstract representation or a small piece of a whole person, Alizeh is the mainstream character, the totem around which the plot revolves.
While Ae Dil Hai Mushkil clearly belonged to Ayan (Ranbir) and his journey of love, there would be no journey with Alizeh and Saba (Aishwarya Rai Bachchan, playing the token older woman but without any judgment). There's even a song dedicated to Alizeh in the soundtrack. Ae Dil Hai Mushkil is one of those few films which — though dramatically and in a somewhat cliched manner — gives every character their own path and voice. Even if it's Lisa D'Souza (played by Haydon), or Alizeh's boring doctor "boyfriend".
---
At the helm of the celebration of characters in 2016 is Mallika Dua. She started as an internet sensation with her 'Make-up didi' instagram videos, and followed with many skits in All India Bakchod videos, the famous sarojini satire by A Little Anarky Films, and more recently in Bindaas' web series The Trip. Suffice it to say that she is many different people at once.
"I feel odd being myself, but I take refuge in acting. I've always had a knack for impersonations," she tells me over the phone, as we talk about how 2016 was an impressive year to be a "character actor".
"I don't like that tag very much," she's quick to say, adding, "but the West has a very huge part of play in our acceptance of different types of roles." I nod my head and remember how we now have a culture of binge watching shows like Saturday Night Live, Key and Peele, how Comedy Central is changing how we consume comedy, and how the lines between stars, actors and other such labels in blurring. Infact, Amy Schumer even had her own movie, Trainwreck.
Things are looking good, we both agree.
"This has been a year of good writers, and therefore a year of good characters. While shooting for The Trip, we hardly got any time to rehearse. In fact, I met all my costars only twice before shooting," informs Dua. I tell her that it looks like the four girls (Shweta Tripathi, Lisa Haydon, Sapna Pabbi and her) are thick friends. She laughs and agrees.
The unconventional has triumphed in Bollywood this year, too. Shoumie Mukherjee, who works at Mukesh Chhabra Casting Company, sheds some light on this.
"This is a great time for the casting department. 2016, cinema wise; was different from 2015. I think this year really surprised me when films with big stars didn't do very well business wise, while on paper the films looked like sure shot success (like Mohenjo Daro, Rocky Handsome, Rock On 2, Force 2, Fitoor etc). Meanwhile, films that were content driven worked - like Neerja, Udta Punjab, Pink etc. What I understood of this is that, gradually the audience is getting to a point where they want to watch a film that engages them. They cannot be driven to the theaters by marketing or trends," she tells me as we discuss Bollywood in 2016.
I'm curious to know what the process of a casting department is. They've clearly done a stellar job this year, with so many characters to love. Mukherjee sheds light on the films she has worked on.
"The process is generally to understand the character and then find an actor to fill the shoes. For example, while casting for Nil Battey Sannata, the day we met Ria (Shukla), we knew she will be able to do justice to the character of Apeksha. But with Dangal, there were many factors to look into for the part of Geeta and Babita. There were physical tests and what not. We just didn't need good actors, it was much more than that. I guess that intuition of understanding what would seamlessly fit into the universe of the film is what is the Casting Department's job," she says.
Mukherjee's favourite character from this year is Sunita Kapoor (Ratna Pathak's character in Kapoor & Sons).
--
For those of you whose attention span is fickle, this year had some stellar web series too. Permanent Roomates season two, Ladies Room, Better Life Foundation and my personal favourite, Baked season two. I'll tell you why.
Here's a show that can be described in one compact sentence: three Delhi University stoners boys try to sustain a midnight food delivery service while going through the challenges of college.
And that's exactly what season one is. A funny, charming show about Delhi University. However, season two brings in much nuance, and definitely loses its centre of gravity in a good way. You won't be able to tell which character's arc is the central plot of the show: Is it Tara (Kriti Vij) and Harris (Pranay Manchanda)' love story? Is it Oni (Shantanu Anam)'s exploration of his sexual orientation? Is it Body (Manik Papneja)'s story of growing up? Or is it all of those things?
Shantanu Anam tells me more about his show Baked. "In the first season, we would pull each other's legs — I would say 'hero main hoon' whereas, Manik would say, 'I'm the good looks'. But the truth is, and I believe this, you can find 80 % of a character in your personality. If your character is gay, you don't necessarily have to do the hand-gesture. It's all about finding it within yourself. It's the primary thing I learnt while studying to be an actor (Anam went to the Lee Strasberg Institute)."
Infact, he goes on to break a lot of moulds I formed in my head while watching the show.
"I'm really the only "pothead" in the film. It's something that was clearly established in the first season. There isn't really a purpose to everything I say. Also I'm supposed to be this know-it-all guy. But season two was a tad more fluid," he says.
Baked doesn't reveal that Oni is gay until midway through the second season even thought they've always known.
Infact, when the show was being conceptualised, someone told him, "Shantanu, tujhe Jonah Hill banake chhodenge (we'll make you into the next Jonah Hill)."
The very fact that the comparative actor was Jonah Hill (and not Tom Cruise or Leo) is a definite victory. The Jonah Hills of the world are far more fun, don't you think?
Entertainment
Noting that she never gives any excuse to skip her training, not even while being on the set, Shilpa wrote, "This routine is called 'Bird-Dog'. It strengthens the core, glutes, shoulders, and arms. It works on improving balance."
Entertainment
Priya Runchal added a funny caption for Sia and Bailey in her Instagram post
Entertainment
Priyanka Chopra and Nick Jonas often share photos of their little daughter, Malti Marie, and this Sunday was no exception