After Justin Bieber, Ed Sheeran to visit India in November as part of his World Tour
After countless covers of what seems to be the anthem of 2017, Shape of You, fans will now be able to watch Ed Sheeran live in India.
That's right. This is not a drill. Ed Sheeran will be coming to India in November as part of the Asia leg of his World Tour, with his recent album Divide.
Here's a screenshot of Ed Sheeran's official website, where it has been announced that on November 19, Ed Sheeran will be performing in Mumbai.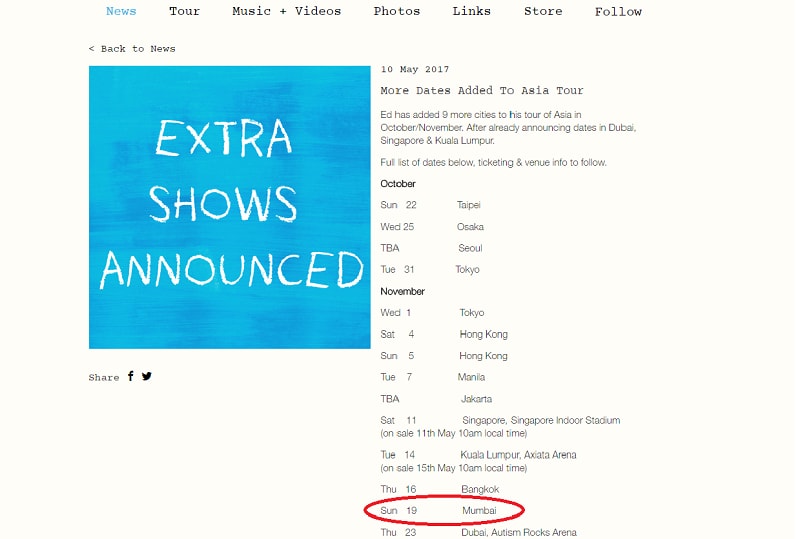 News of Sheeran coming to India broke on the same day as Justin Bieber's Purpose Tour concert. Right now there is no information about where to buy tickets and the venue of the concert, but looks like Mumbai has won the venue battle over NCR and Bangalore.
Sheeran had been to Mumbai earlier in March, 2015.
Divide is Sheeran's third (and arguably most successful) album, after Plus (released in 2011) and Multiply (released in 2014). His third album comes after Sheeran announced in 2015 that he was on a social media hiatus. He said in an instagram announcement that he wants to see the world through his eyes and not through a screen.
Since then, Shape of You and Castle on the Hill have been the two leading singles of the album, with 'Shape of You' breaking records world over, as it has topped billboard charts in 30 countries.
Meanwhile, Sheeran has also been confirmed for a guest cameo in HBO's Game of Thrones. The news was announced in March at The South By Southwest (SXSW) conference and Festival by Game of Thrones showrunners David Benioff and D.B.
No other details on Sheeran's character or story line were revealed, but when reaching out to channel HBO for further clarification, a spokesperson for the network did confirm he'll be guest-starring, simply saying: "He has a role. No more details."
So suffice it to say that you'll be seeing a lot of Sheeran (who's complaining) in the next few months.
Watch this space for more updates on Ed Sheeran's India concert.
Updated Date: May 10, 2017 15:46 PM