Yogi Adityanath as UP CM: Can the Gorakhnath priest keep Modi's development promise?
There are fears that BJP is losing the promised reform-focus by choosing a Hinduvta mascot, who is mainly known for his inflammatory cast-communal comments and has no major track record of administrative skills in implementing development-oriented policies
Yogi Adityanath's selection as the next Uttar Pradesh chief minister may have come as a big disappointment to those who were waiting to see the party choosing a chief minister who has a vision and proven track-record to build a development-focused, reform-oriented administration, not confined to the narrow Hindutva agenda. That is an image Narendra Modi attempted to build, particularly in last 3 years, betting his party's fortunes on the development plank above everything else. It is this image that is being seen with skepticism post Yogi's surprise elevation to head India's most populous state.
Perhaps, Yogi's selection makes a big political sense to BJP that political analysts miss entirely. Arguably, the Hindutva card has worked well for the party to win the crucial state polls and this move might be yet another calibrated step to further firm up the core strategy in preparation for the 2019 general polls. No matter what BJP's critics predict, Yogi's coronation may find support on the ground. But what does the decision means to BJP's long-preached development promise? Can the government in India's most populous state headed by a Hindutva hardliner put development at the top of its agenda? "Given his past views and inclination, it will be interesting to see how he balances development agenda," said Madan Sabnavis, chief economist at Care rating agency.
Turning around UP's economy isn't an easy task for any government, forget about an inexperienced leader. Not just politically, economically too, Uttar Pradesh is critical to the Indian economy because of its sheer size. UP is an agriculture-heavy state. More than half of the employment for the workforce in the state comes from farming and related activities. About one third of the state's GDP (gross domestic product) is contributed by this sector. But, the growth in the farm sector has lagged behind most other states over years posing a riddle for the previous governments.
According to an IANS report (read here), for the nine years between 2004-05 and 2012-13, the agriculture and allied sector recorded the slowest compounded annual growth rate of 2.9 percent, below the national growth rate of 3.7 percent. Politicians have always resorted to the easy way of 'loan waivers' to find an answer to this problem. In the run up to the state polls, both Congress Vice president Rahul Gandhi and Modi had promised farm loan waivers for UP farmers once their parties come into power.
In an earlier column, this writer had argued why loan waiver is a bad idea (read here), simply because past evidences show that freebies never work to solve the fundamental problems. The first, and immediate, challenge for Yogi Adityanath will be to answer the people about Modi's loan waiver promise as he moves to the chief minister's office. But, this wouldn't end the task. Repairing the ailing farm economy of UP will require more planning.
Secondly, unemployment level in the state is high if one looks at the trend in the last several years, especially among economically backward population, despite the political claims. According to the same IANS report quoted above, in 2015-16, 58 out of every 1,000 were unemployed in UP, compared to the Indian average 37/1000. At least 148 for every 1,000 people between the ages of 18 and 29 years were reported unemployed, compared to the Indian average of 102, the report said quoting the 2015-16 labour ministry data.
"Between 2001 and 2011, over 5.8 million people between the ages of 20 and 29 years migrated in search of jobs, but, for most of these migrants, low educational attainment likely resulted in lo low-paying jobs in the informal sector," the report said. Yogi's next big challenge lies here. And his task is even more difficult to generate employment in a state where industrial growth too is one of the lowest in the country. Not surprisingly, relatively high poverty levels registered in state are linked to the above to areas.
The next five years of Yogi Adityanath government will be watched also in the context of Uttar Pradesh government's economic policies. Surely, there are fears that BJP is losing the promised reform-focus by choosing a Hinduvta mascot, who is mainly known for his inflammatory cast-communal comments and has no major track record of administrative skills in implementing development-oriented policies. But, one needs to wait and watch. The priest of Gorakhnath temple will have to look beyond his Hindutva agenda and pay attention to the state's economy to keep the promises Narendra Modi made to the people of the state in the run up to the polls.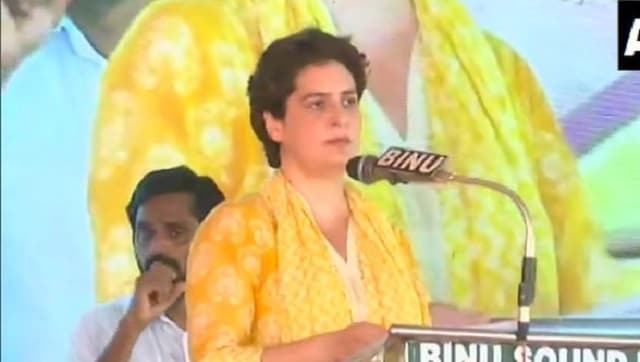 Politics
Had the Congress been serious about women empowerment, it would have made such statements in Punjab, Uttarakhand, Manipur and Goa where it is in serious contest for power in the 2022 elections
India
Ambassadors of various countries and a special delegation from Sri Lanka will participate in the ceremony
World
Economically, strategically and even politically, China finds itself in a fix today. If it doesn't mend its way, it would soon find its superpower dream going kaput.