To double farmer income, Budget should address debt woes, encourage tech innovation
Last time, the attainment of doubling farmers' income in India was accomplished in 13 years.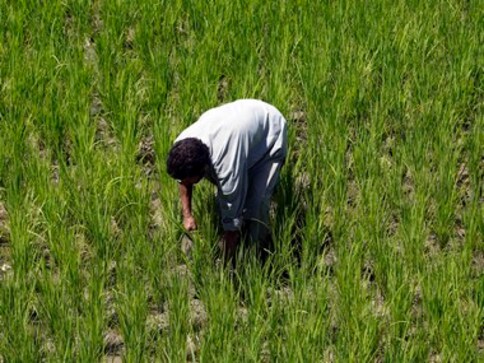 Indian agriculture is a conundrum of paradoxes. Over 50 percent of the country's workforce depend on agriculture as a livelihood, while agriculture and allied activities contribute to only a little over 15 percent to India's Gross Value Added (GVA). Farmers, despite being at the heart of agricultural production, receive only a paltry portion of the price paid by consumers. On an average, the income of a farmer in India is less than $2 per day. According to an NSSO survey in 2014, the income of an average farm household is about Rs 6,000 ($90) per month, only 50 percent of which comes from farming.
The Finance Minister's budget speech in the last fiscal laid out the Government's ambitious plans to double farmers' income by 2022, by thinking "beyond food security" and giving "income security to farmers". Last time, the attainment of doubling farmers' income in India was accomplished in 13 years. To double the same again in five years will necessitate a herculean effort on part of the Government and the agricultural community in general.
We hope that the ensuing Budget will usher an array of diverse reforms to enable doubling of farmer incomes by 2022.
Alleviating financial distress
Farmers are in financial distress. Alleviating their distress deserves a place in the budget, particularly in the wake of over 8,000 farmer/cultivator suicides and over 4,000 agricultural labour suicides in 2015. Contrary to popular belief, Financial Distress surpassed Farming Related Issues (including crop failure and inability to sell) as the major reason for suicide, with 38.7 percent farmer suicides being accorded to Financial Distress for the same period, while Farming Related Issues trailed at 19.5 percent .
The credit allocated to domestic Scheduled Commercial Banks (SCBs) for small and marginal farmers by the end of March, 2016 was 7 percent of ANBC (adjusted net bank credit), and by the end of March, 2017 was 8 percent. Small and marginal farmers together represent 85 percent of the operational land-holding in India and occupy 44 percent of the operated agriculture area . Hence, a considerable number of farmers, especially in the small and marginal category, still rely on informal credit sources like moneylenders who drag them deeper into the debt-trap, and therefore increasing credit allocations for SCBs towards small and marginal farmers is the need of the hour, facilitated by concessional support through the forthcoming budget outlay.
Near 43 percent of agricultural workers in India still do not have bank accounts and less than 20 percent of farmers in India are insured. Earmarking adequate agricultural credit, and mobilizing credit and insurance schemes should, therefore, be a key component of the Union Budget outlay. The Government's announcement to convert over 3 crore kisan Cards to RuPay cards has been a major step in the direction of making farmers the champions of a cashless, transparent economy. To align this with providing relief from financial distress to farmers, these cards can be made interest-free for a period of 60-90 days from the date of availing loan to envisage more and more farmers into the formal loaning system.
Fixing supply chain woes
A major part of the agricultural supply chain ecosystem in India either lies in the public sector, or is strongly influenced by it, while the involvement of private players tends to be small, localized and fragmented. The hardest hit is the horticulture sector where perishability is extremely high, and yet supply chain is wobbly. With horticulture production estimated at 283 MT in 2015-16, India is the second largest producer of fruits and vegetables in the world, and yet, farmers receive merely 25-30 percent of the price paid by the consumer - thanks to our crumbling supply chain infrastructure.
Barely 4 million of the 104 million tons of perishable produce pass through cold chain . There are about 6,300 cold storage facilities in India, however, between 75-80 percent of these refrigerated warehouses are only suitable for potatoes - a crop that generates just 20 percent of agricultural revenue . The existing cold chains are not equipped with modern upgrades such as Controlled Atmosphere (CA), Modified Atmosphere (MA), and pre-cooling units, while lack of portability continues to be a pressing problem. Post-harvesting losses of up to 30 percent are incurred in fruits and vegetables category.
Small and marginal farmers also account for majority of horticulture production, and hence stand to be the biggest beneficiary group for any investment in infrastructure or policy reform in this sector. The forthcoming Budget presents an opportunity to set the wheels in motion for a superior, state-of-the-art supply chain as India's horticulture production will outpace foodgrains output.
Innovating digital marketplaces
The National Farmers Commission recommends distance to market for farmers to be no more than 5 km. However, Indian farmers travel anywhere between 12-50 km to the nearest mandi. Apart from access to markets, farmers also suffer from information asymmetry, intermediaries eating into their pie, and many are deprived of aggregation benefits.
In a commendable move, Prime Minister Narendra Modi launched eNAM (National Agricultural Market) in April, 2016, to create a hassle-free, unified national digital marketplace for all agricultural produce. As of November, 2016, of the 250 mandis from 10 states linked to the e-NAM platform, 79 mandis alone are active. The total transaction turnover on e-NAM has been approx Rs 421 crore, probably less than 1 percent of the actual trade at these mandis.
Since agriculture is matter of state interest in India, different states have enacted different versions of the APMC Act - leading to levy of multiple fees and charges, restricting farmers from selling produce to functionaries stipulated by the State Act, and overall causing lack of transparency at the marketplace and will likely cause a resistance to adoption of eNAM. For eNAM to be adopted by all states by the deadline of March 2018, uniformity in pricing and rationalization of agricultural taxes are required. Else the ecosystem will be be destined to fail.
In order to enable farmers participate in progressive high value markets, such as modern retail, value added agri produce, and exports market, the government established the institutional machinery of Farmer Producer Companies (FPCs), and as of March, 2016 there are over 2000 FPCs in the country. However, while FPCs are trying to shift from low-margin fresh produce to high-margin value-added products, the major challenge they face is in marketing and selling. Innovative marketplace / platforms along the lines of eNAM or startups like GoCoop to facilitate marketing and intermediary-free selling should be an agenda for the forthcoming Budget if we want FPCs to thrive.
Promoting agriculture 
For decades, as India's food security concerns hogged the spotlight, its health concerns remained grossly undermined. Food laden with harmful chemicals, and grains unsuitable to changing demographics leading to lifestyle diseases is a ticking bomb today. Organic cultivation has seen a major upsurge in the recent year, but, with a paltry 0.4 percent of total agricultural land under organic cultivation, the journey has just begun. In January 2015, Sikkim became the country's first 100 percent organic state - the fruits of an initiative that started in 2003.
Meghalaya aims to convert 200,000 hectares to organic by 2020. Treading the organic way are also states like Goa, Rajasthan and Kerala.
Organic crops are also high value crops that provide high returns to farmers, just like new-age health foods such as quinoa and oats. In fact, many of our indigenous crops such as jowar (sorghum), bajra (pearl millet), and ragi (finger millet) make delectable, gluten-free, low-calorie health foods and have tremendous export potential.
Partnering with states to streamline organic adoption and incentivising high-value health crops in the Union Budget will, therefore, be of paramount importance. Another approach to addressing the malnutrition will be to make fortified food mandatory for midday meal schemes to ensure that school children get the required amount of proteins, vitamins and minerals.
(The author works at CIIE Initiatives, IIM Ahmedabad)
For full coverage of Union Budget 2017 click here.
Find latest and upcoming tech gadgets online on Tech2 Gadgets. Get technology news, gadgets reviews & ratings. Popular gadgets including laptop, tablet and mobile specifications, features, prices, comparison.
India
Ram temple will be the harbinger of a prosperous India, said Narendra Modi during the foundation stone laying ceremony in Ayodhya
India
He also tagged a 17 July tweet of his where he had predicted that there would be more than 20 lakh cases by 10 August if the government didn't do enough to curb the pandemic
Business
Launching the platform 'Transparent Taxation – Honoring the Honest', Modi said that the I-T dept will start faceless appeals from 25 September